Are Americans on the Wrong Diet for Heart Health?
Cleveland Clinic survey reveals confusion around best foods to eat to lower the risk of heart disease
WEBWIRE
–
Monday, February 23, 2015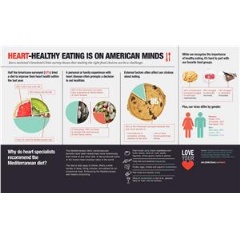 Heart disease causes one in every four deaths in the United States, but a Cleveland Clinic survey reveals many Americans are still confused about how to eat a heart-healthy diet.
The survey showed half (52 percent) of Americans have tried a diet in the past year to potentially improve their heart health. However, only five percent have tried the one diet that extensive research has shown to improve cardiovascular risk factors – the Mediterranean diet.  
The survey was conducted as part of Cleveland Clinic's "Love your Heart" consumer education campaign in celebration of American Heart Month. Cleveland Clinic has been ranked the number one hospital in the country for cardiology and cardiac surgery for 20 years in a row by US News & World Report.  
Americans' lack of knowledge about the proper diet for heart health is especially troubling considering the number of Americans affected by heart disease. Of the respondents, nearly half (46 percent) either have heart disease or have a family member with heart disease. Of those, 68 percent said they are likely to change their diet because of these factors.
"It's encouraging that Americans are aware of their history of heart disease and want to take steps to prevent and manage their risk factors," said Dr. Steve Nissen, chairman of Cardiovascular Medicine at Cleveland Clinic. "However, there is still a tremendous need for education around understanding what the right diet choices are to improve cardiovascular health."
Last year, Susquehanna Health's Heart & Vascular Institute became an affiliate of Cleveland Clinic's nationally recognized program. "Along with the clinical benefits we have experienced from our affiliation, we are excited to be able offer access to the latest studies, usually reserved for big centers, right here in our community. We are not only here to provide the most advanced heart care when needed, but also to encourage individuals to take action and keep their hearts healthy in the first place," says Dr. Michael Lazar, Medical Director of Cardiothoracic Surgery at Susquehanna Health.
When asked what diet Americans perceive to be heart healthy, 28 percent of respondents said they view a low-fat diet as best for the heart; however, the truth is that the Mediterranean diet has been proven to reduce cardiovascular disease. Only 17 percent of participants said they recognize the Mediterranean diet – characterized by a high consumption of vegetables, whole grains, olive oil, and lean protein – as the best heart diet, despite the existence of extensive research. Published in the New England Journal of Medicine in 2013, the PREDIMED study showed a 30 percent reduction in heart attack and stroke among those on the Mediterranean diet.
Additional survey findings include:
Sodium content still stumps most. Of those surveyed, 43 percent do not realize that many breakfast cereals contain high amounts of sodium. Also, one-third (31 percent) think canned vegetables are clear of high sodium levels, which is false.
External factors affect diet. One-third (34 percent) of survey respondents said convenient, but unhealthy, options, such as vending machines, negatively impact their diets. Other negative influences that cause people to make unhealthy choices include lack of time and social gatherings (both 25 percent), work-related stress (17 percent), personal/non-work related stress (15 percent), and office food/communal food at work (9 percent).
Low–carb diets still popular. One-quarter of Americans have tried a low-carb diet in the past year, with women (32 percent) more likely to do so than men (25 percent).
Fat. Only 36 percent of Americans identified trans-fat as the type of fat most harmful to your heart, even though research has shown trans-fat raises bad cholesterol (LDL), lowers good cholesterol (HDL), and increases the risk of heart disease. More Americans (45 percent) said saturated fat was harmful to your heart – a notion that's now being challenged.
"Heart disease is the No.1 killer of both men and women in this country, so heart health is something that should be taken very seriously," Dr. Nissen added. "Becoming more aware of the dietary factors that contribute to heart disease can save lives."
Methodology
Cleveland Clinic's survey of the general population gathered insights into Americans' perceptions of heart disease and diet. This was a telephone survey conducted among two national probability samples, which, when combined, consists of 1,013 adults, 506 men and 507 women 18 years of age and older, living in the continental United States. We have weighted numbers to be nationally representative. Interviewing for this CARAVAN® Survey was completed on November 13-16, 2014. 609 interviews were from the landline sample and 404 interviews from the cell phone sample. Margin of error is +/-3.0 percent.
About Cleveland Clinic
Cleveland Clinic is a nonprofit multispecialty academic medical center that integrates clinical and hospital care with research and education. Located in Cleveland, Ohio, it was founded in 1921 by four renowned physicians with a vision of providing outstanding patient care based upon the principles of cooperation, compassion and innovation. Cleveland Clinic has pioneered many medical breakthroughs, including coronary artery bypass surgery and the first face transplant in the United States. U.S.News & World Report consistently names Cleveland Clinic as one of the nation's best hospitals in its annual "America's Best Hospitals" survey. More than 3,000 full-time salaried physicians and researchers and 11,000 nurses represent 120 medical specialties and subspecialties. The Cleveland Clinic health system includes a main campus near downtown Cleveland, eight community hospitals, more than 75 Northern Ohio outpatient locations, including 16 full-service Family Health Centers, Cleveland Clinic Florida, the Lou Ruvo Center for Brain Health in Las Vegas, Cleveland Clinic Canada, and, scheduled to begin seeing patients in 2015, Cleveland Clinic Abu Dhabi. In 2012, there were 5.1 million outpatient visits throughout the Cleveland Clinic health system and 157,000 hospital admissions. Patients came for treatment from every state and from more than 130 countries. Visit us at www.clevelandclinic.org.  Follow us at www.twitter.com/ClevelandClinic.
Editor's Note: Cleveland Clinic News Service is available to provide broadcast-quality interviews and B-roll upon request.
( Press Release Image: https://photos.webwire.com/prmedia/3/195919/195919-1.jpg )
Related Links
WebWireID195919

This news content was configured by WebWire editorial staff. Linking is permitted.
News Release Distribution and Press Release Distribution Services Provided by WebWire.