Bayer CropScience and GLOBALG.A.P. intensify their cooperation aimed at improving farm practices
Berlin –
WEBWIRE
–
Friday, February 6, 2015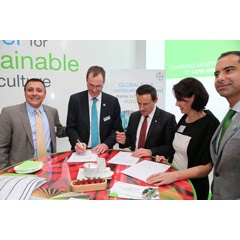 Signing the agreement
At the Fruit Logistica Trade Fair in Berlin, representatives of Bayer CropScience and GLOBALG.A.P. signed an agreement to further intensify their collaboration. Under this agreement, the partners aim to implement sustainable farm practices and help fruit and vegetable growers worldwide comply with GLOBALG.A.P. certification standards.

"Many farmers lack access to professional local and global food markets due to an inability to achieve demanding certifications like GlobalG.A.P.," states Dr. Kristian Möller, CEO of GLOBALG.A.P. "Therefore, we have developed together with our members local assessment schemes (localg.a.p.) as an entry level for gradual recognition."

However, a challenge for broad implementation remains: smallholder farmers in developing countries in particular lack expertise in good agricultural practice and need support and advice on crop-growing during the season. "This was the reason for us to begin discussions with GLOBALG.A.P. to create a collaboration in which we systematically customize our service program BayG.A.P. to the needs of the new localg.a.p. standard," explains Ronald Guendel, Global Senior Key Relation Manager at Bayer CropScience.

The new BayG.A.P. service program consists of three main pillars: intensive group training, individualized crop advice and Farm Assurance with localg.a.p. Participating farmers will benefit from certified high-quality produce that they can sell at higher prices and thus improve farm income, while traders and retailers benefit from consistent high product quality, safety and traceability.

In 2014, GLOBALG.A.P. conducted four expert training courses in Central America, Africa, Europe and Asia Pacific to qualify Bayer CropScience experts as GLOBALG.A.P. Licensed Farm Assurers. As a next step, pilot projects will be set up in all regions together with global food chain partners of Bayer CropScience. Implementation is scheduled to start in early 2016.

Working together for sustainable agriculture

Bayer CropScience's Food Chain Partnership business initiative brings together growers, traders, processors and retailers. Building on the company's profound knowledge of crops, the common goal of the Food Chain Partnership projects is to improve yields and harvest quality, helping to drive a productivity and efficiency increase based on sustainable agricultural principles for the benefit of all partners involved. Bayer CropScience can build on 10 years of experience in Food Chain Partnerships in 30 countries spanning 40 crops, primarily fruit and vegetables.

"Many of our members are already working together with Bayer CropScience in Food Chain Partnership projects around the world. Therefore, we are proud to lift the cooperation to a new level and start pilots with selected food chain partners in 2015," explains Flavio Alzueta, Vice President & Chief Marketing Officer of GLOBALG.A.P.

As Liam Condon, CEO of Bayer CropScience, summarizes "With our global network of 7,400 agronomists who share their expertise in production practices and provide personalized crop advice to horticulture growers around the world, we can help ensure that quality standards in fruit and vegetables production can be further improved. This cooperation is another important milestone for us to jointly accelerate the implementation of sustainable agriculture practices around the world."

About Bayer CropScience
Bayer is a global enterprise with core competencies in the fields of health care, agriculture and high-tech materials. Bayer CropScience, the subgroup of Bayer AG responsible for the agricultural business, has annual sales of EUR 8,819 million (2013) and is one of the world's leading innovative crop science companies in the areas of seeds, crop protection and non-agricultural pest control. The company offers an outstanding range of products including high value seeds, innovative crop protection solutions based on chemical and biological modes of action as well as an extensive service backup for modern, sustainable agriculture. In the area of non-agricultural applications, Bayer CropScience has a broad portfolio of products and services to control pests from home and garden to forestry applications. The company has a global workforce of 22,400 and is represented in more than 120 countries. This and further news is available at: www.press.bayercropscience.com.

About GLOBALG.A.P.:
GLOBALG.A.P. is one of the world's leading farm assurance systems that offers a clear focus on food safety paired with other significant elements of Good Agricultural Practices, a transparent and robust integrity system equipped with an increasing flexibility to respond to market requirements, and modular and customized solutions for certification, farm assessments, and capacity building. Today, approximately 140,000 primary producers are under GLOBALG.A.P. certification in 118 countries. GLOBALG.A.P. schemes primarily focus on product safety, environmental impact and the health, safety and welfare of workers and animals.

Find more information at www.bayercropscience.com.


A spanish version is available for download here.

Forward-Looking Statements
This release may contain forward-looking statements based on current assumptions and forecasts made by Bayer Group or subgroup management. Various known and unknown risks, uncertainties and other factors could lead to material differences between the actual future results, financial situation, development or performance of the company and the estimates given here. These factors include those discussed in Bayer's public reports which are available on the Bayer website at www.bayer.com. The company assumes no liability whatsoever to update these forward-looking statements or to conform them to future events or developments.
( Press Release Image: https://photos.webwire.com/prmedia/3/195503/195503-1.jpg )
Related Links
WebWireID195503

This news content was configured by WebWire editorial staff. Linking is permitted.
News Release Distribution and Press Release Distribution Services Provided by WebWire.