Fast pace of growth: Bosch Group increases sales and margin
Preliminary figures for 2014
Global success thanks to innovations

- Bosch CEO Denner: "Our innovation strategy is paying off, our competitiveness and market position have improved further"
- Sales up more than forecast, by 6.2 percent to 48.9 billion euros
- Sales margin up by nearly one percentage point to 6.1 percent
- Mobility Solutions business sector grows more than twice as fast as the automotive market
- Full acquisitions of ZFLS and BSH strategically complement portfolio
Stuttgart, Germany –
WEBWIRE
–
Friday, January 30, 2015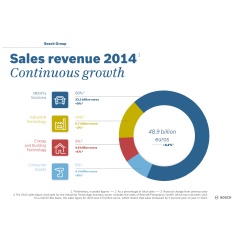 Preliminary figures for 2014: performance by business sector (See complete Image Caption below)
According to preliminary figures, the Bosch Group increased its sales by 6.2 percent in 2014, to 48.9 billion euros. After adjusting for exchange-rate effects, sales growth was 7.2 percent. Sales results were negatively impacted by exchange-rate effects to the tune of nearly 500 million euros. The supplier of technology and services also improved its earnings situation in 2014. According to preliminary figures, Bosch Group earnings before interest and taxes (EBIT) came to nearly three billion euros, with an EBIT margin of roughly 6.1 percent. This is roughly one percentage point better than the value for 2013, adjusted for one-off and extraordinary effects. "Despite difficult economic conditions, we managed to meet our business targets for 2014," said Dr. Volkmar Denner, chairman of the board of management of Robert Bosch GmbH. "Our innovation strategy is paying off. Our business success over the past year is proof of this. In 2014 we further improved our market position and competitiveness in many areas." In addition, the acquisition of BSH Hausgeräte GmbH and the planned full acquisition of ZF Lenksysteme GmbH will enable Bosch to strengthen its position in the two growth areas of smart homes and automated driving.

Business development in 2014 by business sector
According to preliminary figures, the Mobility Solutions – formerly Automotive Technology – business sector achieved significant sales growth in 2014. With its comprehensive portfolio of components, systems, and services, this Bosch sector was able to grow more than twice as fast as the automotive market. The major drivers of this growth were gasoline direct injection systems and high-pressure diesel injection systems, along with display instruments and infotainment systems. Energy and Building Technology sales in 2014 were roughly on a par with the previous year. Demand developed particularly well for communications systems and web-based video systems. In Consumer Goods, Bosch enjoyed a successful 2014 with power tools for professionals and measurement tools. The Industrial Technology business sector's Drive and Control Technology division was greatly affected by weakness in the mechanical engineering sector in important regions in 2014. Despite higher demand for packaging machinery produced by the Packaging Technology division, the business sector's overall sales were lower than in 2013. After adjusting the 2013 sales figures for consolidation effects, the latest figures are slightly higher.

Business development in 2014 by region
According to preliminary figures, the Bosch Group achieved sales growth of some 17 percent in Asia Pacific. After adjusting for exchange-rate effects, growth there was roughly 20 percent. In North America, sales were some 8.6 percent higher year on year. After adjusting for exchange-rate effects, sales growth was almost in double digits. In South America, sales were down slightly year on year after adjusting for exchange-rate effects. In nominal terms, sales were more than ten percent lower than in 2013. In Europe, the sales of the supplier of technology and services grew by some two percent in spite of the economic difficulties the region is experiencing.

Recruitment in central and eastern Europe and in Asia
Worldwide, the Bosch Group's workforce totaled some 290,000 associates on December 31, 2014. That is some 9,100 more people than in the previous year. Most of this recruitment took place in central and eastern Europe and in Asia.

2015 – global economic growth expected to be low
According to its latest forecasts, Bosch is expecting economic growth in 2015 to be moderate. Current forecasts project global economic growth of 2.7 percent. Despite these conditions, the Bosch Group is expecting 2015 to deliver further sales growth and further improvements in result and margin.

Seizing business opportunities and finding technological answers
In the years to come, the Bosch Group is aiming to seize the business opportunities that will present themselves through developments in the areas of connectivity, automation, electrification, and energy efficiency, as well as through the increasing importance of emerging markets. "We want to play an active part in shaping the wide-reaching and profound changes to our market and technological environment, and we want to prepare for a connected world," Denner said. This is particularly true of the Automotive Technology business sector, which Bosch renamed Mobility Solutions at the beginning of the year. Denner went on: "We see ourselves as a supplier of solutions for the mobility of the future, which will be automated, connected, and electrified. That includes components, systems, and software solutions as well as services."

Car, train, or bicycle – in the future, it will all be simply combined
"Bosch possesses extensive expertise in mobility's key fields – automation, connectivity, and electrification. Combined with our systems integration competence, this means we are better positioned than almost any other company to develop innovative mobility solutions for our customers," Denner said. These solutions include software-based business models and services such as fleet management. Together with partners, Bosch already has test fleets on Germany's roads. Status updates broadcast by the vehicles are analyzed and prepared to customer specifications. This allows customers such as leasing companies or insurers to plan maintenance and repairs more efficiently and increase the availability of vehicles.

Other new business models include mobility concepts that allow users to choose the right mode of transportation for a given situation. For example, they will be able to combine car sharing with public transportation and a taxi. "In the smart cities of tomorrow, it will be possible to offer intermodal mobility concepts alongside other services," Denner said. Bosch and its partners in the "Stuttgart Services" project are for example setting up a single system through which to access mobility applications and municipal services such as libraries.

The Asian growth region – growth with local developments
In developing its innovative solutions, Bosch still places great importance on local development expertise in emerging markets. "In 2015, too, innovations will be major drivers of our sales growth. Local developments for each market are especially important," said Denner, who is also responsible for research and advance engineering on the Bosch board of management. In 2014, Bosch opened a second research and development center for mobility solutions in Vietnam. In India, the company has opened a research and technology center. The new center's focus is on connected technologies for the internet of things.

Single European digital market as condition for successful innovations
Bosch's CEO sees connectivity over the internet as a major driver of technological development. Denner stressed that connectivity offers numerous opportunities not only for the Bosch Group but also for Germany and for the whole of Europe. However, for connectivity to become a business success in Europe, he feels that the establishment of a single digital market is essential. "The fact that the European economic area is fragmented by various sets of rules for data and consumer protection prevents European companies from enjoying the levels of success of their competitors in the United States or in China," Denner said. He pointed out that while the United States offers a huge single market for business ideas emerging from Silicon Valley, the way data protection is dealt with in Europe means there are still 28 separate markets instead of just one. He thus called for Europe's General Data Protection Regulation to be finalized as quickly as possible. "Once all market participants are bound by a single, binding legal framework for data protection, companies and consumers alike will enjoy legal protection and legal certainty." Moreover, Denner went on, there is a need to press on with systematic efforts to build extensive, powerful, and reliable broadband networks.

For the most important key figures, click here
IMAGE CAPTION:
Preliminary figures for 2014:
performance by business sector
According to preliminary figures, the Bosch Group increased its sales by 6.2 percent in 2014, to 48.9 billion euros. The Mobility Solutions business sector developed extremely positively. With its comprehensive portfolio of components, systems, and services, Bosch was able to grow more than twice as fast as the automotive market. The Energy and Building Technology business sector's sales were roughly comparable to the previous year. In particular, the demand for communications systems and web-based video systems developed very positively. Bosch was successful in its Consumer Goods business sector with professional and measuring tools. Despite the increased demand for packaging technology, the Industrial Technology business sector recorded an overall drop in sales compared to the previous year. After adjusting for consolidation effects, sales increased slightly year on year.

The Bosch Group is a leading global supplier of technology and services. According to preliminary figures, its roughly 290,000 associates generated sales of 48.9 billion euros in 2014. Its operations are divided into four business sectors: Mobility Solutions, Industrial Technology, Consumer Goods, and Energy and Building Technology. The Bosch Group comprises Robert Bosch GmbH and its more than 360 subsidiaries and regional companies in some 50 countries. If its sales and service partners are included, then Bosch is represented in roughly 150 countries. This worldwide development, manufacturing, and sales network is the foundation for further growth. In 2014, Bosch applied for some 4,600 patents worldwide. The Bosch Group's strategic goal is to deliver innovations for connected life. Bosch improves quality of life worldwide with products and services that are innovative and spark enthusiasm. In short, Bosch creates technology that is "Invented for life."

The company was set up in Stuttgart in 1886 by Robert Bosch (1861-1942) as "Workshop for Precision Mechanics and Electrical Engineering." The special ownership structure of Robert Bosch GmbH guarantees the entrepreneurial freedom of the Bosch Group, making it possible for the company to plan over the long term and to undertake significant up-front investments in the safeguarding of its future. Ninety-two percent of the share capital of Robert Bosch GmbH is held by Robert Bosch Stiftung GmbH, a charitable foundation. The majority of voting rights are held by Robert Bosch Industrietreuhand KG, an industrial trust. The entrepreneurial ownership functions are carried out by the trust. The remaining shares are held by the Bosch family and by Robert Bosch GmbH.

Additional information is available online at www.bosch.com and www.bosch-press.com, http://twitter.com/BoschPresse.
( Press Release Image: https://photos.webwire.com/prmedia/7/195264/195264-1.jpg )
Related Links
WebWireID195264

This news content was configured by WebWire editorial staff. Linking is permitted.
News Release Distribution and Press Release Distribution Services Provided by WebWire.