Save the Children and UNICEF Receive $11.9 Million from IKEA Soft Toys for Education Campaign
Thank you IKEA customers and co-workers! The IKEA U.S. Soft Toy Campaign 2014 raised almost $1.2 million.
FAIRFIELD, Conn. –
WEBWIRE
–
Friday, January 16, 2015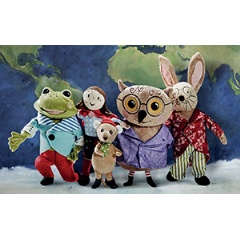 For every IKEA Soft Toy or children's book sold from Nov. 9, 2014, through Jan. 3, 2015, the IKEA Foundation donated 1 euro (approximately $1.30 U.S.) to Save the Children and UNICEF for children's education projects. IKEA photo.
During this past 2014 holiday season, millions of IKEA customers and co-workers around the world participated in the IKEA Soft Toys for Education campaign. Through their purchase of soft toys and children's books, the IKEA Foundation will donate $11.9 million* (€10.1 million) to UNICEF and Save the Children for educational projects.
Since 2003, the IKEA Soft Toys for Education program has been focusing on providing quality education to vulnerable children living in poverty in developing countries. To date, it has improved education for more than 11 million children in 46 countries and raised $102 million (€77 million).
This year's campaign ran from Nov. 9, 2014, to Jan. 3, 2015. For every soft toy and children's book sold, the IKEA Foundation donated one euro ($1.18)* to UNICEF and Save the Children to train teachers, improve child-protection systems, provide educational materials, and increase school attendance in some of the world's poorest communities.
Thanks to this year's donation, UNICEF will continue to fund UNICEF education programs through the Schools for Africa initiative in eight countries and the Schools for Asia initiative in China. Save the Children's share will support education for children with disabilities and those from ethnic minority groups in Asia and Europe.
In the U.S., IKEA stores also had a local impact with a give twice campaign. Customers were given the opportunity to purchase soft toys for their local US store charities resulting in almost 18,500 soft toys donated.
"We are grateful for our partnership with IKEA, and thankful for all the support that IKEA employees and customers gave to this year's successful holiday campaign. The funds raised will provide learning to children who are often overlooked in school, or who are entirely left out of the education system. Together, we can create a better and brighter future for them," said Carolyn Miles, president and CEO of Save the Children.
"All children should have the opportunity to go to school," said Caryl Stern, President and CEO of the U.S. Fund for UNICEF. "UNICEF works to provide access to a quality education to the most vulnerable children, including those that have been affected by emergencies such as the Ebola outbreak in West Africa. Thanks to the IKEA Foundation, IKEA customers and invaluable support from IKEA co-workers, more children will have the opportunity to continue their education, helping to build a brighter future."
The funding will be used for a wide range of educational activities, even helping children continue to learn when disasters strike. For example, more than $1 million ** (€880,000) of last year's donation is supporting UNICEF's efforts to help children in Sierra Leone learn remotely via radio programs while their schools are closed because of the deadly Ebola outbreak; the money is also helping children and families get the lifesaving information and support they need to survive.
*One euro = $1.18 US dollar (1/14/2015)
**One euro = $1.30 US dollar (1/14/2014)
About IKEA Group
The IKEA vision is to create a better everyday life for the many people. Our business idea supports this vision by offering a wide range of well-designed, functional home furnishing products at prices so low that as many people as possible will be able to afford them. There are currently 315 IKEA Group stores in 27 countries. Additionally, there are 40 IKEA stores run by franchises. There are 40 IKEA stores in the US. In FY 14, IKEA Group had 716 million visitors to the stores and 1.5 billion visitors to IKEA.com. IKEA incorporates sustainability into day-to-day business and supports initiatives that benefit children and the environment. For more information, please visit www.IKEA.com, facebook.com/IKEAUSA, @IKEAUSANews, @IKEAUSA, http://pinterest.com/IKEAUSA/, www.youtube.com/IKEAUSA, www.theshare-space.com, www.theshare-space.com/en/Blog
About IKEA Foundation
The IKEA Foundation aims to improve opportunities for children and youth in some of the world's poorest communities by funding holistic, long-term programs that can create substantial, lasting change. The IKEA Foundation works with strong strategic partners applying innovative approaches to achieve large-scale results in four fundamental areas of a child's life: a place to call home; a healthy start in life; a quality education; and sustainable family income. Currently-funded programs benefit an estimated 100 million children. Learn more at www.ikeafoundation.org and facebook.com/IKEAfoundation
About UNICEF
The United Nations Children's Fund (UNICEF) works in more than 190 countries and territories to put children first. UNICEF has helped save more children's lives than any other humanitarian organization by providing health care and immunizations, clean water and sanitation, nutrition, education, emergency relief, and more. The U.S. Fund for UNICEF supports UNICEF's work through fundraising, advocacy, and education in the United States. Together, we are working toward the day when no children die from preventable causes and every child has a safe and healthy childhood. For more information, please visit www.unicefusa.org.
About Save the Children
Save the Children gives children in the United States and around the world a healthy start, the opportunity to learn and protection from harm. We invest in childhood — every day, in times of crisis and for our future. Follow us on Twitter and Facebook.
( Press Release Image: https://photos.webwire.com/prmedia/3/194801/194801-1.jpg )
Related Links
WebWireID194801

This news content was configured by WebWire editorial staff. Linking is permitted.
News Release Distribution and Press Release Distribution Services Provided by WebWire.