Bosch CEO Denner: Industry 4.0 offers major opportunities for Germany
"Connected industry" as an opportunity for Germany

* New business models will be possible, new competitors will emerge
* Potential competitive advantage for high-cost locations as well
Stuttgart, Germany –
WEBWIRE
–
Wednesday, January 14, 2015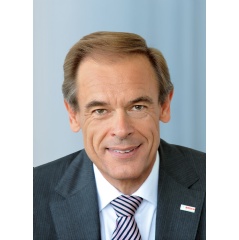 Dr. Volkmar Denner Chairman, Board of Management Robert Bosch GmbH
Connected industry, also called Industry 4.0, offers German companies numerous opportunities for new business and improved productivity, and thus also for increased competitiveness. This was the message from Dr. Volkmar Denner, the chairman of the Bosch board of management, at an event with representatives of the business community in Ludwigsburg, near Stuttgart. "Connected manufacturing processes have the potential to improve productivity by up to 30 percent," Denner continued. "Thanks to Industry 4.0, we can also be competitive in a in high-cost country like Germany." At the same time, the CEO of the technology and services company warned that not all companies have recognized these opportunities. On the one hand, he said, this means that many have not confronted the challenges of connected production early enough. "On the other hand, small and medium-sized enterprises and the mechanical engineering sector in Germany risk losing out to international competitors in this area." In many cases, countries such as China, the U.S., and Korea are driving forward connectivity far more decisively, Denner argued.

Customized products at mass-production cost
On the path to connected industry, Bosch sees itself as both a leading proponent and leading supplier of software and hardware. The company is currently working on connecting its more than 250 manufacturing locations worldwide. "Industry 4.0 also enables high flexibility in production," Denner said. "On a connected assembly line, we can for example produce many different hydraulic valves for agricultural machinery side by side, and add new variants at any time – without any complex retooling." That makes customized products possible in cost-effective mass production as well.

Too slow by international standards
Denner is concerned that the increasing trend toward connectivity and the changes resulting from this are in many cases being given far too little attention in Germany. "Our progress is too slow by international standards. A lot will happen more quickly than many currently believe. But if we tackle it now, the internet of things and Industry 4.0 have the potential to help bring strong growth back to Europe." Denner called on business and political leaders to quickly and concertedly work on creating the necessary practical conditions for connected manufacturing, as Germany otherwise risks wasting its head start in this field.

Background: Industry 4.0 – manufacturing on the internet of things
In conjunction with fast data networks and software, sensors on components and machines enable objects to exchange information with one another without the need for human intervention ("internet of things"). In the future, even objects that up to now have not contained any electronics will be able to communicate with each other. The data created in the process will allow useful new information to be derived and interrelationships to be analyzed. For example, a machine can identify wear and tear and arrange for maintenance in good time. In this way, unplanned downtime can be reduced and productivity increased.
The Bosch Group is a leading global supplier of technology and services. In 2013, its roughly 281,000 associates generated sales of 46.1 billion euros. (NB: Due to a change in accounting policies, the 2013 figures can only be compared to a limited extent with the 2012 figures). Its operations are divided into four business sectors: Mobility Solutions, Industrial Technology, Consumer Goods, and Energy and Building Technology. The Bosch Group comprises Robert Bosch GmbH and its roughly 360 subsidiaries and regional companies in some 50 countries. If its sales and service partners are included, then Bosch is represented in roughly 150 countries. This worldwide development, manufacturing, and sales network is the foundation for further growth. In 2013, the Bosch Group invested some 4.5 billion euros in research and development and applied for some 5,000 patents. This is an average of 20 patents per day. The Bosch Group's products and services are designed to fascinate, and to improve the quality of life by providing solutions which are both innovative and beneficial. In this way, the company offers technology worldwide that is "Invented for life."

The company was set up in Stuttgart in 1886 by Robert Bosch (1861-1942) as "Workshop for Precision Mechanics and Electrical Engineering." The special ownership structure of Robert Bosch GmbH guarantees the entrepreneurial freedom of the Bosch Group, making it possible for the company to plan over the long term and to undertake significant up-front investments in the safeguarding of its future. 92 percent of the share capital of Robert Bosch GmbH is held by Robert Bosch Stiftung GmbH, a charitable foundation. The majority of voting rights are held by Robert Bosch Industrietreuhand KG, an industrial trust. The entrepreneurial ownership functions are carried out by the trust. The remaining shares are held by the Bosch family and by Robert Bosch GmbH.

Additional information is available online at www.bosch.com and www.bosch-press.com, http://twitter.com/BoschPresse.
( Press Release Image: https://photos.webwire.com/prmedia/7/194710/194710-1.jpg )
Related Links
WebWireID194710

This news content was configured by WebWire editorial staff. Linking is permitted.
News Release Distribution and Press Release Distribution Services Provided by WebWire.