Habitat for Humanity rebuilds lives and hope of those affected by disasters in Asia-Pacific in 2014
BANGKOK –
WEBWIRE
–
Tuesday, January 13, 2015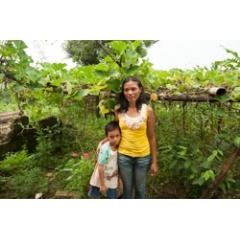 Mary Jane Lagarel Suco, with one of her sons, started to grow vegetables soon after Typhoon Haiyan wiped out her home garden in Leyte province, the Philippines
While the 2004 Indian Ocean tsunami destroyed his house, it also opened the way to restore what Dharumar Vinayagam lacked. Marriage prospects seemed dim for Vinayagam who had polio. After he moved into a house rebuilt by Habitat for Humanity India, he got married and life looked up. "With a tailoring business of my own, I have social status and I am living with dignity and pride."

The Asia-Pacific region is the most disaster-prone in the world. Indonesia and the Philippines were the worst-affected countries, with more than 350,000 people killed in the last decade, according to the "United Nations Statistical Yearbook for Asia and the Pacific 2014".
Last year, in December alone, the Philippines was struck by Typhoon Hagupit (locally known as Ruby) and Tropical Storm Jangmi (Seniang), northern and eastern states in Malaysia were affected by severe flooding, and Indonesia's Central Java province was hit by landslides. Other disasters in 2014 included:
October: Cyclone Hudhud in Andhra Pradesh and Odisha states, eastern India.
September: 
Typhoon Fung-Wong (Mario) in northern Philippines.
Flooding in India's Jammu and Kashmir regions.
August:
Earthquake measuring 6.1-magnitude in Ludian county, Yunnan province, south-western China.
Sunkoshi landslide in Nepal.
July: Typhoon Rammasun (Glenda) in northern Philippines, southern China, and northern Vietnam.
May: Earthquake in Chiang Rai province, northern Thailand.
March: Fire in Sunsari district, south-eastern Nepal.
February: Eruption of Mount Kelud, East Java province, Indonesia.
In the region, the death toll rose more than three-fold between 2004 and 2013, largely due to a few extreme disasters such as the 2004 Indian Ocean tsunami, and the Sichuan earthquake in China and Cyclone Nargis in Myanmar in 2008.
According to the United Nations report, about 1.5 billion people were affected by natural disasters in the last decade. Habitat for Humanity continues to help many affected families across the region.
Among them is Mary Jane Lagarel Suco, 37, from Leyte province in the Philippines. Her house was badly damaged by Typhoon Haiyan, locally known as Yolanda, which struck the Visayas region on 8 November 2013. With a shelter repair kit from Habitat for Humanity Philippines, Mary Jane and her partner Bernardo Suco started to rebuild their family's life. She started growing vegetables again to replace the garden that was wiped out together with her house. Her repaired house is bigger than before, thanks to the carpentry skills of Bernardo.
Mary Jane hopes to further improve her home in the future if the family finances permit. For now, she wishes to see her children complete higher education. "When I see my kids smile when they are learning, I am happy. Their happiness is transferred to me," she said
Over in Aceh, Indonesia, which was worst-affected by the 2004 Indian Ocean tsunami, the younger generation is keen to contribute to the community. Rusli Raden's extended household of 11 members continues to live in the same house that Habitat for Humanity Indonesia built a decade ago.
Rusli, 67, helped in Habitat's reconstruction when he provided data on the number of tsunami-affected families, the death toll, and the need for new houses. These days, he conducts Islamic religious classes, organizes community gatherings, counsels and mediates between neighbors.
His daughter Yusniar wants to study medicine and return to her village to work as a doctor. Rusli's granddaughter, Nural Andhika Putri, sets her sight on becoming a policewoman in order to be a role model to other women.
A permanent home rebuilt after a disaster has enabled families to have a new lease of life.
"Habitat instilled hope when our family was stranded – homeless and 'hope-less'. They gave us the courage to face the future. Today, I am really proud to say that I own a concrete house and I have educated, healthy children and grandchildren," said Govindasamy Sundaramurthy.
"While disasters spell losses, they also provide opportunities for Habitat for Humanity to build back better. With training, communities can be better prepared for future disasters. We are committed to supporting affected families in rebuilding their lives and gaining access to decent shelter, which is the foundation for breaking the poverty cycle," said Rick Hathaway, Asia-Pacific vice-president for Habitat for Humanity.
( Press Release Image: https://photos.webwire.com/prmedia/3/194663/194663-1.jpg )
Related Links
WebWireID194663

This news content was configured by WebWire editorial staff. Linking is permitted.
News Release Distribution and Press Release Distribution Services Provided by WebWire.