UNITY™, the world's most advanced console, is an open platform that integrates with third party apps including Google Glass
Equipment, Mobile and Technology Converge to Create Seamless Transition for Consumer Physical Activity, Inside and Outside the Gym
LAS VEGAS –
WEBWIRE
–
Monday, January 5, 2015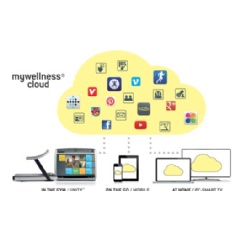 Technogym will be showing at the CES 2015, from January 6th to the 9th in Las Vegas at Booth 74125 at the Sands Expo, Tech West, Level 2. Technogym will be focusing on its mywellness platform and how it fully integrates into the Technogym ecosystem.
Technogym's mywellness cloud is a revolutionary new open platform that allows wellness enthusiasts to measure and aggregate all of the data surrounding their physical activities, both inside the gym and out, along with their daily movements and their evolving body measurements. With the mywellness cloud, consumers can manage their workouts in the gym (in concert with Technogym equipment & UNITY™ consoles), outdoors on their mobile devices, at home via personal computers or Technogym home equipment, on holiday or wherever they train, for a truly personalized and seamless wellness experience.
All of this ladders up to Technogym's "Wellness on the Go" philosophy, which is at the heart of everything that Technogym strives to achieve from a technological, lifestyle and holistic standpoint.
Made possible by the UNITY console - the Android-based display for cardio equipment that allows users to customize the information and entertainment options on Technogym cardio equipment, much like you customize the screen on your mobile devices – in combination with Technogym's mywellness app - which stores physical activity in the mywellness cloud on a variety of devices - Technogym provides a fully integrated personal health and fitness system for everyday use on the mywellness cloud.
All of these components are integral parts of the Technogym Ecosystem, the first integrated system that incorporates interconnected equipment, services, content and programs.
Through the mobility and interconnectedness inherent in all these products, fitness facilities can now offer their members "Wellness on the Go" packages and connect with them on Technogym equipment anywhere in the world, whether inside or outside of the gym.
"We believe in providing our clients with the best fitness experience, regardless of whether they are in the gym or not," said Nerio Alessandri, President and Founder, Technogym. "The mywellness cloud solely exists to promote a holistic fitness lifestyle amongst consumers and make it easier for them to fully realize their training potential through our integrated technology platforms and partnerships with some of the top health and fitness apps today."
To connect consumers to their health regimens and personal habits, Technogym has brokered partnerships with key technology apps and products so that personal health and workout information will be seamless across multiple platforms.
Technogym's mywellness cloud can now be integrated with a suite of popular products, including Fitbit, MapMyFitness, MyFitnessPal, Polar, RunKeeper, Strava, Withings and Garmin.
Furthermore, Technogym has created MyRunning Logbook, a revolutionary new feature in the ecosystem designed particularly for casual and hardcore running enthusiasts. With MyRunning Logbook, consumers can track any of their outdoor runs using their favorite mobile training device, such as RunKeeper, MapMyFitness, Strava, Polar, and Garmin, and make it available to replicate on any Technogym treadmills with the Unity console.
With this technology, users can fully recreate the outdoor runs indoors, including intervals, pace and speed, which is a perfect for runners who want to improve on their daily runs, or for those training for a marathon for example.
Technogym Fitness Partners:
RunKeeper: the innovative integration between Technogym and the app RunKeeper enables frictionless fitness tracking from within the gym, the home, and now across any of the many types of indoor and outdoor activities. The RunKeeper suite of applications uses built-in GPS technology to provide users worldwide with the ability to map, record and share their exercise routes and workouts. Through seamless integration with RunKeeper, the Technogym Ecosystem further extends its reach beyond the facility premises, providing the cutting edge technologies to automatically monitor outdoor and lifestyle activities.
fitbit: thanks to the Technogym Ecosystem and the new mywellness cloud open platform, both Technogym and Fitbit users will be able to experience real-time connectivity between Fitbit's award-winning wireless activity and sleep trackers and Technogym equipment, apps and cloud. Users will need to link their mywellness account with their Fitbit account just once and they will automatically get all their Fitbit stats including steps taken, distance travelled, calories burned, floors climbed, active minutes and sleep quality continuously synced to their mywellness account.
Withings: it's possible to insert your body and weight measurements manually on your mywellness cloud account, but now these can also be automatically updated daily through our new partnership with Withings, manufacturers of next-generation smart body monitors. Withings' Internet-connected, incredibly accurate Smart Body Analyzer sends your body measurements straight into the Withings Health Cloud, which stores your data for easy access via web or mobile apps. The Withings Health Cloud is now synchronized seamlessly with Technogym's mywellness cloud, which means that your daily Withings health measurements can now be accessed simply and easily on your personal mywellness account.
mapmyfitness: the MapMyFitness suite of applications, under the MapMyRun and MapMyRide flagship brands, uses built-in GPS technology to provide users worldwide with the ability to map, record and share their exercise routes and workouts. From now on, users with MapMyFitness accounts can link and merge them with their Technogym mywellness® accounts to keep track of all of their movement and physical activity. Through this integration, the Technogym ecosystem further extends its reach beyond the facility premises, providing the cutting edge technologies to automatically monitor outdoor and lifestyle activities.
Polar: users' data captured by Polar's equipment during indoor or outdoor training sessions can now be accessed on Technogym's Ecosytem and mywellness cloud open platform as well as Polar's own data platforms. The seamless integration of the most advanced tracking and fitness technology further extends Technogym's Wellness on the Go, a revolutionary vision for the future of fitness, allowing users to connect with their personal wellness anytime and anywhere.
MyFitnessPal: myFitnessPal provides a very simple way to log every food you eat during the day, resulting in a detailed view of the calorie intake, split in amount of carbs, fat and proteins. The integration of MyFitnessPal with Mywellness cloud platform now allows users to easily share this huge amount of data with professional operators that can use it to further deepen the lifestyle analysis of their customers lifestyle and assign personalized plans to adopt healthy behaviours.
GARMIN: Garmin has been helping people achieve their health goals since 1989 so whether Technogym members are active by walking, hiking, running, cycling, swimming or are multisport athletes, Garmin has a device to support their needs. Members can now link their device to the mywellness cloud platform through a simple one-time process allowing their activity data, from steps to detailed GPS information, to be automatically shared to their mywellness account. Technogym's innovative approach to wellness knocks down the walls of the traditional fitness club and sets the stage for a fresh approach to health & fitness in and out of the club.
STRAVA: Strava is one of the most recognized mobile applications that uses GPS to track and analyzed outdoor sports. The integration with the Mywellness Cloud allows trainers to provide a higher level of service to all Strava users that share their outdoor data and receive a more advanced analysis together with more personalized workout sessions.
( Press Release Image: https://photos.webwire.com/prmedia/7/194387/194387-1.jpg )
Related Links
WebWireID194387

This news content was configured by WebWire editorial staff. Linking is permitted.
News Release Distribution and Press Release Distribution Services Provided by WebWire.