APEC Tech Startups Win Global Innovator Awards
WEBWIRE
–
Friday, December 19, 2014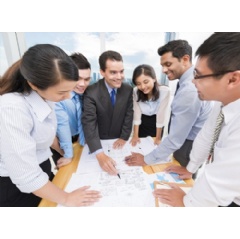 High-tech startup companies, sponsored by the APEC Accelerator Network, scored wins at the prestigious Intel Global Challenge this past November in California, USA. The event, which challenges scientists and engineers to turn original technology ideas into businesses, awarded first place to Chinese Taipei-based startup ServTech. Using a cloud-based app store concept, ServTech technology enables factory owners to quickly source productivity software.
The award marks the successful culmination of a busy second year for the APEC Accelerator Network. Founded in 2013 with support from the Asia Pacific Economic Cooperation (APEC) and global corporations, Siemens and Intel, the accelerator network provides a platform for young entrepreneurs in the region to connect with marketing experts, and showcase their ideas to investors.
The award—and venture capital attention—captured by Servtech and other APEC startup companies at the Intel Global Challenge and Siemens New Venture Forum in Silicon Valley this year highlight the Asia-Pacific as an innovative source of new technologies. The APEC Accelerator Network's goal is to nurture this entrepreneurial talent.
"The success in California shows our accelerator network is proving effective," says Johnny Yeh, Director General of the Small and Medium Enterprise Administration in Chinese Taipei, who helped initiate the APEC Accelerator Network. "We are helping brilliant, young innovators from across Asia-Pacific bring smart ideas to a global audience, and gain recognition. The network is kick-starting the companies of tomorrow."
Sparking an Asia-Pacific Innovation Network
The accelerator network is a concrete outcome from the 2012 APEC Leaders' Declaration, which instructed officials to work collectively to promote startups and entrepreneurship across the Asia-Pacific. To meet this need, the APEC Small and Medium-sized Enterprise Working Group launched the Startup Accelerator Network in 2013.
"We created an accelerator network because of the proven role they play in increasing innovation," says Yeh. "Sixty percent of all such networks are concentrated in North America and 14 percent are in Asia," he adds.
The APEC Accelerator Network is APEC's solution to provide a startup network for the Asia-Pacific. The network brings together startup executives from across the region to attend a two-day seminar where they present their ideas and discuss how to commercialise them with successful entrepreneurs. Entrants also get to pitch investment prospects with venture capitalists who specialise in early-stage funding.
"Startups are often based on excellent ideas, but entrepreneurs frequently lack some of the key ingredients required for commercial success, such as marketing and finance skills," says Yeh. "The APEC Accelerator Network directly addresses this deficit."
According to Yeh, the network also helps inform public policy. "The pan-APEC network events allow officials to identify priority areas that will advance innovation-based economic cooperation," he says.
Promoting innovation in SMEs is a key priority for APEC in 2014 and will continue to be critical to APEC's agenda in 2015— particularly as many member economies attempt to overcome the 'middle-income trap' and capture higher-value added growth and income.
Factory Managers Reach for App Stores in the Cloud
This year's APEC Accelerator Network event received 92 applicants. Out of this group, 33 innovative startup finalists were selected to present their ideas in front of an expert panel at the APEC Accelerator Network Summit in Chinese Taipei this past August. The group of finalists came from Chile; China; Hong Kong, China; Indonesia; Japan; Korea; Malaysia; Peru; the Philippines; Russia; Singapore; Chinese Taipei; Thailand; the United States and Viet Nam.
These companies also received mentoring and advice from the APEC Accelerator Network. A further round of intense competition resulted in a final 6 companies being flown to California to compete at the Intel Global Challenge and the Siemens New Venture Forum in Silicon Valley in November.
Chinese Taipei-based ServTech was one of the companies that went on to win an award in California. ServTech's innovative technology includes a series of diagnostic apps that factory owners can use to monitor their machinery, report on productivity and diagnose problems. The apps also contain algorithms to predict when specific machines will fail.
"The APEC Accelerator Network consultants helped us analyse critical areas for a startup: who our market is and how big the market is," says Kao Hung-An, Co-founder of ServTech. "The venture capitalists and incubators also helped us focus on how to crystallise the value of our idea. This led to the concept of an app store, and a cloud-based, one-stop shop for manufacturers looking for big data-analysis tools."
At the Intel Challenge in November, ServTech took home the first-place award in the 'Internet, Software and Mobile' category, as well as new potential contacts to build their business.
"The win in America generated an introduction to FOXCONN—one of our biggest potential customers, and a potential route of entry into China," explains Kao.
Digital Fashion: Wearable electronics
Another winner for APEC was Chinese Taipei-based bOMDIC which has created an intelligent workout device. The GoMore Stamina Sensor enables individuals to match exercise intensity to their own stamina levels, maximising the effectiveness of every workout session. As a result of their participation in the Intel Global Challenge, the company attracted California venture capital attention.
"The APEC Accelerator Network and the Intel Global Challenge gave us great media exposure, and we got to showcase our device to the California fitness industry," says Dr Scott Cheng, bOMDIC Founder & Chief Technology Officer.
"The wearable market is booming in the US and we secured seed-round funding quickly. We are posed for entry into the North America fitness market and are currently interviewing distribution partners. The GoMore Stamina Sensor will make its debut at the Consumer Electronics Show (CES) in January 2015 and launch on Kickstarter at a later date," he explains.
Attention on the App Catwalk
Besides venture capitalists, the annual competitions in Silicon Valley also attract global technology corporations who are on the constant look out for game-changing apps.
One technology that made waves at the Siemens New Venture Forum was AirSig. Created in 2014, AirSig allows people to securely log into mobile apps by waving their smartphone and writing their 'signature' in the air. AirSig revolutionises the authentication process with a secure three-step process, including recognising the unique smartphone used. This cutting-edge technology received a USD 2 million investment from FOXCONN Group, only three months after the establishment of the company.
According to Chief Executive Officer, Pokai Chen, motion-sensitive signature recognition is highly secure, and the app has the potential to reduce manual password type-ins by over 50 percent.
"We met several leading internet companies and they were very impressed," says Chen. "They can see the technological potential, and we gained direct market insight. This means our product development keeps heading in the right direction."
Other lucky companies that presented their technologies in California are Singaporean biophotonics company ClearBridge with its computer-rich microscopy technology and Drin-Q—a low-cost zero-energy water purification system developed by a sixteen-year old Korean entrepreneur.
Innovation Comrades
The APEC Accelerator Network is also changing the Asia-Pacific landscape for entrepreneurs in two critical ways.
"The value to startups extends well beyond access to venture capital," Yeh says. "After the entrepreneurs meet each other, they stay in contact, sharing challenges, ideas, and tactics among themselves. Commercialising a fresh concept is a lonely business; the APEC network creates a cross-border regional band of innovation comrades."
According to Yeh, the other value-generator is better public policy. He reports that the combination of successful sponsors, renowned speakers, and startups from across the APEC region gets the attention of government officials. He observes: "They take notice of what this concentration of entrepreneurs say about the challenges to business creation—and that helps to inform policy."
For more information, please go to: http://www.apecaccelerator.org

You can also watch a video of the APEC Accelerator Network Summit 2014 in Chinese Taipei here.
( Press Release Image: https://photos.webwire.com/prmedia/7/194098/194098-1.jpg )
Related Links
WebWireID194098

This news content was configured by WebWire editorial staff. Linking is permitted.
News Release Distribution and Press Release Distribution Services Provided by WebWire.