Last-Minute Shoppers Spread Holiday Cheer
More Americans plan to shop last minute with 64% planning to hit the stores on December 26

Three in four Americans find re-gifting socially acceptable
New York, NY –
WEBWIRE
–
Monday, December 15, 2014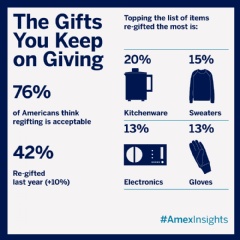 A vast majority of Americans are extending their holiday shopping, with more planning to shop last minute (79% vs. 75% in 2013) and 64% shopping the day after Christmas (on par with 2013), according to the latest American Express Spending & Saving Tracker. Perhaps emerging as a rival for traditional popular shopping holidays like Black Friday, the day after Christmas is becoming a more popular day to hit the stores, with consumers predicting they will spend an average of $192 on December 26, up from $188 last year.
"This year's holiday shopping season does not seem to have a clear-cut beginning, middle or end," said David Rabkin, Senior Vice President of Consumer Lending Products at American Express. "Americans are spending steadily over a longer period of time, willing to hold out for better deals, even planning to hit the stores even after Christmas to get the gifts they want at the right price."
For the consumers who plan to shop on December 26, their most popular reasons include:
Taking advantage of post-holiday sales to buy things for yourself (34% vs. 33% in 2013)
Using gift cards received from others (26% vs. 19% in 2013)
Taking advantage of post-holiday sales to buy gifts for next year (21% vs. 18% in 2013)
It's a tradition to go shopping that day (14%, on par with 2013)
Perhaps surprisingly, men say they'll spend almost twice as much as women the day after Christmas, shelling out an average of $245 vs. $230 last year; women will spend $140, down slightly from $151 in 2013.
Re-gifting and Returns Solve the Dilemma of Unwanted Gifts
Whether it doesn't fit or wasn't on your list, re-gifting a holiday present is officially part of appropriate yuletide etiquette, with more than three in four Americans finding it socially acceptable (on par with 2013). Consumers report re-gifting an average of four presents last year, with the most popular items to re-gift:
Kitchenware (20%)
Sweaters (15%)
Electronics (13%)
Gloves (13%)
Toys (13%)
Consumers say they're most likely to give a re-gifted present to friends (41%), coworkers (32%) and siblings (29%).
While re-gifting is a popular way to shed unwanted presents, the return/exchange is also common. Among shoppers who plan to return and/or exchange gifts the day after Christmas, 95% say they typically spend the same or more at the retailer that day. And nearly half of Americans will 'fess up, saying they'd tell their loved one if they returned their gift (43% vs. 41% in 2013).
Shoppers Minding the Budget, Still Splurging on Selfies
Midway into the holiday shopping season, shoppers are still taking a cautious approach to holiday spending, with most planning to stick to their budgets (70% vs. 56% in 2013). Shoppers have been surprised by a few higher costs this holiday season, citing a few reasons for potential budget overages:
Shipping (40% vs. 34% in 2013)
Holiday décor (32% vs. 23% in 2013)
Transportation for holiday events (29% vs. 26% in 2013)
Gift wrap (29% vs. 20% in 2013)
Hostess gifts (18% vs. 10% in 2013)
Another unforeseen cost Americans will face is the impulse to self gift. A whopping 74% have shopped for themselves this holiday season, and more than half report those purchases were impulse buys (53%).

Celebrating the holidays with gifts to oneself doesn't stop there, as 80% of Americans will invest in their social lives by spending on holiday celebration plans (vs. 74% in 2013). Furthermore, in preparation for holiday parties and New Year's dates, most will indulge in "selfie spending" and at much higher rates than in years past, making sure they look their best for the festivities:

Item | 2014 | % change since 2012

Hair cut/styling | 66% | +78%
New outfit | 65% | +117%
New shoes/accessories | 53% | +130%
Manicure/pedicure | 34% | +143%
Waxing | 23% | +229%
Spa-facial, body treatment | 20% | +233%

About the American Express Spending & Saving Tracker
The American Express Spending & Saving Tracker research was completed online among a random sample of 1,507 adults, including the general U.S. population, as well as an affluent demographic defined by a minimum annual household income of $100,000. Interviewing was conducted by Ebiquity between November 20 and 22, 2014. The results reported have an overall margin of error of +/- 2.5 (overall) and +/- 2.6 (holiday shoppers) at the 95 percent level of confidence.

About American Express
American Express is a global services company, providing customers with access to products, insights and experiences that enrich lives and build business success. Learn more at americanexpress.com and connect with us on facebook.com/americanexpress, foursquare.com/americanexpress, linkedin.com/company/american-express, twitter.com/americanexpress, and youtube.com/americanexpress.

Key links to products and services: charge and credit cards, business credit cards, travel services, gift cards, prepaid cards, merchant services, business travel, and corporate card.

About Ebiquity, Plc.
Ebiquity are independent marketing performance specialists. Ebiquity enables brands across the world to make better informed decisions to improve their brand and business performance across integrated communications channels. Learn more at ebiquity.com.
( Press Release Image: https://photos.webwire.com/prmedia/7/193919/193919-1.jpg )
Related Links
WebWireID193919

This news content was configured by WebWire editorial staff. Linking is permitted.
News Release Distribution and Press Release Distribution Services Provided by WebWire.