Kuraray to Develop New Markets with PARAPURE Novel Acrylic Film
WEBWIRE
–
Thursday, December 11, 2014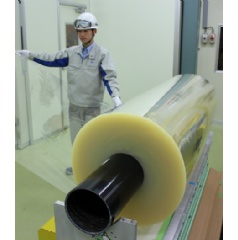 Kuraray Co., Ltd. (Headquarters: Chiyoda-ku, Tokyo; President: Fumio Ito) has decided to enter the acrylic film market with PARAPURE, a recently developed product. Created through the application of the Company's unique technologies in the area of highly functional resins, PARAPURE boasts superior weather resistance, transparency and processability. Targeting construction materials and automobile components as its main applications, PARAPURE is already being adopted by some customers. Looking ahead, we will expand the product lineup and grades to encompass optical applications, such as light guide films, thereby developing new markets for acrylic films.
1. Background for Development
To date, conventional acrylic films have incorporated rubber particles to enhance plasticity for easier processing. However, the inclusion of such ingredients often causes whitening in the course of molding or in high-temperature environments and thus compromises transparency. It has thus been difficult to use acrylic films for applications that require high transparency even though acrylic itself is a highly transparent material.
Kuraray has long been a comprehensive manufacturer of such materials as methyl methacrylate (MMA) monomer as well as methacrylic resin molding materials and substrates and thus boasts considerable proprietary expertise in resin development and production accumulated over the years. Drawing on these technological strengths, Kuraray has succeeded in creating an acrylic film that is as transparent as pure acrylic should be and is also easy to process due to its high plasticity.
2. Characteristics of PARAPURE
1. Highest possible transparency
It is more transparent than glass, boasting the highest total light transmittance of any film.
2. Easy to process
The product's transparency is not compromised even when bent. This makes PARAPURE extremely easy to process.
3. Printable
Designs can be created on molded products covered by PARAPURE using such processes as printing and vapor deposition.
4. Superior weather resistance
Highly durable even when subject to long-term outdoor use, the film protects the exterior of finished goods and any surface design it covers from deterioration attributable to ultraviolet light exposure.
5. Wide-ranging product lineup tailored for a variety of applications
Not only does it market PARAPURE in a variety of thicknesses, lengths and widths, the Company is capable of proposing solutions finely tailored to customer requests (e.g., a multilayered film that combines other materials).
3. PARAPURE Product Lineup
PARAPURE HI Grade—for molded products used for the decoration of automobiles
On the back of growing energy consciousness, a shift in auto parts materials from metals to resins is under way as manufacturers scramble to meet weight-saving requirements. Consequentially, there is a growing market for acrylic film top coats for molded automotive parts, including interior and exterior components.
PARAPURE HI Grade is an easy-to-handle film boasting high transparency. The use of this grade greatly enhances the visibility of component's surface designs.PARAPURE KZ Grade—for construction materials, panels and resin window sashes
When incorporated into the laminate used in construction, KZ Grade film will protect surfaces from discoloration and deterioration attributable to exposure to ultraviolet light or rain. Moreover, its outstanding properties have raised the possibility of there being demand for KZ Grade film for use as a top coat for the resin sashes that are popular in the European and U.S. housing market for their greater heat insulation and air-tightness compared with metal sashes. In addition, PARAPURE KZ Grade is easy to handle, with minimal whitening in the course of processing.
Other grades are now being developed for applications requiring higher transparency and reflectivity
The Company will push forward further development targeting such applications as exterior materials that can substitute for metal plating and paint, as well as decorative films, which require high color reproduction capability and glossiness.
4. Sales Target
Annual sales of ¥2.0 billion (within five years)
( Press Release Image: https://photos.webwire.com/prmedia/7/193797/193797-1.jpg )
Related Links
WebWireID193797

This news content was configured by WebWire editorial staff. Linking is permitted.
News Release Distribution and Press Release Distribution Services Provided by WebWire.