Curtain up for Pipilotti Rist at Nationale Suisse
WEBWIRE
–
Tuesday, December 9, 2014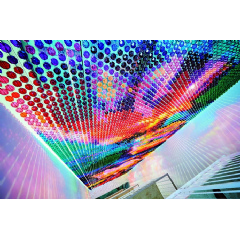 An asset for Basel: an art intervention by Pipilotti Rist graces the refurbished Nationale Suisse head office.
World-famous Swiss artist Pipilotti Rist has created a vast bead curtain to hang in the stairwell at insurance company Nationale Suisse. The one-of-a-kind artwork is made up of thousands of faceted plastic balls. It now joins two further "art in architecture" projects by Hans Danuser and Daniel Robert Hunziker that also grace the refurbished Nationale Suisse head office located on Basel's Steinengraben.
Refurbishment is finished at the Basel head office of Swiss insurance group Nationale Suisse. Burckhardt+Partner was the firm of architects responsible for work on the now ultramodern office building with its improved infrastructure, increased flexibility and enhanced working environment. Refurbishing the Steinengraben office involved more than simply upgrading the architecture. The undertaking has introduced new aspects to the Nationale Suisse art collection as well, in the form of three "art in architecture" projects by Swiss artists Hans Danuser, Daniel Robert Hunziker and Pipilotti Rist. They underscore the Group head office's representational function, as well as marking a new high point in the corporate tradition of art collecting. Each of these projects is by an artist who has not been represented in the collection until now, which makes them exciting additions to the Nationale Suisse collection.
Pipilotti Rist creates a shower of colour in the stairwell
The art intervention created by Pipilotti Rist is the most visible to the public. Her installation entitled 'Aufgeweckter Rosenscheitel' occupies the six-storey stairwell which connects Steinengraben 41 and Steinengraben 39. As envisioned by Pipilotti Rist, thousands of coloured faceted balls were hung from wires stretched in front of the stairwell window and woven together. The overall effect resembles a curtain, which reveals a visual motif when viewed from a distance. The transparent building façade makes this work of art clearly visible from outside, too. So now there is a further cultural attraction enriching the thoroughfare that wends its way from the main city railway station to the Rhine.
Hans Danuser focuses on decision-making in the directors' boardroom
Hans Danuser's artistic intervention entitled 'Joggeli' extends across a total of three separate spaces: the building foyer, the boardroom and the visitors' restaurant. This work is part of Danuser's 'Counting Out Rhyme' project, with decision-making as its theme. Seen in that light, it highlights the significance of the boardroom in decision-making processes. Danuser took as his starting point children's counting rhymes in Bregagliot (a dialect spoken in the Bergell region of Switzerland) and English, transforming them into typographic imagery that provides the subjects for his foyer and boardroom murals. Adorning the visitors' restaurant is the rhyme that gives the work its overall title, 'Joggeli söll ga Birli schüttle', which comes from a book for children by Lisa Wenger.
Daniel Robert Hunziker creates a ceiling sculpture for the staff restaurant
The piece by Daniel Robert Hunziker in the new staff restaurant adopts the multifaceted interplay of interior and exterior space as its principal theme, allied to the dynamic of location and surroundings. The restaurant's north-south orientation with dual glass façades floods the room with light that varies in character according to the weather and season. Covering the entire ceiling are triangular pyramidal forms joined together in a loose constellation that could be interpreted in many ways. Overall it creates an expanse of triangular indents facing in different directions, each facet reflecting the incident daylight with a different brilliance and tint of colour. The installation also heightens the interplay between the sculptural ceiling surface with its natural illuminated display, and the view through the façade onto the building architecture and surrounding urban skyline.
Steinengraben head office staying in use
Nationale Suisse became part of Helvetia Group in October 2014, with full integration to come. The buildings on Steinengraben, one dating from 1942 and its neighbour that has just been refurbished, are to remain owner-occupied after the integration. This means the recently-completed "art in architecture" projects will stay in the art collection. Pieces owned by Helvetia are to be added as well, so the collection will continue developing and growing.

Artist profiles
Hans Danuser
Hans Danuser was born in Chur in 1953. His body of work includes numerous installations, photographs and art in architecture projects, in which he often tackles themes drawn from the natural sciences. He represented Switzerland at the 1995 Venice Biennial exhibition. Danuser began integrating typographic imagery in his photographic installations early on. The "Counting Out Rhymes" project employs that imagery in linear as well as wall-to-wall form. Works such as these have developed into a separate strand within his oeuvre. Hans Danuser lives and works in Zurich.
www.hans-danuser.ch
Daniel Robert Hunziker
Daniel Robert Hunziker, born in 1965, studied architecture at ETH Zurich. He subsequently spent time in New York, working as an assistant to the sculptor Willard Boepple before studying visual arts at Zurich University of the Arts. Since 1994, the object and conceptual artist has participated in a number of group and solo exhibitions. Characteristic of his oeuvre is an architectural conception of spatial structuring and design, coupled with a meticulous choice of colours and materials. Daniel Robert Hunziker lives and works in Zurich.
www.vonbartha.com/artists/daniel-robert-hunziker
Pipilotti Rist
Pipilotti Rist was born in 1962 in Grabs, a town in the Rhine valley region of the canton St Gallen, where she also spent her childhood. She studied commercial art, illustration and photography at the University of Applied Arts Vienna from 1982 until 1986, and then audio-visual communication at the Basel School of Design. Pipilotti Rist was a member of music band and performance art group Les Reines Prochaines between 1988 and 1994. She first represented Switzerland at the 1997 Venice Biennial exhibition. She has gone on to exhibit at many noted museums and galleries around the world, including the Museum of Modern Art in New York. From 2005 to 2009 Pipilotti Rist worked on 'Pepperminta', her first motion picture. 'Eyeball Massage', a comprehensive review of her work, was shown at London's Hayward Gallery in 2011 and in 2012 at the Kunsthalle Mannheim. In Guangzhou, China, the Guangdong Times Museum staged her solo exhibition, 'Gentle Wave in Your Eye Fluid', in 2013. Pipilotti Rist lives and works in Zurich.
www.pipilottirist.net, www.hauserwirth.com
Brief profile
Nationale Suisse is an innovative and international Swiss insurance group providing attractive risk and pension solutions in the non-life and life segments, as well as customized speciality lines products. Nationale Suisse has been part of the Helvetia Group since October 2014. The plan is to integrate Nationale Suisse fully into Helvetia. The consolidated gross premiums of Nationale Suisse came to CHF 1.5 billion in 2013. The head office of Swiss National Insurance Company Ltd is in Basel. The company's stock is listed on SIX Swiss Exchange (NATN). The stock will be delisted as part of the integration of Nationale Suisse into the Helvetia Group. On 30 June 2014, the Nationale Suisse Group employed 1,903 staff (full-time equivalents).
Disclaimer and exclusion of liability
The purpose of this press release is to inform the public about certain events or developments arising from the company's business. The information published in this article is not an advertisement, offer or recommendation to engage in transactions involving securities or other products of Nationale Suisse or any other type of transaction. This press release may contain certain forward-looking statements. Even if these forward-looking statements reflect the opinion and expectations of Nationale Suisse, a number of risks, uncertainties and other important factors may lead to actual developments and results differing strongly from the expectations of Nationale Suisse. It is pointed out expressly that the statements and projections contained in this press release are selective in nature. Nationale Suisse provides no guarantee, either explicitly or implicitly, regarding the accuracy and completeness of the statements and forecasts published in this press release. Neither Nationale Suisse nor its executive bodies or senior managers accept any liability for any damage or losses arising directly or indirectly from the use of this press release. Unless otherwise provided by applicable binding law Nationale Suisse is under no obligation to update or amend the statements contained in this press release, be it in response to new information, future events or any other reasons.
Updated post-publication information is available on our website www.nationalesuisse.com. You may find further details and forecasts about the business of Nationale Suisse there.
( Press Release Image: https://photos.webwire.com/prmedia/7/193732/193732-1.jpg )
Related Links
WebWireID193732

This news content was configured by WebWire editorial staff. Linking is permitted.
News Release Distribution and Press Release Distribution Services Provided by WebWire.