Legendary Rocker Keith Moon's Drum Kit To Go Under The Hammer At Bonhams
WEBWIRE
–
Friday, November 14, 2014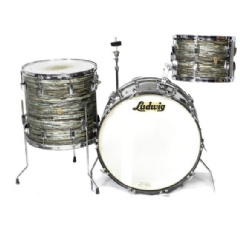 The Who: Keith Moon's Ludwig Super Classic drum kit, 1964
Sale includes items relating to The Clash, Sex Pistols, Ginger Baker, The Beatles, The Rolling Stones, Jimi Hendrix, Nirvana, and Madonna
A wide selection of film memorabilia includes vintage film posters, props, animation stills, and autographed items
An important piece of rock and roll history is to be offered at Bonhams this December. One of Keith Moon's earliest drum kits, a 1964 Ludwig Super Classic, carries an estimate of £15,000-20,000 and is a highlight of the forthcoming Entertainment Memorabilia Sale to be held on December 10th in Bonhams Knightsbridge salerooms.
Moon first used this kit in 1964 in a fledgling band called the High Numbers, later that year renamed The Who. The band appeared at the Scene Club in central London on 22nd July 1964 where Moon used this kit; the last known date of use was 23rd May 1965, for The Who's recorded appearance on ABC TV's popular show, 'Thank Your Lucky Stars'. This was Moon's second kit whilst with The Who, replacing the blue Premier kit he had used from 1961.
Indisputably one of the greatest rock drummers of all time, Keith Moon's legacy endures not only because of his uniquely brilliant drumming style, but also his wild, often self-destructive behaviour. Not long into his career with The Who, Moon developed a reputation for smashing his kit on stage and destroying hotel rooms on tour. He was fascinated by blowing up toilets with cherry bombs or dynamite, and by destroying television sets. A hyperactive personality, only happy when touring and socialising, he quickly became one of the most notorious characters in the music scene.
The sale also includes a number of items from the Punk era, the highlight being a unique piece of art created during The Clash's Radio Clash tour in October 1981. Playing at London's Lyceum Ballroom, the band had pioneering graffiti artist Futura 2000 spray-paint a large stage backdrop, on stage while the band performed throughout their seven night residency.
Signed by the artist, the work depicts an urban scene with various statements such as Police & Thieves, Can We Get The World To Listen, Know Your Rights, Clash as well as their forthcoming single Radio Clash and the month October, culminating in a large slogan at the bottom Escape From London. The huge 10.5 x 4.5 meter piece is estimated at £25,000-30,000.
Another exciting lot for Clash fans is a bespoke black cotton biker jacket with multi zip detail, worn by Joe Strummer during the period of 1977-1979, and whilst on the 1977 White Riot tour. Estimated at £4,000-6,000, this much loved and worn jacket was custom made for Strummer at the beginning of his time with The Clash.
It was created by designers Krystyna Kolowska and Alex Michon, who had been discovered by the Clash's manager Bernard Rhodes at a party in December 1976. According to Kolowska he hired them to create 'something tough' for the group to wear, as he predicted 'there was going to be fighting in the streets.' Strummer himself even added an image of a running policeman on the back of the jacket, an image taken from the 1976 Notting Hill riots.
Also included in the 'Punk' section are items including concert posters, vintage gig tickets, and vinyl albums, relating to such bands as the Sex Pistols, the Buzzcocks, and The Jam.
For classic rock enthusiasts, a number of items relating to mercurial former Cream/Blind Faith drummer Ginger Baker are being offered by the Baker family. The collection includes clothing, records, tapes, and test pressings belonging to Baker, and the highlight is the iconic prop aircraft model used on the cover of the controversial 1969 album Blind Faith.
Estimated at £6,000-8,000, the wooden aircraft finished in high gloss silver lacquer was designed and made specifically for the Blind Faith album shoot, and has been kept by the Baker family since. The aircraft is held by a topless pre-pubescent girl, making the image on Blind Faith's one and only, self-titled album one of the most controversial covers of all time.
Blind Faith is known as the first 'supergroup', with members from the bands Cream, Traffic, and Family. Upon its release in July of 1969, Blind Faith topped both the UK chart and Billboard's chart for Pop Album in the U.S., selling more than half a million copies within the first month of its release.
The prop was also displayed at the band's first concert, a free gig held in Hyde Park in 1969, where it sat on Steve Winwood's keyboards. Following the shoot and Hyde Park gig, Ginger Baker kept the prop and had it displayed in his family home.
Calling all Sci-fi fans! A full-size limited-edition replica of the Alien could be yours for just £3,000-5,000, when it goes up for auction at the Entertainment Memorabilia Sale on December 10th at Bonhams Knightsbridge salerooms.
The Academy Award-winning, 1979 film, Alien, is regularly ranked as one of the all-time greatest. The Alien, who stalks and murders the crew, has become an icon of the Science Fiction and Horror genres. This 92 1/2 in (235 cm), life-size replica was made in 2009 by the Hollywood Collectables Group, from the original production moulds designed by H. R. Giger used to create the Alien costume for the film. This limited edition piece is numbered 29 of 100.
The popularity of the movie spawned a franchise, and from the fourth film- 1997's Alien Resurrection- Bonhams is offering a hero prop AR-2 flame thrower made for Sigourney Weaver's character Ellen Ripley, estimated at £4,000-6,000.
Bonhams are delighted to be offering a rare selection of Ealing Studios posters. Ealing posters are admired for the quality of the artwork. Due to the limited supply that was produced post-war because of sever paper shortages, only a few have survived for some of these films. Amongst such favourites being offered are: Kind Hearts and Coronets, Hue and Cry, and a rare poster for the 1945 film Dead of Night, estimated at £3,000-5,000.
Dead of Night is a horror anthology, the individual stories taken on by different directors. It stands out from British film of the 1940s, when few horror films were being produced (horror films had been banned from production in Britain during the war), and it had a marked influence on subsequent British films in the genre.
Just in time for Christmas, the sale also includes a complete series of background illustrations by Ronald Searle for the opening titles of the 1970 musical film Scrooge. Searle was a prolific British artist and satirical cartoonist, best remembered as the creator of St Trinian's School. Each of the eleven lots is estimated at £1,000-1,500.
There are a number of lots relating to the world's favourite spy, James Bond. Among these is an original British film poster for Dr. No, from 1962, which is set to achieve £4,000-6,000. A shooting script from Live and Let Die, with embossed cover, is from the estate of Mike Roberts, a celebrated career cameraman who was a camera operator for the production (£1,000-1,500). There are also assorted photographs, letters, and miscellaneous memorabilia related to the Bond franchise.
The sale also includes items relating to Marilyn Monroe, Star Wars, celebrated ballet dancer Margot Fonteyn, and Doctor Who.
( Press Release Image: https://photos.webwire.com/prmedia/7/192912/192912-1.jpg )
Related Links
WebWireID192912

This news content was configured by WebWire editorial staff. Linking is permitted.
News Release Distribution and Press Release Distribution Services Provided by WebWire.