Belden Presents New Routing Software for Maximum Network Availability
HiOS 4.0 Offers Improved Efficiency and Maximum Flexibility
WEBWIRE
–
Tuesday, September 16, 2014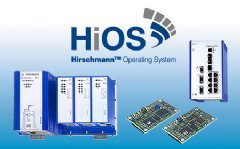 Belden Inc., a global leader in signal transmission solutions for mission-critical applications, is offering a new, free software version that – for the first time – has routing functionality for the Hirschmann switches in the Rail Switch Power (RSP), Rail Switch Power Expandable (RSPE) and MICE Switch Power (MSP) families. The Hirschmann Operating System (HiOS) 4.0 supports various security mechanisms, comprehensive management and diagnostic methods, precise time synchronization, and redundancy protocols, thus ensuring maximum network availability.

The new HiOS 4.0 software is compatible with other routing products from Hirschmann, such as the MACH4000 and MACH1040 industrial Ethernet devices, as well as with products from other manufacturers.

Product Manager Mark Cooksley says: "Hirschmann has long been known for its operating system's unique redundancy and security features that enable it to provide maximum network availability and data security for efficient production processes. With HiOS 4.0, users have access to the widest range of standard functions and special features for the automation sector by far."

Using standard technology, HiOS 4.0 provides static routing functionality for RSP switches and dynamic routing functionality for MSP switches, thus ensuring that Layer 3 technology is available throughout the network.

The latest version of the software makes state-of-the-art hardware even more powerful. It adds dynamic routing functionality to the relevant MSP hardware versions, guaranteeing system continuity from one product generation to the next. The new software equips the RSP switch with the required Layer 3 functionality, turning it into a routing product whose compact housing allows it to be accommodated in the production area.

HiOS was developed specifically to meet the requirements of the automation sector. The Hirschmann switches in the RSP, RSPE, RSPL (Lite), RSPS (Smart) and embedded Ethernet switch (EES) families, like the modular MSP system, are ideally suited to virtually any application that calls for maximum network availability. Examples include automotive production and transportation.

HiOS also offers Manufacturing Message Specification (MMS) for the energy sector, where IEC61850 servers can be used to forward diagnostic information directly to control systems. The switches thus become an integral part of applications, such as protection devices.

HiOS extends the range of applications for the latest generation of industrial Ethernet products from Hirschmann. From cabling, through switches and routers, supplemented by wireless local area network (WLAN), firewalls and network management software, a seamless high-availability solution for state-of-the-art automation networks is now available from a single supplier.

Click here to learn more about the new HiOS Operating System.

An early innovator in industrial Ethernet, Belden knows Industrial IT and is delivering the next generation of industrial networking solutions. Its global brands – Hirschmann, GarrettCom and Tofino Security – are leading the way in the adoption of industrial Ethernet. With a purpose-built portfolio, Belden's wired, wireless and embedded products deliver the highest confidence of reliability, availability and security. In addition, excellent warranties and dedicated customer support minimize downtime, protect critical infrastructure and provide peace of mind.

About Belden

Belden Inc., a global leader in high quality, end-to-end signal transmission solutions, delivers a comprehensive product portfolio designed to meet the mission-critical network infrastructure needs of industrial, enterprise and broadcast markets. With innovative solutions targeted at reliable and secure transmission of rapidly growing amounts of data, audio and video needed for today's applications, Belden is at the center of the global transformation to a connected world. Founded in 1902, the company is headquartered in St. Louis and has manufacturing capabilities in North and South America, Europe and Asia. For more information, visit us at www.belden.com; follow us on Twitter @BeldenInc.

Belden, Belden Sending All The Right Signals, Hirschmann, GarrettCom, Tofino Security and the Belden logo are trademarks or registered trademarks of Belden Inc. or its affiliated companies in the United States and other jurisdictions. Belden and other parties may also have trademark rights in other terms used herein.
( Press Release Image: https://photos.webwire.com/prmedia/7/190676/190676-1.jpg )
Related Links
WebWireID190676

This news content was configured by WebWire editorial staff. Linking is permitted.
News Release Distribution and Press Release Distribution Services Provided by WebWire.