Bayer CropScience's contribution to sustainable agriculture: First Bayer ForwardFarm launched in Belgium
Initiative demonstrates profitable and resource-efficient food production / Innovations help to preserve farm land / Dialog platform to promote the important role of agriculture in society
Monheim –
WEBWIRE
–
Thursday, September 11, 2014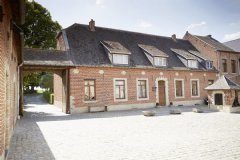 The farm Hof ten Bosch is a great example of how successful farming business is combined with responsibility for the environment and society.
Bayer CropScience has inaugurated the first Bayer ForwardFarm in the Belgian town of Huldenberg. The "Hof ten Bosch" farm owned by Jan and Josse Peeters brings together farmers, scientists and academia, technology partners and other players throughout the value chain, politics and regulators, as well as consumers, with the goals of exchanging agricultural know-how and forming partnerships to jointly promote the important role of agriculture in society.
"There has to be a balance between raising agricultural productivity while protecting biodiversity and maintaining our responsibility to the community. Since joining the Bayer ForwardFarming initiative, we have benefited from a broad range of innovative solutions that enable us to manage the challenges of sustainable farming," said farm owner Josse Peeters at the inauguration ceremony. "The collaboration with the dedicated Bayer team has been very enriching for us and has opened our eyes to a number of new approaches."
"We approached the Peeters family because of the long heritage of their farm, the multitude of potential projects and their willingness to look beyond conventional solutions," explained Marc Sneyders, Head of Bayer Marketing & Sustainable Development in Belgium. "At Hof ten Bosch, we are able to put our ideas into practice, under realistic circumstances, in collaboration with real farmers. This unique approach should help us give today's agriculture the sustainable impetus it needs," explained Carsten Dauster, Head of Bayer CropScience in Benelux. 
"Our aim is to bring our Bayer ForwardFarming initiative, with its combination of integrated crop solutions, proactive stewardship and partnerships, to other countries worldwide starting in Europe," added Dr. Birgitt Walz-Tylla, Head of Sustainability & Business Stewardship at Bayer CropScience.
Knowledge platform Bayer ForwardFarming
Bayer CropScience is convinced that sustainable agriculture requires a holistic approach to strengthen farmers' livelihoods and conserve natural resources today and in future.
Bayer ForwardFarming is a knowledge platform for sustainable agricultural practices, designed to further stimulate the dialog within the industry and beyond. Today's agriculture is faced with numerous challenges: the increasing demand for food as a result of the continuously growing world population, the decline in available arable land, limited natural resources and climate change. Bayer CropScience is convinced that the answer lies in an integrated concept for sustainable agriculture that takes into account a number of economical, ecological and societal criteria.
"But farming is not just about producing our daily food. It is also about profitability and securing farmers' incomes, because they are important economic players, especially in rural areas. And it is about the responsible management of natural resources such as water and soil," Walz-Tylla added.
The initiative applied to Hof ten Bosch is built upon three basic elements: integrated crop solutions – the combination of high value seeds and chemical and biological crop protection; proactive stewardship to ensure the safe and efficient use of crop protection products for both the user and the environment; and partnerships.
Hof ten Bosch: demonstrating sustainable agriculture in practice
The Hof ten Bosch farm, located 15 kilometers away from Brussels, was built in the 13th century and has been farmed by the Peeters family since 1890. Its approximately 150 hectares are used to grow potatoes, wheat, sugar beet, corn, and apples and pears.
The wide range of projects on Hof ten Bosch is focused on providing innovative solutions for current issues that Belgian agriculture has to deal with. Due to the hilly areas surrounding Hof ten Bosch, erosion is one of the main problems in the potato fields. A new system to make cross-borders in these fields was tested, proved to be efficient and has now been fully implemented at the farm. This helps to avoid run-off of crop protection products beyond the field. As ameasure to protect surface water, a Phytobac™ system has been installed which allows the retention and microbial degradation of crop protection ingredients in waste water effluents derived from filling, cleaning and washing spray equipment. The farm employs the latest technical solutions for precision farming.
An advanced weather station tells the farmers when the disease pressure in their crops is increasing and high-tech GPS systems on the tractors allow them to apply crop protection products to a precision of 2 cm. To stimulate biodiversity, flowering strips, mixed hedges, bee hotels and nesting places for birds have been placed around the orchards and acres as a part of integrated crop management (ICM) and integrated pest management (IPM).
About Bayer CropScience
Bayer is a global enterprise with core competencies in the fields of health care, agriculture and high-tech materials. Bayer CropScience, the subgroup of Bayer AG responsible for the agricultural business, has annual sales of EUR 8,819 million (2013) and is one of the world's leading innovative crop science companies in the areas of seeds, crop protection and non-agricultural pest control. The company offers an outstanding range of products including high value seeds, innovative crop protection solutions based on chemical and biological modes of action as well as an extensive service backup for modern, sustainable agriculture. In the area of non-agricultural applications, Bayer CropScience has a broad portfolio of products and services to control pests from home and garden to forestry applications. The company has a global workforce of 22,400 and is represented in more than 120 countries. This and further news is available at: www.press.bayercropscience.com.
Note to editors:
A photo in print quality can be downloaded from the internet at www.press.bayer.com and www.press.bayercropscience.com.
Find more information at www.bayercropscience.com.
Forward-Looking Statements
This release may contain forward-looking statements based on current assumptions and forecasts made by Bayer Group or subgroup management. Various known and unknown risks, uncertainties and other factors could lead to material differences between the actual future results, financial situation, development or performance of the company and the estimates given here. These factors include those discussed in Bayer's public reports which are available on the Bayer website at www.bayer.com. The company assumes no liability whatsoever to update these forward-looking statements or to conform them to future events or developments.
( Press Release Image: https://photos.webwire.com/prmedia/7/190487/190487-1.jpg )
Related Links
WebWireID190487

This news content was configured by WebWire editorial staff. Linking is permitted.
News Release Distribution and Press Release Distribution Services Provided by WebWire.