The African American Male; are they truly on the verge of extinction?
Kalamazoo, Mich. –
WEBWIRE
–
Wednesday, August 20, 2014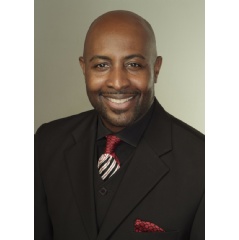 According to Reverend Eliakim Thorpe, a public speaker, thought leader, Entrepreneur and ordained minister out of Kalamazoo Michigan, "In the aftermath of the Michael Brown shooting in Ferguson Missouri, where yet another unarmed African American male was shot and killed by law enforcement, we find the consciousness of America gripped again by the ongoing debate of race."
Mr. Thorpe added that most concerning to him, is what appears to be a disturbing trend of unarmed African American males being killed by law enforcement across our country, most recently, Michael Brown & Eric Garner. While race has always played a prominent role in the history of the United States (ie. slavery, Jim Crow, segregation, white supremacy, civil rights, police brutality, etc.).
The reverend continues, "America is now entering a critical time in U.S. history which requires an honest appraisal of race/racism, economics, culture, politics, and governmental policies that further disenfranchise African American men and further perpetuate a negative racial pathology amongst African Americans & Whites. This racial pathology continues to distort the heart and minds of both blacks and whites, continuing a post-civil rights history of divisiveness and misunderstanding instead of demonstrating the values of: peace, love, unity, truth, justice, harmony, and brotherhood."
 
The United States was founded with the forefather's belief as stated in the Declaration of Independence, "We hold these truths to be self-evident, that all men are created equal, that they are endowed by their Creator with certain unalienable Rights, that among these are Life, Liberty and the pursuit of Happiness--That to secure these rights, Governments are instituted among Men, deriving their just powers from the consent of the governed, --That whenever any Form of Government becomes destructive of these ends, it is the Right of the People to alter or to abolish it, and to institute new Government, laying its foundation on such principles and organizing its powers in such form, as to them shall seem most likely to effect their Safety and Happiness."  What kind of country will America be asks Rev. Thorpe? "A country true to its values as stated in the Declaration of Independence or a country that perpetuates an oppressive history based on the ideology of race" he adds.
 
The African American Male; are they truly on the verge of extinction? This is a multilayered problem which requires a multilayered approach that must address more than race if America is to create a meaningful dialogue on the tensions between institutions governed by whites and black America.
There are a number of factors contributing to what is called the extinction of the African American male which can be categorized as historical, institutional, cultural, and spiritual explains Rev. Thorpe.
The African American male is under assault - Historically, the African American male was forcibly taken from their land and family to live a life of enslavement which damaged the soul, distorted the personality, and created an indescribable despair that has left a legacy and lasting residue of fear, anger, frustration, disillusionment, hopelessness, and disappointment for African American males.
Institutionally, racism became the primary ideology to disenfranchise African Americans while protecting white privilege and creating inequities in: employment, housing, education, banking, health care, and the justice system. This lifecycle of inequities continues to perpetuate poverty for the disadvantaged while perpetuating prosperity for the privileged. Oftentimes, the African American males lives a life of hopelessness never really able to grasp their hopes and dreams. It is difficult to live a life of liberty when there are still institutional inequities!
Culturally, the African-American has always had a rich history of theologians, inventors, scientists, doctors etc. which provided a great sense of identity and belonging in an otherwise oppressive society. There must be a renewed sense of identity within the African American male for true change to occur. The identity of the African American male must be defined according to values that emphasize integrity, responsibility, accountability, bravery, charity, and empathy. Not values or qualities perpetuating negative identity images which further distort/pervert the African American males' sense of self and worthiness.  
"We as a country must be careful of the subtle messages of race that contaminate the minds of both Whites and Blacks", says Rev. Thorpe. 
Spiritually, the African American male suffers from the loss of its once vibrant relationship with God. The hunger and thirst of the soul to connect to the embodiment of love reassures one's purpose for existence.  There is not only an external battle but an internal battle on how to embrace one's uniqueness in a world that celebrates conformity and assimilation. There comes a place and time in every person's life where one must decide on whether or not to embrace their uniqueness without hesitation. 
When this decision is made, it is as if the shackles have been loosened, the soul has been liberated, the yoke has been broken, the burden has been lifted, and the mind freed to commune with the Universal Mind which is God.
An overall question posed by the motivational speaker and minister is "If the African American male is to exist beyond the 21st century, it requires a conscious re-awakening of men who are willing to surrender to God and conquer the love of self and allow themselves to be 'the clay in the hand of God the Potter' (Ghandi)?"
"African American Men & White America must rediscover their birthright, have a reverent respect for God and humanity, break the chains of hatred, and recommit to the will of God if we are to help heal the land from the evil acts committed by ungodly men, according to Rev. Thorpe. My hope and prayer is that every American will discover its spiritual identity which will liberate us to live in the image and likeness of God," the reverend concludes.
All that is still happening in Ferguson still resonates in Martin Luther King Jr.'s Birmingham Alabama jail letter "Just as the prophets of the eighth century B.C. left their villages and carried their "thus saith the Lord" far beyond the boundaries of their home towns, and just as the Apostle Paul left his village of Tarsus and carried the gospel of Jesus Christ to the far corners of the Greco Roman world, so am I compelled to carry the gospel of freedom beyond my own home town. Like Paul, I must constantly respond to the Macedonian call for aid. Moreover, I am cognizant of the interrelatedness of all communities and states….. Injustice anywhere is a threat to justice everywhere. We are caught in an inescapable network of mutuality, tied in a single garment of destiny. Whatever affects one directly, affects all indirectly…. You may well ask: "Why direct action? Why sit ins, marches and so forth? Isn't negotiation a better path?" You are quite right in calling for negotiation. Indeed, this is the very purpose of direct action. Nonviolent direct action seeks to create such a crisis and foster such a tension that a community which has constantly refused to negotiate is forced to confront the issue. It seeks so to dramatize the issue that it can no longer be ignored. My citing the creation of tension as part of the work of the nonviolent resister may sound rather shocking. But I must confess that I am not afraid of the word "tension." I have earnestly opposed violent tension, but there is a type of constructive, nonviolent tension which is necessary for growth. Just as Socrates felt that it was necessary to create a tension in the mind so that individuals could rise from the bondage of myths and half-truths to the unfettered realm of creative analysis and objective appraisal, so must we see the need for nonviolent gadflies to create the kind of tension in society that will help men rise from the dark depths of prejudice and racism to the majestic heights of understanding and brotherhood." (http://www.africa.upenn.edu/Articles_Gen/Letter_Birmingham.html)
Rev. Thorpe adds, "We must be careful not to minimize the death of Michael Brown or Eric Garner by changing the narrative that subtly justifies the killing of African American men as well as any citizen of the United States.
 
Finally, for true change to occur, the reverend contends, requires the collaboration of both white and black America. Changing the consciousness of America has never occurred without the collaboration of all citizens in the United States. "As we move forward; we must be direct in our dialogue, respectful in our response, compassionate in our character, sincere in our statements, authentic in our answers, steadfast on a solution, resilient against ignorance, and unbiased in our truth."
( Press Release Image: https://photos.webwire.com/prmedia/49297/189844/189844-1.jpg )
Related Links
WebWireID189844
Contact Information

Rev. Eliakim Thorpe
Ordained Minister/Public Speaker
Reverend Eliakim Thorpe

This news content may be integrated into any legitimate news gathering and publishing effort. Linking is permitted.
News Release Distribution and Press Release Distribution Services Provided by WebWire.