Protein Structural Defects Are Enablers and Stimulators of Enzyme Catalysis, Scientist Ariel Fernandez Finds
Dehydrons are defects in protein structure that promote protein associations. Scientist Ariel Fernandez Stigliano recently showed that they are also endowed with chemical functionality, enabling and stimulating enzyme catalysis. The discovery may have paramount implications for biomedical engineering, catalysis optimization and epistructure-based drug design.
Houston, Texas, USA and Buenos Aires, Argentina –
WEBWIRE
–
Monday, July 14, 2014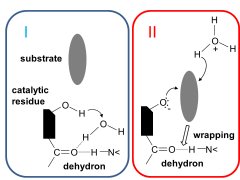 Dehydron as a two-stroke molecular engine sustaining enzyme catalysis by I) preparing solvent for catalysis and II) promoting substrate association.
The role of the aqueous interface in enzyme catalysis is usually downplayed. Yet, to sustain the catalytic process, the interfacial solvent must be endowed with unique chemical properties now known to be sculpted by nearby dehydrons.
Ariel Fernandez Consultancy serves the biotechnology industry by harnessing fundamental discoveries to broaden its technological base. In line with this goal, Ariel Fernandez in a recent Communication showed that a structural defect known as dehydron, causing interfacial tension in proteins, may also function as enabler and stimulator of enzyme catalysis. Thus, dehydrons functionalize the solvent for catalysis and also promote enzyme-substrate association. This dual role has paramount biotechnological implications for the design of structure-based enzyme agonists and inhibitors.

As described in the book Transformative Concepts for Drug Design: Target Wrapping (Ariel Fernandez, Springer, 2010), dehydrons are structural defects in soluble proteins known to promote protein associations. Recently, Ariel Fernandez ("dehydronic enzyme") has shown that dehydrons are also endowed with a chemical functionality, turning surrounding interfacial water into a chemical base. Thus, dehydrons activate nearby catalytic groups that perform a chemical (nucleophilic) attack on the substrate and, as they contribute to enzyme activation, they turn the local solvent into a better leaving group, promoting enzyme-substrate association. Thus, the dehydron behaves as a two-stroke molecular engine sustaining enzyme catalysis.

This discovery heralds the advent of novel molecular design based on "dehydron enablers-stimulators" that may be created or removed though designed alterations of the protein structure. On the other hand, novel drug-based enzyme inhibitors will emerge as the structural agonists are targeted through engineered protein-drug associations.

About Ariel Fernandez Consultancy
Ariel Fernandez Consultancy addresses scientific needs of the pharmaceutical industry, providing insights into drug design to broaden its technological base. The Consultancy seeks to provide the kind of thought leadership that translates into a competitive advantage, harnessing scientific knowledge to design prototypes with optimized safety and therapeutic potency.
For more information, visit: http://www.arielfernandez.net

Ariel Fernandez, Ph. D., CEO
Phone: 01154 11 4804 1711 (Buenos Aires, Argentina)
E-mail: ariel@afinnovation.com
( Press Release Image: https://photos.webwire.com/prmedia/48972/189203/189203-1.gif )
Related Links
WebWireID189203
Contact Information

Ariel Fernandez
CEO/Senior Investigator
Ariel Fernandez Consultancy
(54) 54 (11) 4804 1711

This news content may be integrated into any legitimate news gathering and publishing effort. Linking is permitted.
News Release Distribution and Press Release Distribution Services Provided by WebWire.