Lyme Warriors Call for Congressional Investigation of CDC, IDSA, Vaccine Industry
Arlington, VA –
WEBWIRE
–
Thursday, May 22, 2014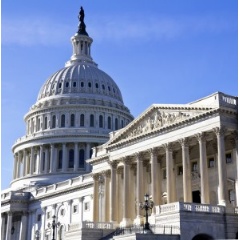 huge conflicts of interest and a misinformation campaign conducted on behalf of the CDC. Their little media network twist[s] the truth to disparage, to malign, to vilify, to denigrate anybody who wants any kind of accountability.... I think the CDC should be investigated." - U.S. Senator Bill Posey
Lyme activists, who have the Infectious Diseases Society of America headquarters surrounded and under siege, issued a call for a Congressional Investigation of corruption within the CDC, IDSA, and the vaccine industry.
According to Lyme researcher and activist, Carl Tuttle, "An investigation is long overdue. The conflicts of interest and improper influence among these originations has contributed to terrible suffering and financial losses for thousands of people."
Tuttle suffered from Lyme disease for twelve years and was misdiagnosed and denied treatment by multiple doctors before he was finally diagnosed with late stage Lyme disease. Despite receiving the IDSA recommended treatment, Tuttle remained ill and was bedridden on oxygen for several months. "There is no medical training for the later stages of Lyme disease," he says. "Patients are ping-ponged through the medical community for years before they are able to obtain treatment. A deliberate disinformation campaign by CDC and IDSA has confused a nation of intelligent physicians into believing Lyme is easily diagnosed and treated. The only people who benefit from the CDC/IDSA narrow definition of Lyme disease are the patent holders within CDC and IDSA and the vaccine manufacturers who stand to make millions from royalties."
According to New York Times bestselling author Dr. Joseph Mercola, "Conflicts of interest are rampant in the vaccination infrastructure. The same people who are regulating and promoting vaccines are also evaluating vaccine safety."
In an April 16, 2014, press release, Senator Bill Posey (R-FL) called for a Congressional investigation into conflicts of interests and corruption within the CDC and vaccine industry. Posey described "huge conflicts of interest and a misinformation campaign conducted on behalf of the CDC. Their little media network twist[s] the truth to disparage, to malign, to vilify, to denigrate anybody who wants any kind of accountability.... I think the CDC should be investigated."
IDSA has resisted repeated calls to update its guidelines. In 2009, the Association of American Physicians and Surgeons wrote an open letter to the IDSA sharply criticizing its guidelines for Lyme. Following is an excerpt.
"AAPS objects to the overly rigid IDSA Lyme Guidelines that were published in 2006. . . . These Guidelines should be revised to recognize that the physician must retain full flexibility in the diagnosis and treatment of Lyme disease. Medical societies do not practice medicine; physicians do. The mandate for specific laboratory confirmation is particularly objectionable, as testing for Lyme disease is notoriously insensitive and unreliable. Patients who do not meet this criterion would often be denied treatment that could mitigate severe chronic disability. In some cases, long-term treatment is required. Physicians must be able to exercise their professional judgment concerning the best treatment for each individual patient, without restraint by one-size-fits-all Guidelines, which amount to mandates and prohibitions."
In November 2006, Connecticut Attorney General Richard Blumenthal, now a U.S. Senator, launched an investigation of IDSA based on allegations of abuses of monopoly power and exclusionary conduct in the development of their guidelines, in violation of antitrust law.
In a May 2008 press release Blumenthal said, "My office uncovered undisclosed financial interests held by several of the most powerful IDSA panelists. The IDSA's guideline panel improperly ignored or minimized consideration of alternative medical opinion and evidence regarding chronic Lyme disease, potentially raising serious questions about whether the recommendations reflected all relevant science."
IDSA reached a consent agreement with Blumenthal's office calling for creation of a review panel to thoroughly scrutinize the 2006 guidelines and update or revise them. In 2009, the guidelines were reviewed and updated, but no significant changes were made, and Blumenthal charged the IDSA with violating the agreement.
According to Blumenthal, the IDSA used an "improper voting procedure, based on a process of its own design, which blatantly violates the Settlement Agreement and undermines the integrity of the voting process."
In addition to inflexibility regarding its guidelines, IDSA has consistently opposed patient-centered legislation at the State and Federal levels. At their 2004 annual meeting, the IDSA passed a resolution to oppose patient legislative initiatives, and at their 2006 annual meeting "Defeat Patient Sponsored Legislation" was a top agenda item.
Mayday Project coordinator Josh Cutler is concerned about the adversarial relationship between the IDSA and chronically ill patients. Cutler says, "IDSA's response to the epidemic of chronic Lyme disease is to pretend it doesn't exist. Thousands of people suffer as a result. Instead of working for the benefit of patients, IDSA works to block legislation that would help patients."
About the Mayday Project
The Mayday Project was formed in 2011 by a group of volunteers who have been touched by Lyme in some way. They aim to raise awareness about chronic Lyme disease and related tick-borne illnesses. Mayday supporters advocate for more accurate tests, better guidelines, improved access to treatment, increased education for physicians, and more funding for research. For more information visit www.themaydayproject.org.
References
Conflicts of Interest in Lyme Disease Laboratory Testing Vaccination and Treatment Guidelines
http://www.lymediseaseassociation.org/images/pdf/ConflictReport.pdf
HMO Abuse of Lyme Disease Surveillance Case Definition
http://lyme.kaiserpapers.org/barbiejo.html
Petition Calling for Congressional Investigation of CDC, IDSA, and ALDF
http://www.change.org/petitions/the-us-senate-calling-for-a-congressional-investigation-of-the-cdc-idsa-and-aldf
Proof That Chronic Lyme Disease Exists: Daniel J. Cameron
http://www.hindawi.com/journals/ipid/2010/876450
Persistent [chronic] Lyme Infection: 273 Peer-Reviewed Studies
http://home.comcast.net/~runagain/Persistence%20of%20Lyme%20Disease.doc
Chronic Lyme Borreliosis in the Human Host: Autopsy Evidence from 123 Peer-Reviewed Published Autopsies: Alan MacDonald, MD
http://vimeo.com/93726874
( Press Release Image: https://photos.webwire.com/prmedia/48616/188095/188095-1.jpg )
WebWireID188095
Contact Information

Susan Harris
Media Relations
TeamCom

This news content may be integrated into any legitimate news gathering and publishing effort. Linking is permitted.
News Release Distribution and Press Release Distribution Services Provided by WebWire.