Times Square Publishing's BitTorrent Bundles Featured on Main Page
"An Involuntary Spy" and "Predatory Kill" by Kenneth Eade featured on BitTorrent's bundle main page
Los Angeles, California –
WEBWIRE
–
Wednesday, February 5, 2014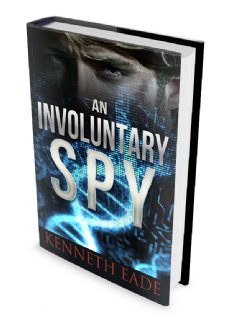 Times Square Publishing announced today that, out of the 448 bundles published by BitTorrent, Kenneth Eade's best selling political thriller, "An Involuntary Spy"    http://amzn.com/B00GQPBLZ6, and upcoming legal thriller, "Predatory Kill," have been published among the 147 bundles on BitTorrent's main bundle page, at http://bundles.bittorrent.com.
Released in September, BitTorrent's new format, BitTorrent Bundles, gives filmmakers, recording artists, and authors the ability to offer content to fans.  At over 60 million downloads, it has been utilized by such performers as Lady Gaga, Madonna and Moby.
About An Involuntary Spy
"Eade's skill with writing dialogue is brilliant. His technique for propelling a story forward is second to none. Bind a controversial subject about the environment, the unraveling problems of US governmental secrecy, the transparency of the Internet, and a good old-fashioned thriller and you have Kenneth's next step into prominence in the public's eye. Highly Recommended." Grady Harp, Literary Afficionado
"Kenneth Eade has gone where no man has gone before.  He's made the GMO issue into a spy thriller.  Biologist Seth Rogan has discovered that the US Government knows what dangers Genetically Modified Organisms pose to humans. His company has been making insecticide resistant crops in order to sell more insecticide, AgriBusinesses are changing the very nature of our food stuffs in order to produce faster growing, disease resistant, handier to ship crops all to make more money.  No one knows the long term effects of GMO's but they're doing it anyway.  Now Seth has the government reports showing the US has known this all along.  He never set out to be a spy, just a good citizen and is now in hiding and on the run to save his life and the information vital to all of our existence." I Publisher News
"IIt just could be that this book breaks the real life controversy wide open. There are untold mysteries that may not be known for decades. Altering the foods we eat cannot be done without consequences. If natural is best for human health, GMOs are the worst."  Barbara Stanley, Atlanta Health Examiner
"Adventure, corruption, passion, excitement, and an average guy who never thought his perfectly normal job would get him into so much trouble. What more could you ask for"  Ross Winters, Bubblews
"An action-packed political suspense thriller that will keep you on the edge of your seat. Once you start reading it, you won't be able to put it down, because the amazing writing and the likeable characters will pull you in from the first chapter. There is adventure, romance, passion, and excitement. All these elements turn Eade's book into a real roller-coaster.  Jo Ammons, NY Books Examiner
Seth Rogan was a shitty spy.  Actually, he wasn't a spy at all.  Just a guy trying to do the right thing.  As a biologist for the largest biotech company in the world, he had a great job, great pay, and thoroughly enjoyed all the perks.  But when asked to do some tests on the company's genetically engineered foods, he became entangled in a trail of corruption and fraud that he wanted no part of, but could not escape from.  In a story so true to life it could almost be from today's newspapers, Seth, having bit the hand who fed him, is on the run from them, and the full overreaching strength of the United States government, as a fugitive, who finds temporary refuge with an old enemy of the U.S.  But his peace is about to be broken as he finds himself in the role of an involuntary spy.  Trailer: http://www.youtube.com/watch?v=k8ALXW4bV3M

About Predatory Kill
Brent Marks had paid his dues as a lawyer, having taken his share of divorces and drunk driving cases over his 20 year career, but had finally reached a place in his life where he could take on cases of social importance. What he least expected was for April Marsh's predatory lending case against the big banks for wrongful foreclosure on her parent's home to turn into a murder investigation. April's parents were brutally attacked in their Santa Barbara home; her mother murdered and the only witness to the crime is her father, who survived the attack but is completely incapacitated. The police have no leads, but April believes the predatory lender is behind it. Are banks really that above the law?  Predatory Kill is due to be released in March 2014, and the first six chapters can be downloaded from BitTorrent.  Trailer:  http://www.youtube.com/watch?v=11bSGNfqsyo&feature=c4-overview&list=UUdMGo3vQHbOM3a10Na1ZxCg
About the Author
Best Selling Author Kenneth G. Eade is an international business lawyer, based in Los Angeles, California, specializing in international law, Internet Law, appeals and complex litigation. He is a member of the Bar of California, the federal District Court for the Central District of California, and the Ninth Circuit Court of Appeal. He holds a Juris Doctor in Law from Southwestern University School of Law, and a B.A. in Liberal Studies from California State University, Northridge. He is also an accomplished filmmaker and a freelance writer for the Los Angeles Daily Journal.
A writer of fiction and non-fiction, Mr. Eade is an outspoken critic of genetically modified foods and the overuse of pesticides. Since its publication in September 2013, his book, "Bless the Bees: The Pending Extinction of our Pollinators and What You Can Do to Stop It" has been a best seller.
( Press Release Image: https://photos.webwire.com/prmedia/45984/185176/185176-1.png )
Related Links
WebWireID185176
Contact Information

Kenneth Eade
Author
Times Square Publishing

This news content may be integrated into any legitimate news gathering and publishing effort. Linking is permitted.
News Release Distribution and Press Release Distribution Services Provided by WebWire.