BitTorrent Bundle Published for "Bless the Bees – The Pending Extinction of our Pollinators and What You Can Do to Stop It"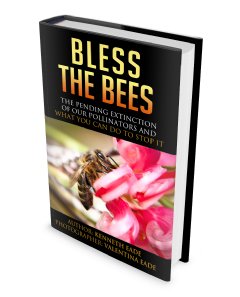 This is a very important book that belongs in the hands of everyone who cares about ecology and the preservation of the bee population, and that in turn means the preservation of life as we know it
Times Square Publishing has announced the publication of a BitTorrent bundle to promote the best selling non-ction book, "Bless the Bees – The Pending Extinction of our Pollinators and What You Can Do to Stop It," available here .  The bundle contains a free download of the first two chapters of the book, interviews with the author, and original video and images from the trailer, http://www.youtube.com/watch?v=l9p98WD9ja8 as well as some never before published original images of foraging bees.
"We are happy to be partnering with BitTorrent.com to provide free downloadable content surrounding our publication of this valuable resource," said Kenneth Eade, author.
About Bless the Bees
This beautifully illustrated edition  http://amzn.com/B00EYOG02A  is meant to educate the reader about the potential extinction of the bees as an indicator of a mass extinction, the last one of which was 65 million years ago. It explains what pollination is, who does it, why it's essential to us, what things are threatening our pollinators and what we, as individuals, can do about it.  Trailer: http://www.youtube.com/watch?v=IdJbPENVnzY
They have been in existence for over 100 million years, but it has taken us less than 30 years to kill almost all of them off. Bees are responsible for pollinating 60% of the world's food supply. Without them, the human race would face starvation. A worldwide epidemic, it has been called the bee apocalypse by Russia's president, but it is worse in the United States than any other country. Since 1972, feral honey bees in the United States have declined 80% to near extinction, and domestic bees in the United States are down to 60%. Since 2006, the epidemic has been referred to as colony collapse disorder, describing the disappearance of entire colonies of bees.
Among the causes cited for this disaster of epidemic proportions are parasites, the decrease in abundance and diversity of wildflowers, insecticides and genetically engineered foods (GMO's) that create their own synthetic pesticides which kill bees as well as other insects. But one thing is for certain-- mankind is responsible for the drastic decline in bee population and the United States government is doing nothing about it. On the contrary, the government has taken measures to make the problem worse.
There is more to this delicate 100 million year old evolution of pollination that just honey bees, who were not native to the United States, but imported from Europe and probably originally came from Africa. At least 4,000 species of wild bees are known to exist in North America alone. All of them are at risk, and this book will show you how you can make a difference in saving them, our food supply, and our planet as we know it.
"This beautifully illustrated book should be read by each and every individual living on this planet as the fate of our bee population is of global concern. Without pollination a whole natural cycle would be broken, thus strongly impacting our lives." - Top Books Worth Reading 
"Bless the Bees" is a formidable resource for anyone who is concerned or wants to learn more about the unclear future of bees as a species. This book is informative, well written, well-researched, and highly resourceful. I applaud the author Kenneth Eade for compiling such an excellent reference for readers" - A.C. Haury, Bibliophile Book Reviews
( Press Release Image: https://photos.webwire.com/prmedia/45984/184238/184238-1.png )
Related Links
WebWireID184238
Contact Information

Kenneth Eade
Author
Times Square Publishing

This news content may be integrated into any legitimate news gathering and publishing effort. Linking is permitted.
News Release Distribution and Press Release Distribution Services Provided by WebWire.