Best Selling Author Kenneth Eade Creates Petitions to Require Independent Testing of Genetically Engineered Foods
The FDA allows GM foods on your table without independent testing. The EPA allows high levels of pesticides. These petitions ask the government to require independent testing before approval of GM foods.
Los Angeles, California, USA –
WEBWIRE
–
Thursday, December 19, 2013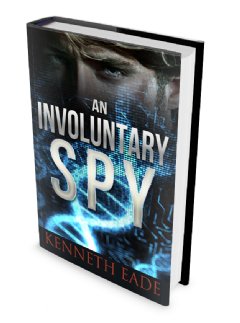 The chemical industry is trying to control our food supply and currently there is no independent testing required for genetically modified foods"
The FDA does not require independent testing for any genetically engineered (GMO) foods that it allows to be put on your table. Instead, it lets the chemical industry decide what to submit. The EPA allows the chemical industry to make genet ically modified (GM) foods that produce their own insecticide and does not require any independent safety testing.
These two petitions request President Barack Obama, the U.S. Congress and the U.S. Senate to require independent safety testing of all GMO foods:
http://aninvoluntaryspy.com/6.html
"The chemical industry is trying to control our food supply and currently there is no independent testing required for genetically modified foods," said Kenneth Eade, Author of the best selling GMO thriller, "An Involuntary Spy"  http://amzn.com/B00GQPBLZ6 .  "When doing research for the book, I was shocked at what I uncovered," he added.
The FDA does not test the safety of GMO crops. Instead, all GMO foods are assumed to be safe unless there is already evidence to the contrary. The FDA relies on self-reported data from the companies that manufacture the crops as to their safety.  Moreover, due to legal and copyright restrictions surrounding GMO patents, independent scientists must ask for the chemical companies' permission before publishing research on their products. As a result, almost all of the long-term animal feeding studies that have ever been conducted on GMO feed have been carried out by the biotech companies themselves, with their own rules and using their own standards of reporting. What few independent studies have been conducted have shown a range of adverse health effects from reduced fertility to immune system dysfunction, liver failure, obesity and cancer. 
Genetically engineered foods are in almost all processed food products in the United States.  A simple reading of the label will reveal one or more of the following ingredients in every one of them: corn or corn oil, cottonseed oil, canola oil (made from rapeseed oil, a GMO product), soy and/or soybean oil, and/or high fructose corn syrup.
Genetically engineered corn and soy are used for most of the animal feed in the United States.  And GMO sweet corn is now appearing in stores.  There are no current federal labeling laws for GMO products, and two labeling measures in California and Washington have been defeated, in the wake of heavy spending of millions of dollars against the measures by Monsanto, Dow Chemical, Bayer, Coca Cola, Kellogg's, and many others whose name you will see on products on your breakfast, lunch or dinner table.  A member of the board of directors of Mc Donalds and one from Sara Lee sit on the board of directors of Monsanto.  
Because GMO foods pose a serious health risk in the areas of toxicology, allergy and immune function, reproductive health, and metabolic, physiologic and genetic health and are without any of their claimed benefits, the American Academy of Environmental Medicine (AAEM) believes that it is imperative to adopt the precautionary principle, which is one of the main regulatory tools of the European Union environmental and health policy and serves as a foundation for several international agreements. The most commonly used definition is from the 1992 Rio Declaration that states: "In order to protect the environment, the precautionary approach shall be widely applied by States according to their capabilities. Where there are threats of serious or irreversible damage, lack of full scientific certainty shall not be used as a reason for postponing cost-effective measures to prevent environmental degradation."
( Press Release Image: https://photos.webwire.com/prmedia/45984/183937/183937-1.png )
Related Links
WebWireID183937
Contact Information

Kenneth Eade
Author
An Involuntary Spy

This news content may be integrated into any legitimate news gathering and publishing effort. Linking is permitted.
News Release Distribution and Press Release Distribution Services Provided by WebWire.