Rodriguez: It's important for women to be in decision-making roles
- Patricia Rodriguez is the managing director of Granada CF in Spain

- She started out with SD Eibar in 2014 and has since enjoyed a meteoric rise

- In 2019, she was named in a high-profile list of 100 female leaders in Spain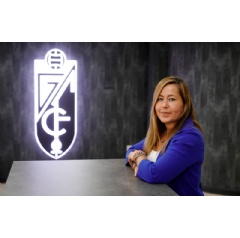 When Patricia Rodriguez drove to a job interview in the Basque town of Eibar in 2014, she could never have imagined that she would eventually end up where she is today. She was, after all, leaving behind a successful position within a multinational services and consultancy firm to join SD Eibar, who had been recently promoted to La Liga.
"I applied for the job more in hope than expectation, as I came from another world and on top of that I was a woman," said Rodriguez, recalling her early days as Eibar's financial director. "At that time, it was an extremely male-dominated environment, but in the end they offered it to me. No-one knew about the interview. I eventually told people because it was going to radically change my life. Everyone thought I'd gone mad! It was a difficult decision to make, but at the end of the day I didn't want to regret not at least giving it a try."
And regrets are few and far between now for the managing director of Granada CF, her third stop-off after Eibar and Elche, where she oversaw notable improvements that enhanced her growing reputation in Spanish football.
FIFA.com was keen to speak to this impressive trailblazer, to find out about this rollercoaster ride first-hand, as well as her thoughts on the role of women in football and on all of the positive changes taking place in the women's game.
"Compared to when I started in 2014, I have noticed some significant differences," she remarked. "From the presence of women at Liga meetings to other clubs who are not in the top flight but who are beginning to employ female marketing, foundation and financial directors – this is just the start, and soon it's going to become much more common."
This topic is clearly the one that Rodriguez has been asked about most often since her arrival in the world of football, as her reply is delivered in a confident and measured tone: "I would obviously like for there to be more women working in the industry and for it not to make the news. There has to be a certain level of visibility so that future generations can see that there is something to aspire to. It's important for women to be in decision-making roles so that they see that there is, to a greater extent, a balance between women and men in society"
Recipe for success: hard work
One thing is clear: Rodriguez has earned her place – and the respect of everyone – in Spanish football through hard graft. "I absolutely love what I do, and I'm really passionate about it – I devote hours and hours to it," she explained.
"I bring training, experience and most importantly, attitude. Often I have to make decisions that are not very popular but are, in my eyes, the most appropriate and suitable courses of action, even though I get criticism. I've had disagreements with many people, but I always look them in the eye. If I hold a different opinion, I say so, and we work it out together."
The respect felt towards Rodriguez was further boosted in 2019, when she was included in the Top 100 Women Leaders in Spain, an organisation whose principal goal is to increase the visibility of female talent in order to build a society founded on equality.
"I was really surprised by the women I was rubbing shoulders with," she said. "It was a source of pride and greatly satisfying, but it also brought with it a certain sense of responsibility, because in the end you have to convey the right message. Consequently, I've been learning about the barriers that exist, and what feminism really is. Before, I was a bit naive and ignorant, but I've been trying to change that. I'm trying to pass on to others what I've learned."
Necessary professionalisation
The Granada representative is particularly comfortable talking about women's football, and for that reason she provides a clear response when asked about the importance of FIFA's Vision 2020-2023, which aims to promote the growth of the female game, both on and off the pitch.
"It's crucial for the major federations and the most prominent bodies to be involved," she said. "It's a message that permeates the entire structure of women's football, which has taken a massive step forward in recent times. The Women's World Cup in France was the turning point in Spain – everyone was talking about what was going on there. It's so important that it was being watched and discussed, because four years before that, those things just didn't happen."
"OFTEN I HAVE TO MAKE DECISIONS THAT ARE NOT VERY POPULAR BUT ARE, IN MY EYES, THE MOST APPROPRIATE AND SUITABLE COURSES OF ACTION, EVEN THOUGH I GET CRITICISM. I'VE HAD DISAGREEMENTS WITH MANY PEOPLE, BUT I ALWAYS LOOK THEM IN THE EYE. IF I HOLD A DIFFERENT OPINION, I SAY SO, AND WE WORK IT OUT TOGETHER." Patricia Rodriguez
Spanish football has undergone a major shift in the past few years, and its latest step was the announcement that the women's league would soon be designated as professional, a move that Rodriguez "blames" – in a positive way – on the Covid-19 pandemic. 
"It has, of course, been a negative thing, but there have been some small positive knock-on effects," she remarked. "If they hadn't had to stop women's football, things wouldn't have accelerated so quickly; it wouldn't have been so obvious that there was a difference that shouldn't have existed. These little details ended up advancing this necessary process. I'm convinced that it's a giant step in the right direction."
Rodriguez, whose self-assurance is striking, has now been involved in football for seven years and already seems like a seasoned veteran, which may be why she does not hesitate when asked if she would recommend that other women join her in what is still a decidedly male-dominated sector. "Without a doubt," she concluded. "You really need the balance. Decisions are more fruitful if you have diverse points of view and inputs. It's an exciting job – it's amazing, because in football you don't really get monotony or routine. I'd recommend it to anyone."
( Press Release Image: https://photos.webwire.com/prmedia/5/275996/275996-1.png )
Related Links
WebWireID275996

This news content was configured by WebWire editorial staff. Linking is permitted.
News Release Distribution and Press Release Distribution Services Provided by WebWire.