Salvaged Materials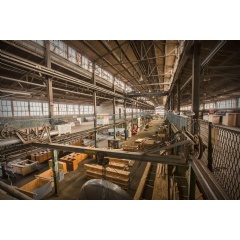 Kelly Roberts, PE, LEED-AP BD+C is a Principal in the Structures Group at Walter P Moore. The following piece is an excerpt from the report, Embodied Carbon: A Clearer View of Emissions.
ONE OF THE MOST OBVIOUS WAYS TO REDUCE our carbon impact is to reuse materials that have already been made. Eliminating waste from the system through reuse and repurposing creates a circular economy within the building sector and can bring both economic and environmental benefits. Although this can be challenging to implement, several product manufacturers have attempted to apply this to their processes with some success. The use of salvaged materials in building construction not only creates a circular economy and tackles the issue of carbon, but also addresses another environmental issue—our ever increasing landfills. In 2015, the EPA estimated that 548 million tons of building materials or construction & demolition (C&D) debris were generated in the United States. In fact, C&D waste represents approximately 40% of everything thrown away in the U.S. each year. And although most of this material could have been recycled or reused, the infrastructure to enable reuse does not exist in many regions. However, demand from the building community can be a catalyst to rethink and reinvent our waste streams.
The use of salvaged materials in building construction not only creates a circular economy and tackles the issue of carbon, but also addresses another environmental issue—our ever-increasing landfills.
In 2011, Walter P Moore participated in the founding of the Life Cycle Building Center (LBC), a nonprofit material reuse center in Atlanta, Georgia focused on reducing the C&D waste sent to landfills. The LBC deconstructs and salvages building materials from structures that are being torn down or renovated and directs the material to a retail center in southwest Atlanta. The materials are then made available to the public at a very low cost or are donated to other nonprofits for free—a win-win.
This organization has created an entirely new stream for building materials in the Atlanta market and allowed the building industry to specify both the salvage of materials and their future use in building projects. For example, when the Atlanta Walter P Moore office was renovated in 2014, we ensured that the drawings specified that all material be deconstructed, salvaged, and donated to the LBC.
Recently, Walter P Moore was engaged to provide structural engineering services for a new hospital wing at Emory University. Several abandoned sorority dormitories existed on the site for the new hospital and were slated for demolition. Although the existing buildings had not been used for some time, there were still several usable materials inside such as cabinetry, doors, railing, light fixtures, and various other materials. Walter P Moore was able to connect the project owners to the LBC, and as a result, several truckloads of materials were salvaged and donated to local nonprofits.
Using salvaged materials can also be beneficial to achieve credits or imperatives for green building rating systems. At the Kendeda Building for Innovative Sustainable Design at Georgia Tech, a project that is striving to achieve Living Building status, salvaged 2x4s are being utilized as a part of the structure's nail laminated floor system to avoid using new wood products that would have been more expensive.
While the use of salvaged materials is beneficial to environment in a myriad of ways, the strategy still remains sparingly used and only for select elements. However, organizations like the apply this to are starting to address crucial elements of the procurement supply chain to enable more material reuse by providing warehousing inventory and connecting salvagers to specifiers. But more action is needed. We must address multiple elements of the procurement supply chain. Organizations like the LBC represent a crucial link— warehousing inventory and connecting salvagers to specifiers. However, we must work to make landfill tipping fees better represent their true cost, while simultaneously developing a deconstruction industry as well as designing our new buildings with consideration for not only how they will be constructed, but also how they will be deconstructed to best retain the value of the salvaged materials.
( Press Release Image: https://photos.webwire.com/prmedia/7/275701/275701-1.jpg )
Related Links
WebWireID275701

This news content was configured by WebWire editorial staff. Linking is permitted.
News Release Distribution and Press Release Distribution Services Provided by WebWire.