New Six Siege Chibis Gear Ready for Deployment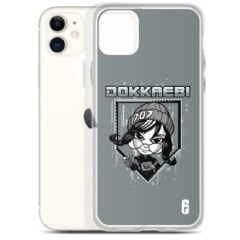 We love the Six Siege Chibis. You love the Six Siege Chibis. We all love the Six Siege Chibis. But what if I were to tell you that their cute-but-mildly-threatening visages were available in more than just figurine form? A rush of excitement would overtake you, and what better way to direct that energy than to have your brain tell your fingers to input the Ubisoft Store into your Internet browsing device of choice and view all of the great Chibi-inspired gear that awaits you? If you're too excited and want to buy something right now, we've got a selection of items below that may be of immediate interest.
Dokkaebi Chibi iPhone Case
When Dokkaebi's not busy hacking phones, she's making them look cool. Her Chibi portrait adorns the back of this phone case, which comes in a variety of sizes to fit several older and more recent iPhone models. Truly, there's no better way to drop a Logic Bomb of your own and detect fellow Six Siege fans than with this case.
Tachanka Chibi T-Shirt
Tachanka's in-game counterpart may have received a rework, but you can just plain work it in this black shirt featuring a Chibi Tachanka brandishing his signature LMG, ready for battle. Do not disappoint Lord Tachanka! Pick this up in one of six sizes today.
Ela Chibi Premium Face Mask
Ela may be able to disorient attackers with her Grzmot mines, but the only thing confusing about this face mask is why you don't already own one. Featuring Chibi Ela front and center, this polyester microfiber fabric mask comes with elastic bands for your ears, PVC size regulators, an adjustable nose wire, and more to keep your face looking cool no matter where you go.
Vigil Chibi Sticker
I've been told that there's an image of a Chibi Vigil sticker somewhere on the page, but all I see is some static? Weird. Well, I'm sure a Chibi Vigil with his trademark (and scary) mask looks cool even if I can't see it. This and other Six Siege Chibi-inspired stickers are available on the Ubisoft Store in a variety of sizes, but those should be easier to spot.
Thatcher Chibi Samsung Case
Don't worry, Samsung phone owners. Thatcher has your back – the back of your phone, that is. The Chibi form of the gasmask-equipped SAS agent stands proudly (and maybe a little smugly, but it's hard to tell because he has the mask on) on the back of this case, available for three Samsung phone models: the Galaxy S10, the S10+, and the S10e.
Caveira Chibi Face Mask
This face mask may be 95% polyester, but it's 100% awesome (and the other 5% is elastane, if you must know) as the Chibi version of Brazil's BOPE agent of interrogation, Caveira, flashes a smirk. This one-size-fits-all mask comes with breathable fabric and is washable and reusable. I'd also like to point out the tiny skull on her beret and the "shh" gesture she is doing are both very scary. Incredible.
All Chibis T-Shirt
At this point, you might be asking yourself, "I love all the Six Siege Chibis. How can I be expected to buy a piece of gear that only shows one of them?" There are two solutions to that problem: The first is to buy multiple pieces of gear and wear them all at once. The second is to pick up this All Chibis T-shirt that features six of your favorite Six Siege Chibis, including Tachanka, Ela, Dokkaebi, Thatcher, Vigil, and Caveira. The shirt is 100% combed and ring-spun cotton too, and that sounds fancy!
Want more? Be sure to check out the entire Six Siege Chibis Collection on the Ubisoft Store.
Follow the Ubisoft Store on Facebook, Twitter, and Instagram to stay updated on current promos, new deals, merch and more about your favorite Ubisoft franchises!
( Press Release Image: https://photos.webwire.com/prmedia/7/271756/271756-1.jpg )
Related Links
WebWireID271756

This news content was configured by WebWire editorial staff. Linking is permitted.
News Release Distribution and Press Release Distribution Services Provided by WebWire.