Claude Monet's Waterloo Bridge, effet de brouillard to lead Christie's Newly Launched 20th Century Evening Sale in May
A Modern Masterpiece
NEW YORK  –
WEBWIRE
–
Thursday, March 18, 2021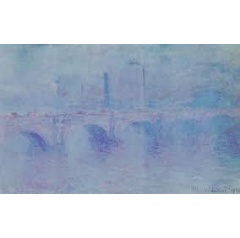 This May, Christie's will present Claude Monet's Waterloo Bridge, effet de brouillard, 1899-1903, Estimate on Request (in the region of $35 million) as a highlight of Christie's newly introduced 20th Century Evening Sale. This rare and important painting is a fine example of Monet's celebrated Waterloo Bridge series, an exquisite example of his capacity to capture the ephemeral, intangible effects of light on the River Thames. With these pivotal works, Monet effectively paved the way for the trajectory of 20th Century Art as we now know it.
"I adore London, it is a mass, an ensemble, and it is so simple. What I like most of all in London is the fog... I so love London!" – Claude Monet in conversation with René Gimpel the celebrated London dealer.
Monet's impassioned declaration is masterfully conveyed in Waterloo Bridge, effet de brouillard, one of the artist's monumental, landmark series of London views, the Vues du Londres. Begun in London in 1899, this series remains one of the artist's greatest achievements, as he transformed the city and its famed fog-filled skies into ethereal, timeless visions of the modern city. Of the three key subjects of this ambitious campaign, the Waterloo Bridge series is the largest, and is renowned for being the most radical and varied and also the most poetic and avant-garde.   Waterloo Bridge, effet de brouillard is the finest example from this iconic series to be offered at auction for over a decade.
Jussi Pylkkanen, Global President, Christie's, remarked: "Monet's London Series marks the artist's coming of age in the early 1900s and the move towards what we now call the great avant-garde movements of the 20th Century. They define him as a master of harmonies of color and a man who could transfer his visionary ambitions onto canvas. This painting is a visual symphony crafted in delicate layers of carefully mixed paints over countless sessions in the studio. He never painted better. His Waterloo Bridge pictures herald the beginning of non-objective painting in their superb passages of abstract paint application and their ability to elicit a deep emotional response from the viewer."
The finest works from this series are now housed in the great museums of the world, including the National Gallery of Art, Washington, the Art Institute of Chicago, The State Hermitage Museum, St. Petersburg and the Philadelphia Museum of Art. The present painting compares very favourably with each of these and like them was chosen by Monet to feature as one of eighteen Waterloo Bridges included in his ground-breaking 1904 exhibition, Claude Monet: Vues de la Tamise à Londres at the Galerie Durand-Ruel.  Reacting to this show Georges Lecomte wrote that Monet had never "attained such a vaporous subtlety, such power of abstraction and synthesis".
In Waterloo Bridge, effet de brouillard, Monet has pictured the panoramic eastward vista from the balcony of his hotel room at the fashionable Savoy Hotel. The expansive, waters of the Thames are traversed by the stone bridge that recedes toward the factory-lined south bank beyond. The entire scene is cloaked in an ephemeral, evanescent mist that is illuminated by the invisible sun beyond, its veiled presence casting the city into an extraordinary iridescent blue and pink light. Here, Monet performed alchemy with brush and pigment, deploying the most nuanced flickers and strokes of color to create a composition that has captured the vaporous quality of the atmosphere, and the magical power of light. In his quest to depict his impression of the scene that lay before him, Monet has transformed a fleeting vista of industrial London into a mysterious and deeply contemplative evocation that transcends the bounds of time and place.
"It's a miracle," wrote Octave Mirbeau. "It's almost a paradox that one can, with impasto on canvas, create impalpable matter, imprison the sun…to make shoot forth from this Empyrean atmosphere, such splendid fairylands of light. And yet, it's not a miracle, it's not a paradox: it's the logical outcome of the art of M. Claude Monet." (Claude Monet, Vues de la Tamise a Londres, exh. cat., Galeries Durand-Ruel, Paris, 1904, p. 8).
Waterloo Bridge, effet de brouillard was one of the earliest London paintings to enter an American collection when it was acquired in early 1905 by the pioneering Pulitzer Prize winning poet, Amy Lowell. Waterloo Bridge, effet de brouillard remained in the Lowell family by descent until 1978, and was included in the Boston Museum of Fine Arts retrospective of masterpieces by Claude Monet held in America the year after the artist's death in 1927.
About Christie's
Christie's is a name and place that speaks of extraordinary art, unparalleled service and international expertise. Founded in 1766 by James Christie, Christie's has conducted the greatest and most celebrated auctions through the centuries providing a popular showcase for the unique and the beautiful. Christie's offers around 350 auctions annually in over 80 categories, including all areas of fine and decorative arts, jewellery, photographs, collectibles, wine, and more. Prices range from $200 to over $100 million. Christie's also has a long and successful history conducting Private Sales for clients and online sales are offered year-round across all categories. Christie's global presence is spread across a network of international salerooms and 61 representatives and offices. Christies.com provides detailed articles and videos on the objects offered for sale alongside the latest advances in digital viewing tools to make Christie's accessible to all.
*Please note when quoting estimates above that other fees will apply in addition to the hammer price - see Section D of the Conditions of Sale at the back of the sale catalogue.
*Estimates do not include buyer's premium. Sales totals are hammer price plus buyer's premium and are reported net of applicable fees.
( Press Release Image: https://photos.webwire.com/prmedia/6/271703/271703-1.jpg )
Related Links
WebWireID271703

This news content was configured by WebWire editorial staff. Linking is permitted.
News Release Distribution and Press Release Distribution Services Provided by WebWire.