An Insider's Account of the Most Accomplished Religious Leader of all Time
George Papa shares the story of Joseph Smith from a unique perspective and writing style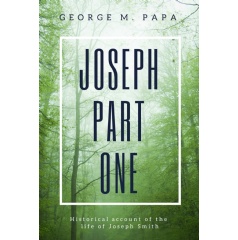 It all started when 14-year-old Joseph Smith wanted to know which church he should join. In 1820, revivalism was rampant in New England. As he knelt in prayer, to his amazement, he received a vision during which he talked face to face with both God and the resurrected Jesus Christ.

Now 200 years later, over 16 million people worldwide are baptized members of this church, which God and Jesus empowered Joseph to organize. Joseph was also told that other heavenly messengers would assist in this great restoration. The first emissary was Moroni, who delivered to Joseph a set of ancient golden plates, which contained a mass of other scripture. These revelations from God were given upon the western hemisphere to many civilizations between the time of the Tower of Babel and 421 A.D., long before Columbus discovered those ruminant people in 1492. Suddenly, divine substance in the form of the Book of Mormon became available, which Joseph published in 1829 to bolster the faithful.

John the Baptist and later Peter, James and John restored the authority to baptize for the remission of sin and the full New Testament apostolic priesthood respectively, which was lost from the earth circa 150 A.D., due to the ultimate persecution and demise of the early saints. Such was the power of Satan over mankind. Starkly, there was no true church or path to God upon this earth for over 1,680 years.

This book is written in such a way that the Holy Ghost, who is the third member of the Trinity, and is the divine confirmer for the entire world, can pounce upon the reader and render these points to be far more clear than any mortal can do. Read it and see. Today more than 16,000,000 of God's kids are members of the church which God further instructed Joseph Smith to organize, with temples and chapels in North and South America, Europe, Africa, China, Russia, Australia and even starting in the Middle East.

Buy the book at: https://youronlinepublicist.com/product/joseph-part-one-historical-account-of-the-life-of-joseph-smith-by-george-m-papa/
 
Joseph Part One: Historical Account of the Life of Joseph Smith
Author: George M. Papa
Publisher: Your Online Publicist
Published Date: March 2021
Book Genre: Historical, Biography, Religion & Spirituality
 
 
About the Author
George M. Papa (b. 1943) is a sixth-generation active-member of this church, who simply likes to tell it like it is. Many of his maternal relatives were the Smith family. Others were neighbors who were associated with Joseph. All of them were valiant pioneers who joined to build Zion, which is the critical point for every person who seeks God, regardless of their lineage. At age 19, George volunteered to learn Spanish and serve a two-and-a-half-year mission to Argentina. His first book is called 'The Vietnam Jungle Speaks, A Conclusive View,' which features many actual front-line battlefield events from his tour as an Infantry Lieutenant during that War. His second book is this one, followed by sixteen more.

As stated, Mr. Papa perfected a unique writing style that combines the power of a feature-film with regular prose, plus a mass of pictures, to attain critical effect. Soon this format will be adopted by other keen authors to revolutionize the entire literary world. Mr. Papa is currently involved with prison and sentencing reform and he was a real estate broker and land developer. He and his wife of 53 years live in Mesa, Arizona and are the parents of six children.
( Press Release Image: https://photos.webwire.com/prmedia/74576/271508/271508-1.jpg )
Related Links
WebWireID271508
Contact Information

Amara Bryant
Production Manager
Your Online Publicist

This news content may be integrated into any legitimate news gathering and publishing effort. Linking is permitted.
News Release Distribution and Press Release Distribution Services Provided by WebWire.