BBC Asian Network reveal ones to watch for Future Sounds 2021
BBC Asian Network have unveiled their bespoke list of British Asian artists to watch over the next 12 months, as part of Future Sounds 2021.
WEBWIRE
–
Wednesday, January 13, 2021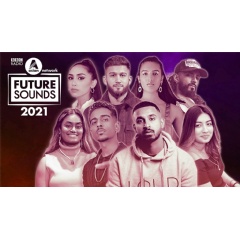 "Once again Asian Network Future Sounds delivers a fresh class of new & emerging British Asian talent to watch out for this year."
"Once again Asian Network Future Sounds delivers a fresh class of new & emerging British Asian talent to watch out for this year." — Bobby Friction
Artists who've been named to make an impact this year include:
Ahmad Rubani
Asha Gold
Bilal Shahid
Hana Malik
Jay Milli
Nish Asher
Pritt
Raf-Saperra 
Returning for its fourth year, Future Sounds is BBC Asian Network's commitment to discovering and supporting emerging British Asian talent.
As part of the celebratory announcement for this year, Bobby Friction will be joined by all eight artists on his show, as they share their reaction to the news and their plans for the year ahead.
Bobby Friction says, "Once again Asian Network Future Sounds delivers a fresh class of new & emerging British Asian talent to watch out for this year. I've spent my entire career promoting new British Asian music & I think it's fair to say the artists coming through now are some of the most exciting in many years!"
Ahmed Hussain, Head of BBC Asian Network says, "Asian Network represents the best of British, and our 2021 Future Sounds stars are just that! These are the artists who are not only celebrating their culture but championing it, all whilst in Lockdown! I look forward to seeing each individual's journey, with the help and support of our presenters, DJs and the whole network!"
Future Sounds artist highlights over the last twelve months include Joy Crookes who went on to be shortlisted for BBC Sound Of 2020 and NAYANA IZ and RVHEEM who recently performed at Radio 1's Big Weekend UK 2020. 
Other alumni include: Ezu, RIKA and Ta'shan (2018); Celina Sharma, Koomz and Premz (2019) Amrit Kaur, Deesh Sandhu and Hyphen (2020).
BBC Asian Network's Future Sounds
Ahmad Rubani
Ahmad is a folk singer from the West Midlands who started his career by releasing faith music. His nasheed Nazara received over a million views on YouTube and later Ahmad's breakthrough pop release Khair Mangda went on to become Noreen Khan's Track Of The Week on Asian Network.  
Ahmad says, "I'm very glad I was selected as a Future Sounds 2021 artist. I'm excited for the year to come, I have huge plans lined up and I'm working on lots of material. I'm really going to show fans and all lovers of music how much we can do, let's bring some positivity to the year!" 
Asha Gold
R&B standout, Asha Gold's stunning vocals and emotive songwriting has won her support across Radio 1, 1Xtra and Asian Network. At 20 years old, Asha credits Beyoncé, Rosalia and Billie Eilish as her biggest inspirations. Her singles Debut and Oscar were both playlisted by BBC Asian Network. 
Asha says, "Being selected as a Future Sounds 2021 artist by BBC Asian Network feels like a real landmark moment in my artist journey, it feels like an affirmation that my music is connecting with people and growing in the right direction. I'm excited to put out new music and features this year, that showcase the development of my sound and writing since my debut EP. We're starting the year with lots of motivation and grand plans… so stay tuned!"
Bilal Shahid
Bilal Shahid has crafted his own sound of contemporary Bangla music fused with contemporary R&B. Supported by Asian Network's Jasmine Takhar and Nadia Ali Mon Juriya and Tumi Amar have reworked classic folk tracks and re-introduced them to a new audience.  
Bilal says, "I am grateful to have been selected as part of this year's Future Sounds list. I want to use this platform to share my story and musical journey so more people within the industry and supporters alike can appreciate the work that has happened in the background. I am one of a handful of British Bangladeshi's pushing a whole new wave and I really hope that I can use this opportunity to put my culture on!"
Hana Malik
Manchester's Hana Malik delivers R&B with catchy hooks. Inspired by Amy Winehouse and Lauryn Hill, Hana has shown her versatility and relatable lyrics with her recent releases Call On Me, Rainy Day and Shine On U. Supported by Asian Network's Bobby Friction and Preeya Kalidas, Hana continues to win fans over with her own style of R&B with attitude.
Hana says, "I'm so excited to be a Future Sounds 2021 Artist! It's sick to know my music will be heard by more and more people this year and I can't wait to share everything planned. I'll be releasing my song Woke Up this month to kick off the year which I'm gassed for, so keep both eyes peeled for some fresh visuals." 
Jay Milli
22-year-old rapper, Jay Milli has coined his own brand of rap as WnP, Western and Punjabi beats. The Leicester rapper's recent appearance on BBC Three's Rap Trip show won him a legion of new fans, teaming up with Pak-Man and Shaker The Baker as well as JJ Esko as his star power continues to rise. 
Jay says, "Being a British Punjabi artist I like to integrate my culture within my music. With my Mixtape dropping soon, people will be able to see the versatility I bring to the music scene and how I can integrate different styles in the music I release. 2021 will be a big year and I plan to drop a bunch of music that I have been working on for the last year or so and I'm super excited." 
Nish Asher
East London's Nish has been recording faith music since the age of 13. Switching between English and Urdu she is now making waves in the international Pakistani music scene. She recently recorded the theme tune for the popular HUM TV Drama Tu Ishq Hai and collaborated with Farhan Saeed on the track Prem Gali. Nish has been supported by Asian Network's Waqas Saeed.
Nish says, "I'm extremely excited to be selected as a Future Sounds 2021 artist. Along with that, I'm looking forward to carrying out my plans as a singer in 2021, I have a lot of new things planned, big projects that I can't wait to share with the world! Special thanks to BBC Asian Network, looking forward to this year!" 
Pritt
Pritt has crafted her own sound of R&B fused with Carnatic melodies. Influenced by her Tamil background, Pritt embraces her identity which has inspired her songwriting as well as captivating visuals. She has been supported on-air by Ashanti Omkar and Bobby Friction and her latest EP, 'Identity' uses her femininity to challenge stereotypes of women in music.
Pritt says, "2020 was a year of lessons, 2021 is the year I put those lessons into practice. As a Tamil woman, it is hard to come up in a male-dominated industry but with the odds stacked against me, I would love to get rid of that stereotype and add some substance to what I do with vim. 2021 will be my year, God willing." 
Raf-Saperra
Raf Saperra is tipped as one of the breakthrough names for the UK Punjabi music scene. Single G'lassy Riddim produced by G-Funk made it as Asian Network's Homegrown Bhangra Track Of The Week and entered the Official Asian Music Chart Top Ten. 
Raf-Saperra says, "As a cultural shift takes place globally within South Asian youth, Future Sounds allows me to crosshatch a new stroke into the existing, rich and seminal canvas of UK Bhangra music. I'm excited to be selected as I intend to spend 2021 bringing the spotlight on to the soon-to-erupt, underground, youth subculture which marks the dawn of UK's Punjabi new wave movement. This is art. This is culture."
( Press Release Image: https://photos.webwire.com/prmedia/7/268917/268917-1.jpg )
Related Links
WebWireID268917

This news content was configured by WebWire editorial staff. Linking is permitted.
News Release Distribution and Press Release Distribution Services Provided by WebWire.