Tech Nation keeps the door open for EU Citizens
WEBWIRE
–
Tuesday, December 22, 2020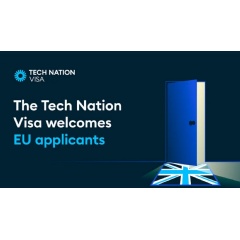 The UK's transition period from exiting the EU will officially come to an end, which means that any EU citizen wanting to come to the UK to live and work will require a visa from this date onwards.
Regardless of this change, the need for international and diverse talent remains – it's what makes the UK tech scene such an exciting one. And it's perhaps why UK tech has rallied significantly through the COVID-19 crisis. The good news is that, for people who work in digital technology (or want to), the Tech Nation Visa is a great option.
Officially known as the Global Talent Visa for Digital Technology, our visa route was the first of its kind when it launched in 2014. Since then, we have supported thousands of brilliant migrant tech workers from around the world, and we are ready and waiting to welcome applicants from the EU.
We invite you to join the UK in its ambition to accelerate our world-leading status in the digital technology sector, from Cyber to AI, Machine Learning to Fintech, Gaming to Healthtech, whatever your sector or level of experience, our visa could be perfect for you.
Why choose the UK? 
Not only does the UK's tech sector have a solid foundation and proud history, the UK's digital tech exports are currently projected to grow by 35% by 2025. This would result in an additional £8.15bn worth of tech exports – £31.45bn by 2025. Parallel to this, we have seen demand for the Tech Nation Visa rise by 48% in the last 12 months. 
We often hear from our Tech Nation Visa Alumni that the UK's diversity and variety is what makes it so unique. It's important to the UK to keep innovating and to remain a welcoming and exciting option for international talent to come and contribute. Attracting Global Talent is vital to ensure that the UK remains a global tech magnet, and continues to be the best place to start and scale a tech business. 
Our Applied AI 2.0 cohort member, Luis Valente, is originally from Portugal and he describes why he thinks the UK is such a great place for blossoming tech businesses:
"It was clear from the start that the UK was the right choice for iLoF. The bureaucracy of setting up the business is one of the lowest in Europe, the tax benefits are efficient, and aside from having some of the best tech talent in the world, there is vibrarant venture capital ecosystem ready to take your business to the next level. All these reasons indeed make the UK Europe's leading Tech Nation!"
 – Luis Valente, CEO of iLoF – Intelligent Lab on Fiber (Portuguese)  
In the Tech Nation Visa Report published earlier this year, we found that: 
In the UK, digital tech saw a 36% increase in vacancies from June to August 2020, second only to healthcare for the number of jobs advertised.
In 2019, the role of software developer was one of the top 5 sought after roles across UK cities. 
In the UK, employer demand for AI has increased by 111% from 2017 to 2019.
The areas that have seen the biggest increase in demand for these skills are Northern Ireland (418%) and Wales at (200%).
68% of UK businesses have tried to hire someone with cyber skills within the last 5 years, but more than a third of these vacancies are hard to fill, indicating an unfulfilled demand for cybersecurity roles
Why the Tech Nation Visa?
For those with skills, talent and/or aspirations within digital tech, the Tech Nation Visa offers benefits that are not seen in other visa routes from either the UK or even other countries. 
Such as:
The Tech Nation Visa is based on your own background, skills and achievements, essentially its a visa based on merit.
You do not need to have a job offer in the UK, and even if you do, the visa is not tied to any single job or location in the UK. This means you can change jobs, start a new project or company, move about the UK, all without needing further permission.
It's not just for employees – founders can apply too!
Technical or business backgrounds are eligible.
The visa caters for different levels of experience, from recent graduates just starting their careers, to experienced veterans with decades of achievements. There are two routes for this, Exceptional Promise & Exceptional Talent.
It's available for all tech sub-sectors (i.e. fintech, AI, cyber, gaming, etc.).
The visa can be initially granted for up to 5 years, and can be extended as many times as you like!
Your family can join you (subject to requirements).
You are free to travel abroad and return to the UK.
If you would like to become a permanent UK resident, this visa route can help you make that happen.
Is the Visa changing for EU applicants?
No, the criteria and requirements for Tech Nation Visa remain exactly the same, the route is simply being opened up to citizens from the EU in addition to applicants from the rest of the world. There will be no differentiation between EU or non-EU applicants.
Who can apply?
The Tech Nation Visa is designed to attract the best tech talent from around the world, and "best" can look different depending on your career or experience. An important aspect of the Tech Nation Visa is that it's not limited by role or job type, this is due to the incredible range and variety of different types of jobs within the technology sector. It's one of the things that makes the tech sector such an exciting one to work in.
If your background is technical, you will likely be a developer, engineer or data scientist. If your career is more business focussed, you might have commercial, investment or digital product expertise in a technology company that creates software, hardware or that processes data. 
The main mandatory criteria for Tech Nation Visa is that you must be either a LEADER or an EMERGING LEADER in the digital technology sector. These are known as Exceptional Talent (Leader) and Exceptional Promise (Emerging Leader).
What qualifies me as a tech leader?
To put it simply, if you have had an outstanding career, have been responsible for significant innovation or growth, or perhaps you have done something extraordinary outside of work or had academic research published, you should consider the Tech Nation Visa. 
A leader of exceptional talent or promise must show extraordinary ability by sustained (or emerging) national or international recognition. The individual will be able to demonstrate a level of expertise (or emerging expertise) which places them at the forefront of their respective field in the digital technology sector.
Exceptional promise applicants are likely to be earlier in their career, usually with less than 5 years of experience. However, whether applying as a Leader or Emerging Leader, you must be able to prove this through your skills and achievements.
How do I apply for the Tech Nation Visa?
To get a Global Talent Visa you need to apply for an 'endorsement' from Tech Nation, as well as apply for the visa itself.
Step 1 – Apply for Endorsement
You need to 'Apply for Endorsement' on the Gov.uk site for Global Talent. There is a dedicated page for the Digital Technology Visa. You will need to pay an application fee for this part of the application.
Step 2 – Tech Nation Application
You need to complete the Tech Nation form as part of your Application for Endorsement. This is where you will submit your evidence so that Tech Nation can determine whether you qualify for the Eligibility Criteria, you can read all about this in our Guide, but you will need to prepare your CV, write a Personal Statement, get 3 Letters of Recommendation, and gather the best evidence you personally have to demonstrate that you meet the criteria.
Step 3 – Endorsement Result
You will hear directly from the 'Home Office' (the UK Government department which is responsible for immigration) whether you have been successfully 'endorsed' by Tech Nation, this can take up to 8 weeks. If you have been endorsed, proceed to Step 4. If you have not been successful, you can apply again for endorsement at any time and as many times as you like.
Step 4 – Apply for Global Talent Visa
If you have been successfully endorsed, congratulations, now you can apply for your Global Talent Visa! This usually takes about 3 weeks for applications from outside the UK.
Step 5 – Visa application decision
If you are approved for a visa, you can enter the UK! 
And you won't be alone, Tech Nation Visa is privileged to have a fantastic Alumni Network made up of hundreds of people who have been where you are now, all supporting each other and excited to be living, working and contributing to the UK tech scene. If you are successful in your visa application, you can join this network (there is no fee to join) and you will instantly have a network of exceptionally talented contacts, colleagues and friends.
Official Details
It's really important to read the official guidance on the Global Talent website before making an application (the following details are subject to change). However, here is a quick summary:
Cost
It costs £608 to apply, this cost includes £456 for your endorsement and £152* for your visa. Your partner and children will each need to pay £608 if they apply. You'll also have to pay the healthcare surcharge for each year of your stay – this is usually £624 per year for each person applying.

*The visa application fee is usually £152. It costs £97 if you're from one of the following countries: Austria, Belgium, Croatia, Republic of Cyprus, Czech Republic, Denmark, Finland, France, Germany, Greece, Hungary, Iceland, Ireland, Italy, Latvia, Luxembourg, Malta, Netherlands, North Macedonia, Norway, Poland, Portugal, Slovakia, Spain, Sweden or Turkey.
Timing
You will usually get a decision about your endorsement within 5 to 8 weeks. The visa application should be concluded within 3 weeks if you're outside the UK, although you may be able to pay for a faster overall decision. 
Take our eligibility quiz
All applicants must read the Visa Guide and official Home Office Guidance to determine their eligibility, but our quiz is a good starting point to let you know if you may be eligible. It only takes a few minutes to complete!
( Press Release Image: https://photos.webwire.com/prmedia/7/268190/268190-1.jpg )
Related Links
WebWireID268190

This news content was configured by WebWire editorial staff. Linking is permitted.
News Release Distribution and Press Release Distribution Services Provided by WebWire.