The 2020–2023 NFB Strategic Plan. New ways of storytelling for new ways of seeing.
Montreal –
WEBWIRE
–
Friday, December 11, 2020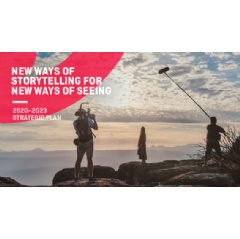 The NFB's 2020–2023 Strategic Plan places creation and audience engagement at the heart of the organization's objectives. The plan is the NFB's new roadmap for telling the country's stories and reaching audiences across Canada and around the world.
Over the next three years, the NFB's key goals are:
to ensure that as many voices as possible have the opportunity to express themselves, so that a greater diversity of points of view are seen and heard;
to renew its approach to programming and enrich the experience of creation;
to reinvent its marketing, presentation, and distribution methods;
to increase its funding in order to devote more money to production.
2020 was marked by sweeping changes, brought about not only by the COVID-19 pandemic but also by environmental crises and the demands of Indigenous people and underrepresented groups—and there is no doubt that Canada, like the rest of the world, will be transformed as a result. Through its 2020–2023 Strategic Plan, the NFB intends to help ensure that these changes are positive and constructive, and that they engage our sense of civic duty and contribute to our collective well-being. The NFB aims to be an organization that prioritizes the creative expression of all aspects of this transformation, to help Canadians understand each other so that they can build a shared future together. The role of artists will be essential in this effort, as will the expertise of NFB staff.
CREATION
In the area of creation, the NFB wants to ensure that as many voices as possible have the opportunity to express themselves, and as many points of view as possible are seen and heard. It will pursue this goal while fulfilling its responsibilities towards Indigenous, linguistic, racialized and underrepresented communities. In addition to maintaining its gender-parity targets, in early 2021 the NFB will unveil a series of firm diversity and inclusion commitments and relaunch its Indigenous Action Plan for a new three-year period, as it continues to review its relationships with Inuit, Métis, and First Nations peoples.
The NFB also intends to renew its approach to programming so that it is cohesive, integrated, and responsive. To that end, it will develop a new programming framework, articulate its shared values in relation to production, hold strategic programming forums, and launch a national programming group, to which creators will be invited.
To enrich the experience of creation, the organization will offer a genuine "NFB experience" based on close personal support for creators at each step of their artistic journey. This initiative will consolidate the place of artists by developing an optimal relationship with them so that they feel welcomed and involved, and are seen as vital constituents of the NFB and its ecosystem.
The NFB will also establish mechanisms to facilitate meetings and interactions with creator communities and key industry members, to ensure regular and constructive dialogue.
AUDIENCE ENGAGEMENT
With regard to distribution, the NFB's intent is to reinvent its marketing, presentation, and distribution methods, in order to foster proximity with audiences and better connect them to the NFB based on their interests.
As a public distributor, the NFB must stand out in the way it reaches audiences. It has to be present in ways that some private players simply cannot be—but it must also adapt to and participate in areas with which it is unfamiliar. To further develop audience engagement, the NFB will excel on two levels: it will continue to offer viewing experiences of its works in person, through public screenings across Canada, and it will continue to increase access to its productions by improving discoverability on digital platforms, where more and more Canadians are consuming their audiovisual content.
Education remains a priority area for the NFB, which enjoys long-standing relationships with Canadian teachers and the entire education sector. The extraordinary growth in visits to NFB.ca/Education during the pandemic demonstrated that our educational offer is a reliable and accessible resource for teachers as well as parents, especially in these uncertain times.
TECHNOLOGY DEVELOPMENT PLAN AND INCREASED FUNDING
All these goals are tied to the implementation of the NFB's 2020–2025 Technology Development Plan, which aims to provide staff, production teams, and experts with the best possible tools to face an environment that is constantly evolving, yet filled with potential.
They also presume that the NFB can secure increased funding, to devote greater funds to production. To this end, the NFB is emphasizing the current extraordinary context, in which strong and diverse voices are more valuable than ever, notably those of creators and artists. The NFB will redouble its efforts to seek out sources of additional funding, while deepening strategic partnerships and beginning to think about a supplementary funding strategy.
The NFB will continue to be a world-class creative hub, recognized in Canada and internationally for its excellence, and a centre for innovation in documentary, animation, interactive storytelling, and all new forms of creation.
QUOTE
"How do we imagine the world of tomorrow? There is an urgency to crafting new ways of storytelling for new ways of seeing. The NFB's mission has never been as relevant. The 2020–2023 Strategic Plan aims to ensure that in the years ahead, more than ever before, the NFB will be a hub where creators and the public meet, to understand and learn about each other. We will continue to be a laboratory for experimentation and a centre for innovation that relies on the collective strength and expertise of our staff." — Claude Joli-Coeur, Government Film Commissioner and Chairperson of the NFB
Associated Links
NFB's 2020–2023 Strategic Plan
French version here | Version française ici.
About the NFB
The NFB is Canada's public producer of award-winning creative documentaries, auteur animation, interactive stories and participatory experiences. NFB producers are embedded in communities across the country, from St. John's to Vancouver, working with talented creators on innovative and socially relevant projects. The NFB is a leader in gender equity in film and digital media production, and is working to strengthen Indigenous-led production, guided by the recommendations of Canada's Truth and Reconciliation Commission. NFB productions have won over 7,000 awards, including 27 Canadian Screen Awards, 21 Webbys, 12 Oscars and more than 100 Genies. To access this award-winning content and discover the work of NFB creators, visit NFB.ca, download its apps for mobile devices or visit NFB Pause.
( Press Release Image: https://photos.webwire.com/prmedia/7/267766/267766-1.jpg )
Related Links
WebWireID267766

This news content was configured by WebWire editorial staff. Linking is permitted.
News Release Distribution and Press Release Distribution Services Provided by WebWire.