Seven new COVID-19 NFB short films premiere online at The Curve
WEBWIRE
–
Thursday, October 15, 2020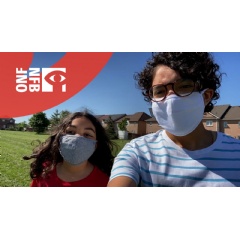 Seven new short films from National Film Board of Canada creators will be online at The Curve—the NFB's destination for social distancing stories that bring us closer together.
These new works explore the themes From Where I Am and Wide-Shots and Close Ups.
The Curve is the pulse of our nation, beating in its own time during this unprecedented time, as NFB creators offer very personal views of how our lives have been touched and changed by COVID-19. The Curve is an online destination where these experiences come to life in animation, documentary and digital storytelling formats.
The Curve is being produced by the NFB's English and French-language studios across the country.
From Where I Am
In From Where I Am, four young filmmakers defy clichéd representations of their communities while navigating the uncharted waters of a global health emergency, in works produced by the Ontario Studio in Toronto.
Nbisiing

(5 min.), dir. Cole Forrest
Afraid he would not see his community again, Cole leaves Toronto for North Bay, where he confronts his fears and reconnects with ancestors. Nbi means water and in the time of this pandemic, it is the lake, medicine, berries, and the land that he looks to for guidance. Produced by Justine Pimlott.
An Ojibwe filmmaker based in Toronto, originally from Nipissing First Nation, Cole Forrest was mentored on this project by Nadine Pequeneza, who has earned acclaim as a writer/director/producer of incisive social-justice documentaries.
Back to School

(6 min.), dir. Olivia Coombs
In Brampton, Ollie documents the lives of younger siblings Nicolas (15) and Natalie (11) as they wait for the provincial government to announce its "back to school" policies for the upcoming year, in this fresh glimpse into the day-to-day experience of one family in the suburbs of greater Toronto. Produced by Lea Marin.
Olivia Coombs, a.k.a. Ollie, is a biracial and genderqueer creator, mentored on this project by distinguished filmmaker, screenwriter and activist Min Sook Lee.
I Am Gay

(10 min.), dir. Ajahnis Charley
After working abroad for five years, Ajahnis returns home to Oshawa in the age of quarantine to reconnect and share some deep personal truths. A humorous and heart-wrenching story about our need to seek love and acceptance within our own families. Produced by Lea Marin.
Ajahnis Charley is a geomatics specialist and sketch comedy performer who was mentored by pioneering activist filmmaker and WIFT Crystal Award winner Alison Duke.
Have You Eaten

(5 min.), dir. Lina Li
Living in downtown Toronto to attend school, Lina returns to the comfort of home in Thornhill and her mother's cooking. In this candid short, she and her mother engage in an intimate conversation about immigration to Canada, misunderstandings, barriers to communicating, love and the taste of home. Produced by Justine Pimlott.
Lina Li is a Toronto storyteller who's currently a member of the programming committee at the Toronto Reel Asian International Film Festival. She was mentored on this project by award-winning documentary filmmaker Aeyliya Husain.
Wide-Shots and Close Ups
In Wide-Shots and Close Ups, distinct voices, speaking from different points on the COVID-19 map, enhance our understanding of the pandemic experience, in works produced by the NFB's North West Studio in Edmonton and BC and Yukon Studio in Vancouver.
Jia 

(10 min.), dir. Weiye Su
A young Chinese-Canadian couple is visiting family in Wuhan, epicentre of the virus, at the very moment the pandemic is declared. Interviewing his subjects in a novel socially distanced mode, Weiye explores the culturally specific concept of Jia—an idea evoking family or home that acquires sharp new meaning.
Chinese-Canadian director Weiye Su studied cinema at the University of Regina, winning acclaim for his student film Gone, Gone, Gone with The Winn's. His credits include My World Is No Longer the World I Knew, an official selection of the 2019 Antimatter [Media Art] festival, and Evelyn and I, which references the pioneering NFB director Evelyn Spice Cherry. Produced by Jon Montes.
Pandemic at the End of the World 

(13 min.), dir. Allan Code
The COVID pandemic strikes a tragically familiar chord for the Inuvialuit people of the Mackenzie River Delta, whose ancestors were infected with deadly smallpox in the early 19th century by John Franklin and his crew, to be followed by other devastating epidemics later on. Historian Randal Pokiak returns to the ancient site of Kitigaaruk, a community abandoned after the flu epidemic of 1918, to deliver a vivid cautionary tale. Produced by Allan Code (NahHO! Productions) and Shirley Vercruysse.
Allan Code is a filmmaker who has been based in Northern Canada since 1971. As Executive Director of NahHO! Productions, he produces works that reflect traditional knowledge, science, natural history and northern storytelling with independence, authenticity and integrity.
Very Present

(6 min.), dir. Conor McNally
How does prolonged confinement shape our experience of time? Conor explores the question in the company of his brother Riley, a young man who's learning to cope with a new—yet strangely familiar—reality. Produced by Coty Savard.

Conor McNally is a filmmaker, photographer and member of the Métis Nation of Alberta, based in Amiskwaciy (Edmonton, Alberta, Treaty 6). He has made numerous short films to date, with his most recent being Iikaakiimaat (2019).

Follow us!

Follow #TheCurveNFB #LaCourbeONF to learn more about The Curve's creators and get news and sneak peeks of upcoming works.

Related Products

Promotional clips from The Curve: Bundle 4 | Bundle 5

French version here | Version française ici.

About the NFB

The NFB is Canada's public producer of award-winning creative documentaries, auteur animation, interactive stories and participatory experiences. NFB producers are embedded in communities across the country, from St. John's to Vancouver, working with talented creators on innovative and socially relevant projects. The NFB is a leader in gender equity in film and digital media production, and is working to strengthen Indigenous-led production, guided by the recommendations of Canada's Truth and Reconciliation Commission. NFB productions have won over 7,000 awards, including 27 Canadian Screen Awards, 21 Webbys, 12 Oscars and more than 100 Genies. To access this award-winning content and discover the work of NFB creators, visit NFB.ca, download its apps for mobile devices or visit NFB Pause.
( Press Release Image: https://photos.webwire.com/prmedia/7/265253/265253-1.jpg )
Related Links
WebWireID265253

This news content was configured by WebWire editorial staff. Linking is permitted.
News Release Distribution and Press Release Distribution Services Provided by WebWire.