Smithsonian American Art Museum Celebrates 50 Years of Its Preeminent Fellowship Program with New Online Resources and Symposium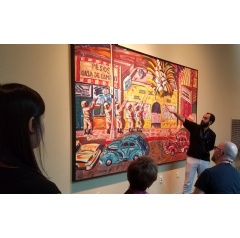 For 50 years, the Smithsonian American Art Museum has hosted more than 700 residential fellows and visiting scholars through its preeminent fellowship program, the oldest and largest in the world for the field of American art. This program supports full time independent and dissertation research and provides access to a world-class network of colleagues. The museum's fellows and visiting scholars have gone on to shape the art world as museum directors, curators, professors, critics, artists and conservators around the globe. Alumni are active in 30 foreign countries, 40 U.S. states and the District of Columbia.
To celebrate this momentous anniversary, the Smithsonian American Art Museum is hosting a free symposium featuring talks by distinguished alumni and launching a new suite of online resources, which includes video testimonials, a comprehensive, searchable directory of past and current fellows, and a timeline of the program's history.
"The Smithsonian American Art Museum's fellowship program has been the catalyst for new scholarship and innovative thinking in the field of American art for 50 years," said Stephanie Stebich, the Margaret and Terry Stent Director of the Smithsonian American Art Museum. "I am delighted to celebrate this great milestone by highlighting past and present SAAM fellows whose work enhances the field of American art history and ignites a passion for the arts among others."
The museum is in the final stage of a $10 million campaign goal to secure the future of its academic programs. A total of over $7 million has been raised in the campaign for fellowships, internships and scholarly programs from more than 185 donors, including foundations, alumni fellows and other supporters of the museum's Research and Scholars Center. Remaining campaign needs include securing long-term funding for paid summer internships, a new public scholar fellowship position and an annual distinguished scholar appointment.  Half Century of Fellowship: Wyeth Foundation SymposiumThe museum will host a virtual symposium Friday, Oct. 9, from 1 to 5:30 p.m. ET, commemorating 50 years of advancement, discovery and scholarship in the field of art history through its fellowship program. Distinguished alumni will present new research in a series of lectures and PechuKucha-style fast-paced talks that highlight efforts to expand the field in the age of Black Lives Matter, decolonization, climate change, globalization and digital scholarship. Speakers include:

Layla Bermeo, Kristin and Roger Servison Associate Curator of Paintings, Museum of Fine Arts, Boston (class of '16)
Kirsten Buick, professor, University of New Mexico (class of '95)
Wanda M. Corn, Robert and Ruth Halperin Professor Emerita, Stanford University (classes of '79 and '87)
Charles C. Eldredge, Hall Distinguished Professor Emeritus, University of Kansas (class of '79)
Amelia Goerlitz, chair of academic programs and acting co-chief of the Research and Scholars Center, Smithsonian American Art Museum
Dimitrios Latsis, assistant professor, Ryerson University (class of '14)
Caroline Riley, Judith B. and Burton P. Resnick Postdoctoral Fellow, United States Holocaust Memorial Museum (class of '20)
Sascha Scott, associate professor, Syracuse University (class of '07)
Kirsten Swenson, associate professor, University of Massachusetts, Lowell (class of '05)
Michelle Joan Wilkinson, curator of architecture and design, Smithsonian's National Museum of African American History and Culture (class of '03)
Tatsiana Zhurauliova, Terra Foundation Post-Doctoral Teaching Fellow, Université Paris Nanterre and Université Paris Diderot (class of '12)


This program is free and open to the public. Registration is required through Eventbrite. More information, a full symposium program and speakers' bios can be found at http://americanart.si.edu/fellowship50.New Fellowship Web ResourcesThe Smithsonian American Art Museum is launching a new suite of web resources that will not only connect current and past fellows but also make visible the global impact of the program on the field of American art. A timeline traces the history of the program through archival photos and documents. A searchable directory of all 735 alumni serves as a resource to track new scholarship and gain insights into trends in the field of American art history. A density map of the world notes where each fellow is active to show the reach of the program. Finally, video testimonials feature distinguished alumni discussing their time as part of the program. 2021 - 2022 Fellowship ApplicationsApplications for fellowships in the 2021–2022 academic year open in September and are due by Nov. 1. For information about how to apply and previous fellows' abstracts, visit americanart.si.edu/fellowships, call (202) 633-8353 or email SAAMFellowships@si.edu.
Fellowship opportunities include the Will Barnet Foundation Fellowship for research on American modern art and its influences, the Joe and Wanda Corn Fellowship for scholarship that spans American art and American history, the Douglass Foundation Fellowship for predoctoral research, the Patricia and Phillip Frost Fellowship, the George Gurney Fellowship for the study of American sculpture, the Smithsonian American Art Museum fellowship in Latinx art supported by the Smithsonian Latino Center, the alumni-supported Joshua C. Taylor Fellowship, the Terra Foundation for American Art Fellowships for the cross-cultural study of art of the United States up to 1980, the William H. Truettner Fellowship, a fellowship in American craft supported by the Windgate Foundation and the Wyeth Foundation Predoctoral Fellowship for the study of excellence in all aspects of American art.CreditVideo testimonials and A Half Century of Fellowship: Wyeth Foundation Symposium are made possible through the support of the Wyeth Foundation for American Art.About the Smithsonian American Art MuseumThe Smithsonian American Art Museum is the home to one of the most significant and most inclusive collections of American art in the world. Its artworks reveal America's rich artistic and cultural history from the colonial period to today. The museum's main building is located at Eighth and G streets N.W., above the Gallery Place/Chinatown Metrorail station, and is open 11:30 a.m. to 7 p.m. Wednesday through Sunday. Its Renwick Gallery, a branch museum dedicated to contemporary craft and decorative arts, is located on Pennsylvania Avenue at 17th Street N.W. and is open 10 a.m. to 5:30 p.m. Wednesday through Sunday admission is free, though timed-entry passes are required to visit the museum's main building. 
  
( Press Release Image: https://photos.webwire.com/prmedia/6/264802/264802-1.jpg )
Related Links
WebWireID264802

This news content was configured by WebWire editorial staff. Linking is permitted.
News Release Distribution and Press Release Distribution Services Provided by WebWire.