NENT Group releases `Furia' as next original international drama
WEBWIRE
–
Monday, September 7, 2020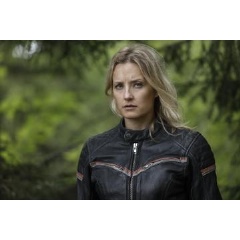 Series created by International Emmy winner Gjermund Stenberg Eriksen (`Mammon')
`Furia' co-produced by Norway's Monster Scripted and Germany's X Filme Creative Pool Series and ZDF
NENT Group to premiere at least 30 original productions in 2020
The international drama series `Furia' is the next original production from Nordic Entertainment Group (NENT Group), the Nordic region's leading streaming company. Created by International Emmy winner Gjermund Stenberg Eriksen (`Mammon') and filmed in Norway and Germany, `Furia' explores the violent and disturbing world of right-wing extremism. The series will premiere exclusively across the Nordic region on NENT Group's Viaplay streaming service in 2021.
In `Furia', a shocking killing in an idyllic Norwegian town leads police investigator Asgeir (Pål Sverre Hagen: `Beforeigners') to undercover cop Ragna (Ine Marie Willmann: `Exit'), as she infiltrates a nationalistic subculture. A journey into a horrifying underworld of hatred follows, and a terrorist plot that reaches from Norway's mountains to the very heart of Europe is revealed. But is everyone really who they seem to be?
Filippa Wallestam, NENT Group Chief Content Officer: "It's uncommon to see a female lead character who appears to be driven by such extreme rage as Ragna, which makes her a grimly fascinating focus for this complex and topical series. `Furia' explores some of the most disturbing subjects of any Viaplay original yet - this is noir from a truly dark place. We have brought together an incredible line-up of Norwegian talent to tell an ambitious story that will engage and unsettle streaming audiences across the Nordic region and beyond."
The eight-part show is directed by Magnus Martens, who has helmed episodes of major US series such as `Agents of S.H.I.E.L.D.', `The Walking Dead: World Beyond' and `Good Behavior', and Lars Kraume (`The People vs. Fritz Bauer'). `Furia' co-stars Trond Espen Seim (`Mammon'), Preben Hodneland (NENT Group's `The Machinery') and Henrik Mestad (NENT Group's `Occupied').
The series is co-produced by Norway's Monster Scripted (`Nobel'; `For Life') and Germany's X Filme Creative Pool (`Babylon Berlin') and public broadcaster ZDF, and is distributed globally by Keshet International.
About NENT Group's original productions
NENT Group is set to premiere at least 30 original productions in 2020. In the past six months, season two of `Mia's Magic Playground'; `Partisan'; `Valley Girl'; `First Responders'; season one of `The American Runestone'; `The Machinery'; season two of `The Lawyer'; `Cold Courage'; `Big Lars'; `The Last Journey of the Vikings'; season two of `Saga's Stories'; `Thicker than Water'; and `The Children's Queen' have premiered on Viaplay across the Nordic region.
Recently announced originals include `Close to Me'; `Catwalk'; `Try Hard'; `Max Anger'; `Dystopia'; `The Head'; `Suck It Up'; `Orca'; `The Swarm'; `Delete Me'; season two of `The Truth Will Out'; `Harmonica'; season two of `Pros and Cons'; `Perfect People'; season two of `Face to Face'; `Huss'; season two of `Those Who Kill'; seasons two and three of `Fixi in Playland'; season two of `Honour'; `Hammarvik'; season two of `Love Me'; season two of `The American Runestone'; `Home Invasion'; `The Professionals'; `Shadowplay'; `The Ambassador'; `Margeaux'; `Cryptid'; and `Commando'.
NENT Group's `ALEX' has been sold in Europe, Asia and the US; `Veni Vidi Vici' has premiered on Hulu and is set for a US remake with Lionsgate; `Pros and Cons' has been picked up by Canal+ and Topic; `Honour' has been sold to RTL and VRT; `Those Who Kill' is available on the BBC and ARTE; and `Mia's Magic Playground' has launched on Sky Kids.
During 2019, NENT Group announced a UK-based joint venture with FilmNation Entertainment and invested in US studio Picturestart.
NOTES TO EDITORS
Nordic Entertainment Group AB (publ) (NENT Group) is the Nordic region's leading entertainment provider. We entertain millions of people every day with our streaming services, TV channels and radio stations, and our production companies create content that is experienced around the world. We make life more entertaining by telling stories, touching lives and expanding worlds - from live sports, movies and series to music and original shows. Headquartered in Stockholm, NENT Group is listed on Nasdaq Stockholm (`NENT A' and `NENT B').
About Keshet International (www.keshetinternational.com)
A leading global content producer and distributor, Keshet International (KI) has a network of seven production companies and distribution hubs - KI in Tel Aviv, Keshet Productions in London, Tresor in Germany, Keshet Asia in Hong Kong, Keshet Studios' two offices in the US (Los Angeles and New York), and a majority stake in Greenbird Media. Beyond developing and producing original content within this network, KI offers acquired content from its global partners as well as Keshet 12 in Israel and the KI Content Fund. KI is a part of the Keshet Media Group, Israel's most successful media company.
Download high-resolution photos: Flickr
Follow us:
nentgroup.com / Facebook / Twitter / LinkedIn / Instagram
Privacy policy:
To read NENT Group's privacy policy, click here
( Press Release Image: https://photos.webwire.com/prmedia/7/263687/263687-1.jpg )
Related Links
WebWireID263687

This news content was configured by WebWire editorial staff. Linking is permitted.
News Release Distribution and Press Release Distribution Services Provided by WebWire.