Summer Wildfires in the Arctic Circle Set New Emissions Record
WEBWIRE
–
Friday, September 4, 2020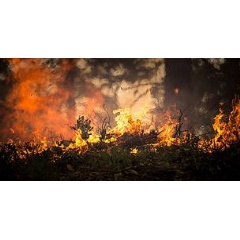 Summer wildfires in the Arctic exceeded last year's records for CO2 emissions, according to scientists from the Copernicus Atmosphere Monitoring Service. © Pixabay
Summer wildfires in the Arctic exceeded last year's records for CO2  emissions, according to scientists from the Copernicus Atmosphere Monitoring Service (CAMS). The wildfires that raged across the Arctic Circle also saw smoke plumes covering the equivalent of more than a third of Canada, scientists say.
 
Using data from the CAMS Global Fire Assimilation System (GFAS), scientists have estimated that this year's CO2 emissions from the Arctic Circle fires have increased by just over a third compared with 2019. From 1st January to 31st August 2020, the estimated CO2 emissions for the region were 244 megatonnes, compared to 181 megatonnes for the whole of 2019.
 
Most of the increased wildfire activity has been seen in Russia's Sakha Republic, decimating millions of acres of land and creating a large spike in CO2 emissions from 208 megatonnes in 2019 to 395 megatonnes in 2020. While the ignition sources are uncertain and difficult to pin down, some fires early in the season are thought to have been caused by so-called 'zombie fires' which may have been smouldering underground during the winter months.
 
According to the CAMS Global Fire Assimilation System (GFAS) data, while the peak of the Arctic fire season was in July and early August, Sakha Republic and Chukotka still experienced above average daily total wildfire intensity in August. Between June and August, the fires in the Eastern Federal District of Russia emitted a total of approximately 540 megatonnes of CO2, which surpasses the previous highest total emissions, for the year 2003, in the GFAS dataset.
 
Mark Parrington, Senior Scientist and wildfire expert at CAMS said: "The Arctic fires burning since middle of June with high activity have already beaten 2019's record in terms of scale and intensity as reflected in the estimated CO2 emissions. We know from climate data provided by our parallel service at ECMWF, the Copernicus Climate Change Service, that warmer and drier conditions have been prevalent again this summer. Our monitoring is vital in understanding how the scale and intensity of these wildfire events have an impact on the atmosphere in terms of air pollution. This is also providing useful information for scientists, policymakers and relevant bodies around the world."
 
Commenting on the news, Manuel Pulgar-Vidal, Global Lead for Climate & Energy at WWF said: "The IPCC's Special Report on Oceans and the Cryosphere makes clear the level of emergency we are facing. And the lack of bold and immediate action is the cause of this emergency. We need a cohesive global response to limit the worst impacts of climate change, and to help improve public health and protect the places we live. Current commitments by governments to fight climate change are completely inadequate, and could lead to an Arctic that is 10˚C warmer than it is today. That's why we are calling on governments to present ambitious national climate plans and emissions targets to the UN, this year, in line with the Paris Agreement."
 
Dr. Peter Winsor, Director of WWF's Arctic Programme said: "The growing number of extreme wildfires in the Arctic are unprecedented in the past 10,000 years.  These "zombie fires" can burn underground for years, thawing permafrost and releasing huge amounts of carbon into the atmosphere, creating feedback loops resulting in accelerated warming and more thawing permafrost. The combination of wildfires and permafrost thaw can cause loss of life, landslides, floods, and coastal erosion threatening Arctic communities, infrastructure and wildlife."
 
Fran Price, Global Lead for Forests at WWF said: "More severe and frequent fires in recent years have had devastating impact on human health, wildlife, economies, and the climate. We need real and effective actions focused on forests, including boreal forests in the Arctic. Managing the risk of forest fires and investing in fire prevention need to be top priorities, and it is especially important to tackle the root causes of fires such as climate change and land use change. Proactivity and long-term commitment must be at the heart of a global response to fires."
 
----
Read the new WWF report Fires, Forests and the Future: A crisis raging out of control? Released on 27 August 2020. The report notes fires in 2020 are on course to be worse than in 2019 – and fires are a critical global issue that needs urgent global solutions.
( Press Release Image: https://photos.webwire.com/prmedia/6/263643/263643-1.jpg )
Related Links
WebWireID263643

This news content was configured by WebWire editorial staff. Linking is permitted.
News Release Distribution and Press Release Distribution Services Provided by WebWire.