BNP Paribas Bank Polska - a resilient bank for challenging times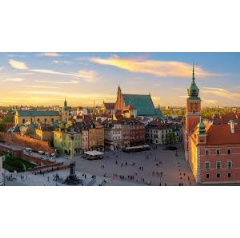 IN THE MOBILE AND DIGITAL ARENA, THE NUMBER OF ACTIVE USERS OF BNP PARIBAS BANK POLSKA'S GOONLINE AND GOMOBILE APPLICATIONS EXCEEDED 1 MILLION AND CONTINUES TO GROW.
In the face of recent shockwaves, the BNP Paribas Group's subsidiary in Poland has shown its stability and operational resilience providing uninterrupted customer service while continuing a seamless transition to digital products, services and processes. The bank, being a major player in the Polish banking sector, is setting its sights on supporting clients and communities and making a contribution to economic recovery in the country.
The Bank's financial results in 2019 and in the first months of 2020 confirmed its strong position and potential to generate dynamic growth. In new circumstances the Bank adjusted its organization, adapting the work model and focusing on ensuring safety for its employees and clients. Yet it remains fully focused on growing its business.
Recent events have sent shockwaves of uncertainty across numerous sectors of the world economy. This has taken its toll on a staggering amount of businesses and financial institutions. But, despite the current economic climate, the BNP Paribas Group's Poland subsidiary stands by its clients' side remaining an important player for the Polish economy. Thanks to the focus on safety of the employees and customers and a nimble transition to digital products, services and processes, the bank has assured uninterrupted access to all products and services and has efficiently diverted client traffic to remote channels. BNP Paribas Bank Polska extends additional support to its clients proposing its own solutions (such as moratorium on loans, accelerated processes) and giving entrepreneurs the access to support mechanisms provided by the state.
As a result of the health crisis, Poland's GDP contracted by 0.4% q/q in Q1 and reached 2.0% y/y on the back of still strong January and February. Compared to the previous quarter, investments slowed down the most. Private consumption, which has so far been the main driver of economic growth, has also weakened. However, labour market remains strong with the unemployment rate growing only by 0,2 pp to 5,4% in Q1 compared to Q4.
Data from the Polish Financial Supervision Authority indicates that in Q1 2020 Poland's banking sector netted 1.4 billion Polish złoty in earnings (€0.32 billion), a year-on-year decrease of 49%. The decline in the overall economic activity may curtail banking income over the coming months, coupled with the rise in non-performing loans and cost of risk. The scale of financial results' deterioration this year will depend on the pace of recovery beyond Q2 2020.
Nevertheless, this does not change the bank's strong position among the financial institutions operating in Poland. At the end of Q1 2020, BNP Paribas Bank Polska was ranked sixth in terms of asset value in the Polish banking sector. It enjoyed a market share of 5.7% in customer loans and 5.8% in customer deposits.  
1 million app users
In the mobile and digital arena, the number of active users of BNP Paribas Bank Polska's GOonline and GOmobile applications exceeded 1 million at the end of 2019. That's a 52% increase year-on-year, and the figure continues to grow. In Q1 2020 the number of mobile transactions rose by more than one third and the number of users of GOmobile app also increased clearly. These numbers are largely attributable to BNP Paribas Bank Polska's shift from universal banking to integrated banking. This pivot has included a focus on wealth management and investments in the food and agricultural industries. Thus far, the strategy has proved successful.
By the end of Q1 2020, BNP Paribas Bank Polska S.A. had 509 branches, 9,900 staff, and 3.9 million customers. In addition to these figures, it has also seen a considerable uptick in renown, with an increase of nearly 10 percentage points in brand awareness, year-on-year.
But the key to sustained growth in this market is the long-term financing of the economy as well as building lasting relationships with customers that are guided by ethical principles. This means remaining open to customer needs and spearheading initiatives for local communities. It also means limiting any negative impact of our operations by providing environmentally friendly products and services. Moreover, the communities that BNP Paribas Bank Polska serves are also the key places from which it draws its employees, so responsible approaches to employee development and engagement are essential.
Diversity and sustainability
The economic responsibility of BNP Paribas Bank Polska entails long-term support for the development of the economy through financing individual and corporate projects, combined with a close monitoring of CSR risks and a particular focus on financing ESG sensitive sectors. The bank sees its aim in supporting the development of the Polish economy, in particular in areas of innovation and industry, environmental initiatives and cross-sectoral partnerships for sustainable development.
Protecting the environment and promoting a more egalitarian society are key objectives for BNP Paribas Bank Polska. In 2020, for instance, the bank launched its second edition of The Bank of Green Changes, an educational campaign that implements ecologically friendly products and services. The bank remains steadfastly committed to strengthening the role of women in the organization with programs such as "Women changing BNP Paribas", which promotes women whose example may be an inspiration for others. The bank has also made it a mission to promote a parent-friendly work environment by introducing adaptation periods for new parents returning from parental leave. During such time, workloads are reduced, allowing employees to acclimate themselves once again to the demands of their jobs.
Since 2018, the bank's CEO has been an active member of the Male Champions of Change Club. Comprising CEOs of major Polish companies, this organization aims to increase the number of women in senior positions in the business community, close the pay gap between genders, and ensure optimal talent engagement of both men and women in the workplace. Additionally, in 2019 and 2020, the bank partnered with the Sukces Pisany Szminką Foundation's 10th annual Businesswoman of the Year awards to recognize successful women in business, science, and culture.
BNP Paribas Bank Polska S.A. believes that success is measured by more than just a balance sheet. 2019 marked the first year the bank's annual report encompassed corporate social responsibility and environmental, social, governance accomplishments, as well as financial results and business activities. This is crucial to showcase not only the bank's success at driving value for its investors and customers, but also its efforts to foster a more sustainable world for the communities in which it operates.
A responsible and accessible employer
The 2019 annual report featured a comprehensive view of the organization's positive impact on the economy, society, and the environment. Recent accolades highlighted in the report include being named the Responsible Business Ranking's "Most Responsible Company in Poland" in both the general category and in the banking, financial, and insurance sectors – the bank won the title in both categories for the second consecutive time in 2020. A consumer survey conducted by the Polish Service Quality Program recognized the Bank's service standards with a Service Quality Star. For the second year in a row, the bank was named Top Employer in Poland for its HR policies. Additionally, it was the only bank to be named an Accessibility Leader 2019.
These are all contributing factors that make this organization a major player in the Polish banking sector. Its current Fast Forward strategy remains valid despite the crisis related to COVID-19. To weather the challenges brought about by the new circumstances, the bank is aiming high with its corporate goals. It wants to focus on protecting its business while looking for smart growth opportunities, to be a bank of choice appreciated by its clients for its quality and values and to further optimize its process and resources benefiting from its digital advancement. 
Customer-focused digital innovations
To accomplish these goals, BNP Paribas Bank Polska aims to be at the forefront of digital innovation. For retail banking, this means expanding electronic and mobile banking services, like online loan applications, Google Pay and Apple Pay. The bank has also enabled customers to open accounts remotely through video-verification and was the first bank in the world to let customers conveniently book an appointment at a branch near them using the Booksy app.  
Moreover, BNP Paribas Bank Polska implements subsequent solutions to make it fully compliant with the revised Payment Services Directive 2 (PSD2), a protocol that aims to align payment regulation with tighter digital security and data protection for customers.
For Poland's food and agricultural sectors, BNP Paribas Bank Polska has launched a multifunctional industry portal called Agronomist.pl. Since its inception in April 2019, this unique platform for industry professionals has had over 51,000 unique visits and has 2,500 registered users.

On top of all these initiatives to drive customer value and reduce environmental impact, BNP Paribas Bank Polska is constantly developing digital solutions to minimize the consumption of paper. It was among three Polish banks that invested in the fintech firm Autenti, which offers an e-signature platform and facilitates the exchange of digital documents, helping customers and businesses shift towards a paper-free future. Additionally, BNP Paribas Bank Polska's business clients enjoy access to a qualified e-signature system by Asseco Data Systems.
Despite the turbulence of 2020, BNP Paribas Bank Polska remains committed to its Fast Forward strategy, with a conviction that its pillars –  smart and responsible growth, improvement of efficiency and quality as well as focus on people supported by digitalization – will remain valid in the post COVID-19 reality.
( Press Release Image: https://photos.webwire.com/prmedia/6/260889/260889-1.jpg )
Related Links
WebWireID260889

This news content was configured by WebWire editorial staff. Linking is permitted.
News Release Distribution and Press Release Distribution Services Provided by WebWire.