2019 results: higher profit and growth for branded products in a tough market
Strong progress in making the dairy chain more sustainable
WEBWIRE
–
Friday, February 28, 2020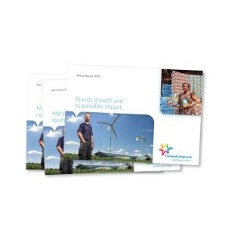 2019 Business Highlights
Operating profit increased by 26.3% to EUR 432 million. Operating profit excluding one-off proceeds from the sale of businesses increased by 7.0%.
Profit rose by 36.9% to EUR 278 million mainly as a result of one-off gains and improved operating profits in Consumer Dairy and Dairy Essentials.
Revenue declined by 2.2% to EUR 11.3 billion due to a decline in the milk supply by 3.4%. Revenue from branded products rose by 3.1% in total with Consumer Dairy brands up by 5.4% and cheese brands up globally by 8.8%.
In the home markets (The Netherlands, Germany and Belgium) growth and profitability were under pressure.
The performance price for member dairy farmers increased by 3.6% to EUR 40.00 per 100 kilos of milk.
The transformation initiated in 2018 is on track: a more effective organisation, increased speed of innovations, higher investments in consumer brands and significant progress in the portfolio relating to healthy nutrition and sustainability in the dairy chain.
The emission of greenhouse gases by FrieslandCampina and member dairy farms declined by 10.6% and 3.5%, respectively. The share of green electricity rose worldwide to 94% of overall consumption.
Introduction of recyclable, lighter and resealable cheese packaging – 87% of the packaging portfolio is now recyclable.
Hein Schumacher, CEO Royal FrieslandCampina N.V.:
"By taking leadership with sustainability and innovation, we managed to improve our market positions globally. The transformation we initiated in 2018 has enabled us to enhance our market-oriented way of working and make more effective use of available resources. We have realised more value from basic dairy and we grew our total branded sales by 3.1%. Consumer Dairy increased branded sales by a strong 5.4%. As a result, leaving the one-off proceeds from the sale of businesses aside, operating profit improved by 7%. This result has to be seen in the context of a challenging market, geopolitical developments and the headwind we experienced in the second half of the year due to the unrest in Hong Kong. This is an encouragement for us to continue the path we have taken and in close cooperation with our member dairy farmers take further steps in making our company future-proof."
Decline in revenue, but consumer brands sales increasing
The 2.2% decline in revenue is mainly attributable to a 3.4% decrease in the milk supply in comparison to 2018 due to a decrease in the number of affiliated dairy farms and due to the termination of unprofitable private label products. Revenue of the Consumer Dairy and Ingredients business groups both increased, with branded sales in Consumer Dairy in particular rising by 5.4%. As a result of a shortage in lactoferrin and unrest in Hong Kong in the second half of the year, the Specialised Nutrition business group's revenue declined. Dairy Essentials' revenue was lower, but the business group improved its sales mix with higher volumes for added-value products (e.g. cheese) and lower volumes for commoditised product categories (e.g. basic milk powder, butter).
Operating profit and profit rose
The operating profit in 2019 increased by 26.3% to EUR 432 million (2018: EUR 342 million). As a result of the increase in operating profit, profit increased by 36.9% to EUR 278 million. The higher profit is in part due to an increase in the revenue from added-value products and due to one-off gains, such as the sale of the activities of cream liqueur producer Creamy Creation and the sale of the interest in Royal CSK Food Enrichment C.V. The companies acquired at the end of 2018 in Spain, the Netherlands and the United States were successfully integrated and contributed to revenue and profit. A considerable number of operating companies achieved brand growth.
Higher milk price for members
The FrieslandCampina milk price for member dairy farmers over 2019 increased by 1.4% to EUR 37.95 per 100 kilos of milk (2018: EUR 37.43). The performance price for member dairy farmers increased by 3.6% to EUR 40.00 per 100 kilos of milk (2018: EUR 38.60). The FrieslandCampina guaranteed price over 2019 was EUR 35.66 per 100 kilos of milk, a decrease of 1.1% compared to 2018 (EUR 36.05). The decrease in the guaranteed price was due to the lower milk prices of reference companies. The premium for special milk streams was EUR 0.26 (2018: EUR 0.16). Distributed across all forms of milk, the meadow milk premium amounted to EUR 0.65 per 100 kilos of milk (2018: EUR 0.63).
Sustainability on track
FrieslandCampina wants to lead with sustainability and, as a major dairy producer, play its role in society. In 2019, the company advanced fast to make FrieslandCampina's dairy chain more sustainable; all ten sustainability targets were met. Emissions declined throughout the entire chain. The greenhouse gas emissions from production and transport decreased by 10.6% to 723 kt CO2 equivalent (2018: 809 kt CO2 equivalent). The greenhouse emissions from member dairy farms decreased by 3.5% to 11,964 kt CO2 equivalent (2018: 12,398 kt CO2 equivalent). To further reduce the emission of greenhouse gases, FrieslandCampina cooperated with a growing number of customers. The percentage of green electricity worldwide rose to 94% (2018: 90%). 100% green electricity has been used in Europe (74% of total electricity consumption) since 2017. Of all green electricity 25% was purchased from member dairy farms. And of the agricultural raw materials purchased, the percentage qualified as sustainable rose to 87% in 2019 (2018: 77%).
Major steps were also taken towards a more sustainable portfolio in the field of healthy nutrition and packaging. As such, the percentage of consumer products that comply with the company's nutritional criteria, rose to 70% (2018: 66%). Finally, a recyclable, lighter and resealable cheese packaging was introduced in 2019. Currently 87% of the entire packaging portfolio is recyclable. For plastic packaging this is 33%. The road to a circular packaging portfolio is complex, with quality and food safety critical foundational criteria.
( Press Release Image: https://photos.webwire.com/prmedia/6/255794/255794-1.jpg )
Related Links
WebWireID255794

This news content was configured by WebWire editorial staff. Linking is permitted.
News Release Distribution and Press Release Distribution Services Provided by WebWire.