IOC Session elects two Executive Board Members and ten new IOC Members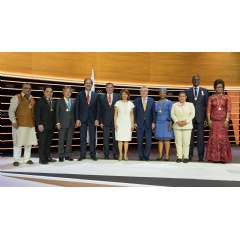 IOC/Greg Martin
The 134th IOC Session elected HRH Prince Feisal Al Hussein and Nawal El Moutawakel as new members of the Executive Board (EB) of the International Olympic Committee (IOC). The Session also voted for ten new Members, following the proposal of the IOC EB from 22 May 2019.
HRH Prince Feisal will replace Gunilla Lindberg on the IOC EB at the end of the 134th IOC Session. Mrs Lindberg's eight-year term on the IOC EB thus comes to an end.
Nawal El Moutawakel will replace Willi Kaltschmitt Luján on the IOC EB on 1 January 2020. Mr Kaltschmitt Luján reaches the age limit at the end of this year.
The group of new IOC Members is composed of seven Individual Members and three Members whose election is linked to a function within a National Olympic Committee (NOC) or a Continental Association of NOCs.
Four women and three men make up the group of seven new Individual Members, while the Members linked to a function within an NOC or a Continental Association of NOCs are three men, chosen in close consultation with the Association of National Olympic Committees (ANOC).
Individual Members
Odette Assembe Engoulou (Female, 25.09.1970, Cameroon)

Spyros Capralos (Male, 15.04.1955, Greece)

Laura Chinchilla (Female, 28.03.1959, Costa Rica)

Matlohang Moiloa-Ramoqopo (Female, 01.11.1967, Lesotho)   

Filomena Fortes (Female, 10.04.1966, Cape Verde)

Tidjane Thiam (Male, 29.07.1962, Côte d'Ivoire)

Erick Thohir (Male, 30.05.1970, Indonesia)
Representatives of the Olympic Movement
Two IOC Members linked to a function within an NOC:
Narinder Dhruv Batra (Male, 19.04.1957, India, President of the Indian Olympic Association)

Kee Heung Lee (Male, 03.01.1955, Republic of Korea, President of the Korean Sport & Olympic Committee)
One IOC Member with a role within a Continental Association of NOCs:
Mustapha Berraf (Male, 21.02.1954, Algeria, President of ANOCA)
After these elections, the total number of IOC Members is now 105. 
The IOC Session re-elected, after eight years of membership, Gerardo Werthein (Argentina). 
The Session also extended the terms of office of three IOC Members who will reach the age limit of 70 at the end of 2019 or 2020:
John Coates, AC (Australia) – until the end of 2024, due to his important role as Chair of the Legal Affairs Commission

Uğur Erdener (Turkey, IOC Vice-President) – until the end of 2024, due to his important role as Chair of the Medical and Scientific Commission and in particular with regard to his function as representative of the Olympic Movement in the World Anti-Doping Agency (WADA)

Mamadou D. Ndiaye (Senegal) – until the end of 2023, as long as he continues to be the President of the NOC of Senegal, due to his distinguished position in the Government of Senegal and Senegalese business community, and given the organisation of the Youth Olympic Games Dakar 2022.
Honorary Members
The IOC Session approved the election as IOC Honorary Members of the following IOC Members who are due to finish their term of office at the end of 2019 because of the age limit.
This group includes Ung Chang, who reached the age limit at the end of last year, but did not attend the IOC Session in Buenos Aires in October 2018 and has therefore been elected by the 134th IOC Session this year in Lausanne. His honorary membership comes into force immediately.
Franco Carraro (Italy), elected in 1982

Iván Dibós (Peru), elected in 1982

Habu Gumel (Nigeria), elected in 2009

Willi Kaltschmitt Luján (Guatemala), elected in 1988

Samih Moudallal (Syria), elected in 1998

Austin L. Sealy, KT (Barbados), elected in 1994

Ung Chang (Democratic People's Republic of Korea), elected in 1996
The International Olympic Committee is a not-for-profit independent international organisation made up of volunteers, which is committed to building a better world through sport. It redistributes more than 90 per cent of its income to the wider sporting movement, which means that every day the equivalent of 3.4 million US dollars goes to help athletes and sports organisations at all levels around the world.
For more information, please contact the IOC Media Relations Team:
Tel: +41 21 621 6000, email: pressoffice@olympic.org, or visit our web site at www.olympic.org.
Broadcast quality footage
The IOC Newsroom: http://iocnewsroom.com/
Videos
YouTube: www.youtube.com/iocmedia
Photos
For an extensive selection of photos available shortly after each event, please follow us on Flickr.
To request archive photos and footage, please contact our Images team at: images@olympic.org.
Social media
For up-to-the-minute information on the IOC and regular updates, please follow us on Twitter, Facebook and YouTube.
( Press Release Image: https://photos.webwire.com/prmedia/7/242913/242913-1.jpg )
Related Links
WebWireID242913

This news content was configured by WebWire editorial staff. Linking is permitted.
News Release Distribution and Press Release Distribution Services Provided by WebWire.