From Space Satellites to Prosthetic Thumbs: 3D Hubs Is Revolutionizing Manufacturing
Hearst Ventures recently invested in 3D Hubs, the world's largest network of manufacturing services that's making it easier than ever to turn innovative ideas into market-ready products.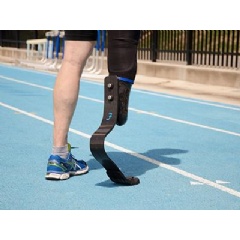 A Fillauer Composites prosthetic foot designed with help from 3D Hubs. (Photo: 3D Hubs)
Whether Elon Musk has an idea for a new SpaceX rocket launch or a small part in the latest Tesla car, development begins with a design. Previously, the process to prototype and produce parts required weeks or even months of waiting to determine if the design simply could be manufactured, which materials would be best suited and how much it would cost. 3D Hubs has streamlined the process to make it easier, faster and more cost effective to get ready for takeoff.
3D Hubs uses artificial intelligence to bypass the standard back-and-forth in assessing the manufacturability of each design, whether it's a third thumb—a live-hinge thumb extension for the hand—or an Earth-orbiting, fully functional nanosatellite. Once an engineer uploads their files and requirements via 3D Hubs' user-friendly interface, they receive instant feedback on the viability of the design and the cost to produce it. 
Next, 3D Hubs searches its network of verified manufacturers—including advanced 3D printing companies, CNC machining services and injection molding facilities around the globe—to find the best supplier for the project. In a matter of days, the concept transforms from digital design to consumer-ready product. 
"3D Hubs is committed to being a radical innovator in the manufacturing industry, building pricing and manufacturability algorithms that are said to have the same potential as Google's search algorithms," said 3D Hubs Co-Founder and CEO Bram de Zwart. 
These algorithms are so advanced that 90 percent of all orders processed through 3D Hubs are fully automated, nearly eliminating the cost, time and error margin of human review. In addition to facilitating production, the AI also learns from each project, and, with nearly 2 million parts already manufactured, the enormous data amassed has provided invaluable insight for refining the system. Each part produced improves every future order. 
"Using AI and the stored experience of the millions of parts they've spec'd out, the 3D Hubs process can actually help a client make a better product than originally planned," said Ken Bronfin, Hearst Ventures senior managing director and head of international investments.
For clients like Fillauer Composites, a company that designs carbon-fiber-based prosthetics, the 3D Hubs network was a game changer. By partnering with 3D Hubs to reduce the cost of production, it opened up more time for their engineers to focus on perfecting the designs. Speed is of utmost importance to Fillauer as they work with amputees, practitioners and prosthetists to test new products in real time. 
"I can describe to [3D Hubs] what is going to be the most important feature, as well as what the end use is, and they can tell me if they think that's viable or not. Either way, we can work towards a functioning solution together … that's been my favorite part about working with 3D Hubs," said Phil Thompson, design and manufacturing engineer at Fillauer Composites.
As a result of smoother workflow, faster production and superior quality, 3D Hubs' customers are able to set lower price points and reach the market faster than competitors. 
For Archie O'Brien the speed and price point of prototype production was what drew him to 3D Hubs to create the world's first underwater jetpack. Now in the mass-production stage, O'Brien's CUDA jetpack is comprised of 45 3D printed parts that can be assembled in under 10 minutes. It works in pools and open water to help users realize their dreams of swimming alongside marine life and keeping pace with a pod of dolphins.
Headquartered in Amsterdam, 3D Hubs has built a network across 140 countries and recently announced a new North American headquarters opening this summer in Chicago, 3D Hubs' fastest-growing market. They have processed orders from over 20,000 businesses, including more than 25 percent of Fortune 100 companies. 
The company's work has even made its way to Hollywood, where 3D printing, CNC machining and injection molding are transforming the world of studio props. What was once only possible in the creative dreams of Vitaly Bulgarov, a concept designer who works with studios including Paramount and DreamWorks, now comes to life in record time, setting the stage for the new designs, costumes and props of future blockbusters.
Along with the many benefits for customers, the 3D Hubs platform is also revolutionizing business for its network of factories. "This process is a big win for manufacturing factory owners," Bronfin explained. "If they have machines that aren't being used to their full capacity with standard orders, they can submit a bid to process a 3D Hubs order and get additional work that they already have the bandwidth to take on." 
This investment in 3D Hubs is Hearst Ventures' first foray into the manufacturing market. It's an exciting diversification of the investment portfolio and is strategically in line with the company's mission to support innovative companies that are disrupting their industries. 
"Part of our job at Hearst Ventures is to explore new areas for Hearst to grow," Bronfin said. "When you're building the future, it makes sense to start with manufacturing." 
The next great innovation is just around the corner. And if you have an idea you'd like to see come to life, begin the process of getting an instant quote here.
( Press Release Image: https://photos.webwire.com/prmedia/2/242735/242735-1.jpg )
Related Links
WebWireID242735

This news content was configured by WebWire editorial staff. Linking is permitted.
News Release Distribution and Press Release Distribution Services Provided by WebWire.