Over 7,000 Participants Join Everbright Spartan Hong Kong 2019
Many large-scale Financial Institutions Participate in New Corporate Championship Charity Race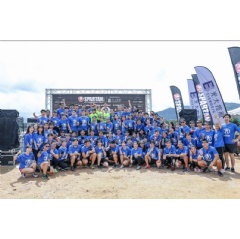 CREDIT: Everbright
China Everbright Limited ("Everbright", stock code: 165.HK) has sponsored Spartan Hong Kong Obstacle Course Race for two consecutive years. Its first race in 2019 concluded successfully on 1 June. Over 7,000 participants, including adults and children, joined the enjoyable experience of an obstacle course race in Yuen Tau Shan in Yuen Long. Apart from the existing 13km Super Race, 5km Sprint Race, and 2km Kids Race, the organizer also set up the new "Everbright Spartan Corporate Championship Charity Race". Many large-scale financial institutions, including Everbright, ABC International, CITIC Bank, CCB (Asia), CICC, BoCom International and Gammon Construction sent corporate teams to participate in the race, showcasing teamwork to fight for a moment of glory for their companies, with incentives for charity as well. Gammon Construction completed the race in 1.5 hours and won first place. The "Everbright Spartan Corporate Championship Charity Race" raised HKD 80,000 in total for charity, which will be donated to institutions including Orbis, Oxfam, InspiringHK Sports Foundation, and Lifeline Express.
Since the first US Spartan Race in 2007, the event has expanded to 30 countries with more than 240 races held around the world in the last 12 years, attracting over 9 million participants. With a spirit of bravery looking to change for self-breakthrough as well as an exciting and stunning design, Spartan Race has developed as an event welcomed by those who love athleisure and trendy lifestyles. Everbright's slogan, "The Power to Transform", echoes with Spartan's slogan, "The Courage to Succeed". Everbright hopes its sponsorship to Spartan Hong Kong can bring participants a brand new experience for sports and self-improvement, helping them to make a difference in their lives for the better. If you want to learn more about Spartan Race, please go to www.spartanrace.hk for more information. You may also go to the Sportag website to check out photos from this race. The second race in Hong Kong will be held in November this year, so please pay close attention to the website if you or your friends are interested to join.
Due to heavy rain the day before the race, the racecourse was muddy, which significantly increased the difficulty of the race. However, the participants upheld the spirit of challenging oneself and exceeding normal limits, and did their best to complete the race. It was a race mixed with muddy water, sweat, and the joy that comes from team spirit and self-breakthrough. Please find some of the testimonials from the participants:
"First of all, we would like to thank Everbright for sponsoring the Spartan Race Hong Kong. We are honored to take part in this event on behalf of Gammon Construction. The competition emphasizes a lot in team spirit, self-challenge, and constantly pursues progress. It is exactly the same as our work attitude. Being the champion of the Corporate Charity Race was really overjoyed. Everyone not only strives for victory, but to challenge themselves. Our teammates encouraged each other, which makes us the power to complete the obstacles. Thanks again Everbright! Thanks to Spartan, we hope to accept the challenge again!" --- Gammon Construction
"Our team (Avengers 3) took place in the Everbright Charity Competition at Yuen Tau Shan on June 1, 2019. None of us had any Spartan race experience before the competition. Overall, the race was challenging but fun. What we found particularly difficult out of the 20 obstacles were Atlas carry and Sandbag carry. Atlas carry caught us off-guard because we did not expect the metal balls to be so heavy, easily around 40-50kg. The sandbags (27kg each) felt like they weighed a tonne on our shoulders and we had to carry them for about 100 metres. Despite the race being only 5km long, each of us were absolutely knackered by the time we finished. Our team was very happy to finish the race without injury and it came as a surprise to us that we finished 3rd in the Everbright Charity Competition. We thought the race was a complete success. We would like to take this opportunity to thank Everbright again for inviting us to take part in the race." --- CICC
"Spartan race is an arduous journey with endless possibilities of challenging obstacles. But together as a team, we encouraged each other when we crawled through the mud, we gave hands to each other when we climbed up the wall, and we leaped over the wall of flame together as we cherish the solidarity of our unimpeachable team!"  --- BoCom International
 
"It was the first time I took part in the "Everbright Spartan Corporate Championship Charity Race" with a team of colleagues this year. Days of rainy weather before the race made it more difficult with the track mired and swampy. Fortunately, with the help of Eric and Lu Ge, we overcame all obstacles along the way and successfully completed the competition together. I hope that more colleagues will join us next time." --- Everbright
"I would like to share my thoughts about the race: No matter who you are, all who wore a headband and stood on the field of Spartan Race, every one of you was the bravest warrior! Whether you are a normal person or not, your extraordinary journey has begun! #An extraordinary journey! #Release Your Potential and #Reborn! Although the game has come to an end, the journey continues. Pressures on life and work can be overwhelming, but we can at least try to free our potential one step at a time. Despite all the hardship and exhaustion, warriors who are unafraid of challenge will be the winners! AROO! Face things head-on and don't quit, victory awaits there! Thanks to Everbright's invitation and organization, it's our pleasure to have the opportunity to participate in such a wonderful event!"--- Minsheng Bank
"I participated in Spartan Race a few years ago, and back then felt that this was a game that required strong fitness and perseverance. However, I met a special team in the corporate group this year that deeply impressed me, and left me with a new understanding of the game. The team consisted of two people, a little brother taking care of a visually impaired teammate, with a professional coach carefully guiding them through every difficult situation. They were panting but not slowing down, slipping into the quagmire but getting up immediately. Their team uniforms wrote, "Disable, but not unable", which was respected by other participants. Everbright not only raises funds to help visually impaired patients worldwide to help them restore their eyesight, but also encourages them through various activities. It means a lot."--- Tracy Yin from Everbright
( Press Release Image: https://photos.webwire.com/prmedia/5/241872/241872-1.jpg )
Related Links
WebWireID241872

This news content was configured by WebWire editorial staff. Linking is permitted.
News Release Distribution and Press Release Distribution Services Provided by WebWire.