PBS NewsHour expands arts coverage, launches new digital platform, with $1.7 million investment from Knight Foundation
ARLINGTON, Va. –
WEBWIRE
–
Thursday, May 23, 2019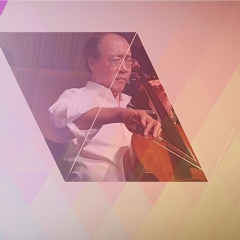 PBS NewsHour announced the expansion of CANVAS, its broadcast and digital arts reporting initiative, with $1.7 million in support from the John S. and James L. Knight Foundation. The expansion aims to improve public access to and engagement with high-quality art and elevate the work of recognized and up-and-coming artists.

"Art has the power to transform people and communities, to connect us through shared experiences and to challenge us to view the world differently. The creation of transformative art isn't confined to just large metropolitan areas—it's happening everywhere, often unseen and with its stories untold," said Victoria Rogers, Knight Foundation's vice president for arts. "This initiative raises the visibility of artists working across the U.S., north to south and east to west, in cities large and small. Through its iconic national programming and expanded digital presence, PBS NewsHour's CANVAS elevates art as national news, bringing arts directly to millions of people on their screens big and small."

NewsHour today launched a dedicated CANVAS website with channels for audiences to interact with and share ideas for arts and cultural content. The website, relaunched Twitter account, and new CANVAS Facebook Group create a virtual canvas for viewers to discover and discuss how art defines us and the communities in which we live. These social channels will also provide the opportunity for NewsHour to experiment with augmented reality and other innovative ways to model artwork for online audiences. Earlier this year, NewsHour expanded its broadcast coverage of the arts to three segments per week. 

[p"

PBS NewsHour

has long covered the arts because we believe that through the arts we learn so much about who we are, what challenges we face and the dreams and experiences that define us," said Sara Just,

PBS NewsHour

executive producer and WETA SVP. "We are so excited to be expanding that coverage across broadcast, online and social media with CANVAS. In a time of intense news coverage, we all benefit from seeing and hearing from a wide variety of artists." [/p]

Online, arts editor Joshua Barajas and digital managing editor Erica R. Hendry will produce original arts content as well as curate segments from PBS member stations and programs. 

Senior coordinating producer of CANVAS Anne Azzi Davenport, who, in addition to producing longform arts pieces for NewsHour and curating content from stations and partners, will work with special projects senior producer James Blueto oversee CANVAS coverage for NewsHour's nightly broadcast. Reporting teams from across the newsroom will support the production of CANVAS content and focus on cultivating this growing community of art lovers and consumers on social media.

Have an idea of art we should consider covering in your community? Share your pitch for CANVAS via email at canvas@newshour.org.

Knight Foundation's investment in CANVAS is part of its efforts to support the arts as a means to build stronger, better informed and more engaged communities, the foundation of a healthy democracy. Learn more about this work at kf.org/arts.

See what is coming up on CANVAS:

Singer and guitarist Dan Auerbach, best known as guitarist and vocalist for the rock band The Black Keys, gives chief correspondent for arts, culture and society Jeffrey Brown a tour of his Easy Eye Studio: a recording studio he built in Nashville, Tennessee, to work with famed country music session players and preserve the sounds and techniques of an earlier time in music. Then, in Clarksdale, Mississippi, at one of the historic "crossroads" of blues music, Brown visits a festival designed to help preserve the blues while also serving as an economic engine for a struggling small city in the rural Mississippi Delta.

In the aftermath of the devastating fire at the Notre Dame cathedral in Paris, special correspondent Malcolm Brabant brings NewsHour viewers a look at how leaders, architects and artisans at another renowned cathedral in York, England, have rebuilt following a natural disaster.

See recent CANVAS reporting:

Barajas profiled K-pop's latest efforts to gain a foothold among American audiences, reporting from this year's South Korean music showcase at South by Southwest in Austin, Texas.

From PBS member station WOSU in Columbus, Ohio, Jackie Shafer profiled artist Christian Faur, who, with his series of crayon works, creates photorealistic portraits out of art supplies traditionally relegated to children. Shafer looked at the unique and "ridiculously labor-intensive" medium in which Faur does much of his work.

About PBS NewsHour

PBS NewsHour is a production of NewsHour Productions LLC, a wholly owned non-profit subsidiary of WETA Washington, DC, in association with WNET in New York. Major funding for PBS NewsHour is provided by the Corporation for Public Broadcasting, PBS and public television viewers. Major corporate funding is provided by Babbel, BNSF, Consumer Cellular, and Raymond James, with additional support from Alfred P. Sloan Foundation, Carnegie Corporation of New York, Ford Foundation, the Gordon and Betty Moore Foundation, the John D. and Catherine T. MacArthur Foundation, the John S. and James L. Knight Foundation, the Lemelson Foundation, National Science Foundation, Skoll Foundation, the William and Flora Hewlett Foundation, Friends of the NewsHour and others. Additional arts funders include the Andrew W. Mellon Foundation, the Laurie M. Tisch Illumination Fund and NEA ArtWorks. More information on PBS NewsHour is available at www.pbs.org/newshour. On social media, visit PBS NewsHour on Facebook or follow @NewsHour on Twitter.

About the John S. and James L. Knight Foundation

Knight Foundation is a national foundation with strong local roots. We invest in journalism, in the arts, and in the success of cities where brothers John S. and James L. Knight once published newspapers. Our goal is to foster informed and engaged communities, which we believe are essential for a healthy democracy. For more, visit kf.org.
( Press Release Image: https://photos.webwire.com/prmedia/7/241182/241182-1.jpg )
Related Links
WebWireID241182

This news content was configured by WebWire editorial staff. Linking is permitted.
News Release Distribution and Press Release Distribution Services Provided by WebWire.