Philips Pioneers Wider Use of MR-Only Radiation Therapy Treatment Planning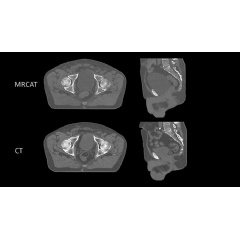 CREDIT: Philips
"We've successfully implemented MRI-only simulation in our clinical protocols for pelvic cancer patients. As a result, we've been able to improve efficiency, reduce dosimetric errors introduced by CT-MRI registration, and save costs by decreasing redundant imaging." Professor Dr. Heikki Minn, Turku University Hospital, Finland
Philips' MRCAT pelvis, the latest addition to the company's leading MR-only radiotherapy simulation portfolio, has received U.S. FDA 510(k) clearance. With this technology, clinicians can rely on one fast MR exam to capture all the information they need to accurately and efficiently create a patient's radiotherapy treatment plan, simplifying the radiotherapy planning workflow.
Today, most patients undergo a CT scan as preparation for dose planning for radiotherapy treatment. CT scans are quick, and provide information on the tumor location and tissue density – important for determining the correct radiation dose. However, when it comes to mapping the tumor and surrounding healthy tissue, MR exams are unparalleled. As a result, clinicians increasingly carry out a CT scan and an MR exam, combining the strengths of both. This approach is more comprehensive, but it also adds time and complexity in the workflow, increasing costs and meaning the patient may have to wait longer for their treatment to start.
Philips' MRCAT (Magnetic Resonance for Calculating ATtenuation) is a breakthrough solution that provides both soft tissue and density maps from one MR exam, rendering CT unnecessary. Studies have shown that MRCAT-based radiotherapy plans are as accurate as plans based on CT [1]. First introduced for prostate cancer treatment planning in 2015, MRCAT is now in routine clinical use in several hospitals worldwide and has been used in the treatment planning of over 1000 patients.
One of those hospitals is Turku University Hospital in Finland, where Professor Dr. Heikki Minn and Dr. Jani Keyriläinen are responsible for the implementation of new technologies in the Radiation Therapy department.
"We've successfully implemented MRI-only simulation in our clinical protocols for pelvic cancer patients," said Professor Dr. Minn. "As a result, we've been able to improve efficiency, reduce dosimetric errors introduced by CT-MRI registration, and save costs by decreasing redundant imaging." 
With the introduction of MRCAT pelvis, the benefits of MR-only treatment planning can now be extended to a wider range of cancers in the pelvis, including bladder, rectum, anus and cervix. This will bring the benefits of MR-only radiation therapy planning to a broader patient base, as well as making it more efficient and cost-effective for healthcare providers to deploy MR-only workflows. Philips intends to continue broadening the application of MR-only simulation for additional applications in the future.
In addition to receiving U.S. FDA 510(k) clearance, Philips MRCAT Pelvis also recently received regulatory approval from Health Canada, and has previously received CE marking for sale in Europe.
Philips MRCAT pelvis is available on the Philips wide bore digital Ingenia MR-RT platform, which comprises the Ingenia Elition 3.0T MR-RT and Ambition 1.5T MR-RT systems. These recently-introduced systems are part of Philips' broader radiation oncology portfolio, which includes the Pinnacle Evolution treatment planning software and Big Bore RT, a dedicated oncology CT simulator. At the European Society for Radiation Oncology's recent Annual Meeting, Philips also announced a new intelligent patient management solution and associated consultancy services to manage complexity, improve efficiency and enable operational excellence in radiotherapy departments. For more information on Philips' radiation oncology portfolio visit www.philips.com/radiationoncology.
[1] The simulated dose based on MRCAT images does not differ in 95% of the pelvic cancer patients (Gamma analysis criterion 3%/3 mm realized in 99% of voxels within the PTV or exceeding 75% of the maximum dose) when compared with CT-based plans for EBRT.
( Press Release Image: https://photos.webwire.com/prmedia/5/241151/241151-1.jpg )
Related Links
WebWireID241151

This news content was configured by WebWire editorial staff. Linking is permitted.
News Release Distribution and Press Release Distribution Services Provided by WebWire.