A fiat ducato base motorhome holiday in pursuit of sport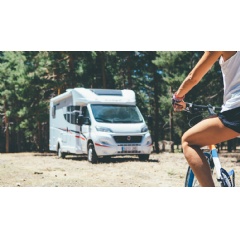 With the arrival of the warm weather, the desire to play sport and get moving in the open air returns! Here are a few suggestions for short escapes from the city on the trail of fun.
The warm weather is finally here....motorhome owners, are you ready to breathe in that feeling of freedom until your lungs are full?
And donít despair, even if there are no long weekends on the horizon: all you need is a few days to recharge your batteries and enjoy sporting emotions with a relaxing (or adrenalin-pumping) effect!
TREKKING Ė Take a pair of comfortable shoes on board your Fiat Ducato base motorhome and prepare to experience nature in its wildest form. You can set off without a precise destination, even without going too far, and discover the mountains or parks of the area you live in. The motorhome is truly the ideal vehicle for taking you on roads you normally never use, on a journey of discovery through new landscapes.
Remember to also take a handy rucksack with you for carrying a warm piece of clothing (even if summer is just around the corner, treks in the mountains often call for extra thermal protection).
If youíre in the area: Donít miss the mountain itineraries through the paths of the Dolomites, in Trentino. Having parked your Ducato Motorhome in one of the many parking areas in the region, you can also offload your mountain bike and cycle to your heartís content. Indeed, the area offers strong emotions to all levels of bikers, as long as they adore uphill and downhill sections and new challenges!
KAYAKING, RAFTING, CANYONING Ė If you adore a challenge even when it comes to river sports, youíre ready to set off with your Fiat Ducato base motorhome towards the river nearest to you!
Canoes and kayaks are becoming increasingly popular among motorhome owners, also because they can easily be carried on your Ducato base motorhome. If you donít have your own, no problem. You can hire them when you get there and literally let yourself be carried away by the experience, on the trail of beautiful sights that you would certainly never have the chance to see from other viewpoints!
If youíre in the area: the Gorges de líArdŤche, in France, is one of the most exciting locations in which to paddle down the river. But thatís not all: with its 32 km of gorges, the setting offers routes of different difficulty levels and durations (as well as a day trip, a 3-day trip is also possible) that will fill the hearts of the sportiest motorhome owners with joy.
HORSE TREKKING Ė The journey on board your Fiat Ducato base motorhome continuesÖ at full gallop through wild countryside! We couldnít resist the pun, seeing as weíre talking about excursions on horseback and trips truly in contact with nature.
Horse-riding is the perfect activity for everyone: even the youngest members of the family will be won over by the fun of a trip on horseback and can try out new experiences, in contact with this amazing animal. Also, although horse-riding is an individual activity, the trek will be a good opportunity to share a special experience with others.
If youíre in the area: Youíve never been to the countryside of the Maremma in Tuscany? You simply have to put that right! Itís a wild corner of the world that hosts a breed of its very own: the Maremmano horse. With him, you can discover pathways and routes suitable for all levels of experience and choose to visit the best kept secrets of the area, including hidden fortresses and ancient monasteries, either with an expert guide or under your own steam.
ADVENTURE PARKS - Only for the bravest of the brave! In your Fiat Ducato base motorhome, make space for the desire to join in the thrills! A day at the adventure park is truly a perfect combination of fun, emotions in the open-air and challenges to overcome...for adults too. (We promise you that when making your way through the park there will be times when youíll find it hard to keep up with your kids!).
In many parks, motorhomes can also stay overnight so you can use them as a point of departure for your excursions in the days after you visit the park.
To put it simply, motorhome owners who love sport and outdoor activities will be spoilt for choice!
Enjoy the warm weather with your Fiat Ducato base motorhome and other sport addicts like yourselves!
( Press Release Image: https://photos.webwire.com/prmedia/7/240991/240991-1.png )
Related Links
WebWireID240991

This news content was configured by WebWire editorial staff. Linking is permitted.
News Release Distribution and Press Release Distribution Services Provided by WebWire.