Determined Actions to Increase the Responsibility of Mywear Clothes
When buying clothes that have been made on the other side of the world, do you find yourself wondering if you can trust that they have been manufactured responsibly? Ensuring responsible supply chains is important for K Group and we work hard towards it. With global clothes manufacturing mostly concentrated in Asia, we pay special attention to improving working conditions in Asian factories.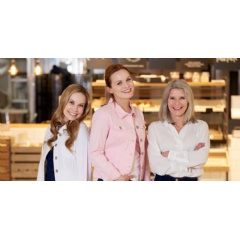 CREDIT: K Group (Kesko)
"It is important for us to ensure responsibility, product safety and human rights in our supply chain. We monitor and improve the responsibility of our supply chains through factory audits and by arranging related training. Our customers can be confident that whenever they shop in a K Group store, they are making a responsible choice," says Matti Kalervo, K Group's Vice President of Corporate Responsibility.
Factory audits help to improve working conditions
K Group (Kesko) is a member of amfori, an organisation that promotes sustainable business, and takes part in amfori BSCI. In assessing suppliers in high-risk countries, we use international social responsibility audit and certification systems, primarily amfori BSCI auditing. High-risk countries are countries with a high risk of human rights violations.
"We use factory audits to monitor, among other things, the safety of working conditions, employee compensation and working hours. The biggest problems are related to compliance with working hour legislation, management practices and compensation. Corrective actions and their follow-up are included in the audit process. We publish the results of amfori BSCI audits annually as part of our Annual Report," Kalervo says.
Child labour is absolutely prohibited. If children were discovered to be working in the factories, immediate action would be taken.
"In 2016, we became a member of the Centre for Child Rights and Corporate Social Responsibility (CCR CSR) based in China. The objective of CCR CSR is to prevent and reduce child labour, improve the status of young workers at factories, and make the daily life of migrant worker parents easier. If any use of child labour was detected at a factory, the organisation would provide us with an operating model to get the children out of the factory and into schools," says Kalervo.
All mywear clothing factories in Bangladesh covered by the Accord on Fire and Building Safety in Bangladesh
In 2018, K Group (Kesko) joined the Accord on Fire and Building Safety in Bangladesh. The accord aims to improve the electrical, fire and building safety of clothing factories in Bangladesh through inspections, training and corrective actions.
"All seven factories in Bangladesh manufacturing clothing for K-Citymarket's mywear brand are covered by the Accord. We get regular updates on the safety of the factories, and have also visited the factories and seen first-hand the positive responsibility impact the Accord has had," says Kalervo.
Social responsibility training for mywear suppliers
In purchasing clothes for the mywear range, K Group cooperates with the Swedish ICA. "The mywear range sold at K-Citymarket stores is one example of the products we procure in collaboration with ICA. We work with the ICA Global Sourcing team in Asia in assuring the social responsibility of factories, and the team also conducts factory audits. We also regularly arrange social responsibility training for our suppliers in Asia," explains Kalervo.
This type of training was organised for mywear suppliers in China and India in 2017, and again in China in 2018. The training sessions were attended by 64 suppliers in total, and they covered Kesko's social responsibility requirements for suppliers, the factory auditing process, and requirements related to product quality and safety.
Continued efforts to improve supply chain transparency
K Group constantly strives to improve its processes and the transparency of its supply chain.
• In 2016, K Group published its statement of commitment on human rights and impact assessment in compliance with the UN's Guiding Principles on Business and Human Rights. Interviews were carried out in high-risk countries to find out the views of employees at Kesko's supplier factories on the implementation of human rights in the purchasing chain.
• In 2015-2017, the Trade Union Solidarity Centre of Finland SASK and Kesko followed up the assessment with a study on working conditions in the supply chain of grapes. In 2018, K Group conducted an extensive water risk assessment concerning our own avocado purchasing. The objective was to identify those regions in the supply chain where water scarcity or pollution are a problem.
• For several years, K Group has published a list on its website that details the factories that manufacture our own brand and own import clothing, accessories, shoes and bags. To improve transparency, we have included addresses for the factories, and intend to next add information on the products each factory manufactures.
• In 2016, K Group introduced the SpeakUp channel, through which employees and business partners around the world can report crime and malpractice suspicions. 11 notices were submitted through the channel in 2018, some of them related to Kesko's partnerships with its suppliers.
• In 2018, K Group participated in Plan's Girls Takeover event, highlighting the status of girls and women in our purchasing chains. K Group made the promotion of gender equality part of its responsibility programme and we made a commitment to strengthen the rights and opportunities of women and girls in all of our operations and supply chains.
• In 2018-2019, K Group is taking part in the campaign promoting the adoption of corporate social responsibility legislation in Finland, initiated by Finnwatch, that would oblige companies to avoid and reduce negative human rights impacts in their operations.
Read more about K Group's responsible purchasing in our Annual Report
Read more about K Group's efforts to mitigate climate change in our Annual Report
( Press Release Image: https://photos.webwire.com/prmedia/5/240246/240246-1.jpg )
Related Links
WebWireID240246

This news content was configured by WebWire editorial staff. Linking is permitted.
News Release Distribution and Press Release Distribution Services Provided by WebWire.