Bosch Engineering puts new acoustics test center into operation
Abstatt –
WEBWIRE
–
Friday, April 12, 2019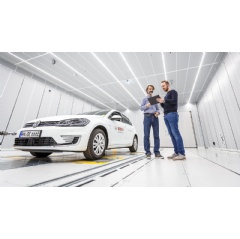 Company adds NVH expertise to its range of development services
Off the road and into the lab with a state-of-the-art NVH chassis dynamometer
Holistic approach aims to optimize the entire system
Vehicle acoustics are steadily gaining traction as a quality criterion in today's cars. When a vehicle is in motion, audible or perceptible vibrations emanating from individual components can cause annoying automotive noise conveyed by the vehicle's structure and rendered as airborne sound. Acoustics experts refer to this phenomenon as NVH, which is short for noise, vibration, harshness. Minimizing noise with NVH analyses is a fixture of automotive engineering. "The increasing shortening of development cycles requires an ideal integration of acoustic optimization into existing development processes," says Jörg Vetter, Senior Manager, New Calibration Services & Products at Bosch Engineering, the Robert Bosch GmbH subsidiary specialized in development services for vehicle and engine manufacturers. With this new acoustics test center in Abstatt, the company is setting the stage for an efficient development process to improve NVH. It will enable development times to be reduced still further while enhancing vehicle acoustics.
Complete acoustics engineering development
Acoustics are a major issue in automotive engineering. Firstly, government regulations for vehicle registration set out limits for external noise levels. Secondly, car buyers and owners expect less vibration and noise and a smoother, quieter ride. New electric and hybrid drives also present considerable and often very specific challenges for acoustics experts seeking to improve NVH. This is why acoustics is an increasingly important factor in automotive engineering. It has to be included early on in the development process, when new models are still on the drawing board. Bosch Engineering supports automakers' efforts to improve NVH with a holistic engineering approach focused on optimizing the vehicle. "In acoustics analysis, we take advantage of the synergies resulting from the close collaboration within Bosch Engineering and with the Bosch Group's acoustical engineers," says Jörg Vetter. The company offers customers a comprehensive service package spanning the entire product development chain for a new vehicle. Providing advice in the design phase and support in the development phase, it also helps customers to continue improving their vehicles' NVH behavior.
Putting vehicle acoustics to the test
Engineers often test-drive cars on public roads or private test tracks to investigate their acoustics. The problem with open-road tests is that external factors such as ambient noise, weather conditions or the driver's profile may skew the measured results. This is why test series are often long and tedious, with results that are hardly reproducible. Bosch Engineering has created an ideal environment for assessing vehicles' NVH performance in its state-of-the-art acoustics test center in Abstatt. With a soundproof hemi-anechoic chamber isolated from the outside world, it provides a far more efficient means of testing and comparing new or modified components and calibrations under uniform conditions and with a view to their impact on the overall vehicle. This reduces the cost and time involved in engineering new cars' acoustics and optimizing legacy vehicles' acoustics. "In our test center, we can quickly detect noise sources that impair driving comfort and develop countermeasures together with our customers," notes Jörg Vetter. Tailor-made and reproducible, the development center's measurement, analysis and evaluation procedures serve to rapidly assess and optimize acoustical phenomena.
State-of-the-art NVH laboratories technology
The centerpiece of Bosch Engineering's acoustics test center is a specially equipped chassis dynamometer. It is suitable for vehicles with a combustion engine, a hybrid drive, or an electric drive, and for all-wheel, front-wheel and rear-wheel drivetrains. The four independently controllable rollers deliver 150 kW each for speeds ranging up to 250 km/h. They can simulate various wheel torques, for example of a cornering car, and wheel loads. A well-insulated test cabin and silent rollers reduce background noise to a minimum so engineers can measure even very low sound pressure levels. This is a great competitive advantage, especially for testing electric vehicles. Without a combustion engine to mask automotive noise, the acoustics of powertrain peripherals are far more perceptible. The test bench design even includes specific monitoring functions for future hydrogen vehicles.
The lab, sound studio and chassis dynamometer are in separate rooms. The lab is equipped with precision instrumentation for measuring vibration and sound pressure levels and conducting modal analyses to break down dynamic NVH behavior. The sound studio features high-tech equipment including headphones for binaural reproduction and a 13-speaker array for higher-order Ambisonics reproduction. This setup enables engineers to compare diverse components' acoustic behavior in the virtual realm without having to install them in the actual vehicle. They can also switch between two NVH scenarios at the push of a button for A/B comparisons.
Upstream from the testing area is an assembly hall. It serves as a staging area to prep vehicles for tests. With its capacity for preconditioning up to ten cars simultaneously, it provides an efficient means of executing even very extensive sets of measurements and achieving reproducible results.
About Bosch Engineering GmbH
Bosch Engineering GmbH is a wholly owned subsidiary of Robert Bosch GmbH and is head-quartered in Abstatt, Germany. As a systems development partner to the automotive industry since 1999, the company with its more than 2,800 associates offers development services for powertrains, safety and convenience systems, and electrical and electronic systems – from the original concept to series production. Specialized in electronics and software, it draws on Bosch's proven large-scale series production technology to develop tailored solutions for a wide variety of applications in passenger cars, commercial vehicles, off-highway and recreational vehicles, and in rail applications, ships, and industry. Bosch Engineering GmbH also coordinates all the Bosch Group's motorsports activities.
Additional information can be accessed at www.bosch-engineering.com.
The Bosch Group is a leading global supplier of technology and services. It employs roughly 410,000 associates worldwide (as of December 31, 2018). According to preliminary figures, the company generated sales from operations of 77.9 billion euros in 2018. Its operations are divided into four business sectors: Mobility Solutions, Industrial Technology, Consumer Goods, and Energy and Building Technology. As a leading IoT company, Bosch offers innovative solutions for smart homes, smart cities, connected mobility, and connected manufacturing. It uses its expertise in sensor technology, software, and services, as well as its own IoT cloud, to offer its customers connected, cross-domain solutions from a single source. The Bosch Group's strategic objective is to deliver innovations for a connected life. Bosch improves quality of life worldwide with products and services that are innovative and spark enthusiasm. In short, Bosch creates technology that is "Invented for life." The Bosch Group comprises Robert Bosch GmbH and its roughly 440 subsidiary and regional companies in 60 countries. Including sales and service partners, Bosch's global manufacturing, engineering, and sales network covers nearly every country in the world. The basis for the company's future growth is its innovative strength. At 125 locations across the globe, Bosch employs some 69,500 associates in research and development.
Additional information is available online at www.bosch.com, www.iot.bosch.com, www.bosch-press.com, www.twitter.com/BoschPresse.
( Press Release Image: https://photos.webwire.com/prmedia/7/239095/239095-1.jpg )
Related Links
WebWireID239095

This news content was configured by WebWire editorial staff. Linking is permitted.
News Release Distribution and Press Release Distribution Services Provided by WebWire.