Embracing M·A·C's Roots of Artistry and Inclusivity
Notes from Philippe Pinatel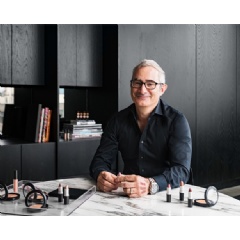 Philippe Pinatel, Senior Vice President, Global General Manager, M·A·C Cosmetics
I came to the role of Senior Vice President, Global General Manager, M·A·C Cosmetics just over one year ago with great excitement about taking the world's leading professional makeup authority forward. M·A·C has been leading makeup in the world for so many years, and my goal was to build on this foundation.
M·A·C has always been on the frontier of what inclusivity means. The brand's credo "ALL AGES, ALL RACES, ALL GENDERS" has been revolutionary since its creation in the 90's, and today is an integral part of our younger customers' philosophy. It was important for us to bring this overall concept of inclusivity that is so vital at M·A·C into the brand's leadership philosophy. And with this there has been transformation everywhere: in retail; providing new experiences for consumers; how we are developing products; in our decision-making processes.
This has required rethinking the way we work together as an organization. One thing I understood from my past leadership roles in retail is the importance of your frontline team, known at M·A·C as our artists. If you do not inspire, motivate, elevate and coach your artists then your experience with your customer is not going to be there and M·A·C's message is going to be lost.
As a result, one of the most significant changes we are making at M·A·C is to evolve the role of the artist, who is at the center of the consumer experience. Since the brand's early days, the artist has been trusted to have this one-to-one inclusive, generous relationship with the consumer. Consumer expectations have changed in the past 10 years, so we need to help the artist know how to adapt to our customers — to solve, service, demonstrate, inspire or co-create with them. With that vision in mind we are putting in place a retail organization that will support our frontline in a different way, giving the artist more freedom and more time to create looks, to create trends and to service customers the way they want to be served.
And because artistry is part of everything that we're doing, we are coming back to some of the brand's best practices and early inspirations by having our artists in the room when we make very important decisions. Whether its products and innovation, designing new experiences, or our go-to-market communications, we will always include an artistry point of view. This inclusivity philosophy also extends to listening to our customers and to our partners throughout the world.
Our new global headquarters in SoHo, NYC, is helping drive the brand's innovation. The office space is improving the way we work together. By design, it encourages a more empowering and collaborative style of leadership and management. It is a very bright, open and art-driven space representative of the inclusivity between the different teams and with the rest of the world. We have plenty of meeting rooms, work spaces and communal spaces to bring the teams together and to have customers and artists panel.
This notion of inclusivity and respect for diversity is also what we are looking for when we hire people to work at M·A·C. We are looking for talent from all over the world, with different profiles, who enjoy working together, who can respect other people's differences and opinions, be humble and open to feedback. We always want talent who are inspired by the brand's vision and passionate for our products and artistry.
At the heart and soul of our unique culture is a shared commitment to social responsibility through the M·A·C AIDS Fund and our VIVA GLAM campaign. Very soon we will be marking the 25th anniversary of VIVA GLAM, through which we have raised almost $500 million for HIV/AIDS prevention, treatment and basic needs. This is an incredible milestone for any brand and at M·A·C we did it by selling one VIVA GLAM lipstick at the time.
On top of giving money, we're giving sweat equity. We give hours, sometimes days of work as volunteers, providing food and support to those in need and community services. This is a huge part of why people love to work at M·A·C. The cause and generosity of spirit has inspired a lot of the M·A·C artists and the M·A·C teams all over the world and I think it's a huge part of how we're going to develop the brand in the future.
My dream for M·A·C is that we will have the most talented empowered, excited teams in the world that are going to be able to speak with, inspire and co-create with the local communities they are playing with. This local relevance, local inspiration, is a source of great strength for the brand. Fundamentally, that is what we are trying to achieve.
Philippe Pinatel, Senior Vice President, Global General Manager, M·A·C Cosmetics, joined the company with more than 20 years of experience building fast-growing, large-scale retail operations in the beauty industry. He was President and Chief Operations Officer at Birchbox from 2015, where he led several key functions including merchandising, retail, operations and international. Prior to this, he served as Senior Vice President and General Manager of Sephora Canada, and Vice President and GM of Sephora Inside JCPenney. Philippe has deep global experience, having lived and worked across the U.S., Canada, Europe, China and South Korea during his 11-year tenure at Guerlain International. Born and raised in France, Philippe holds an M.B.A. from London Business School and a Bachelor's Degree in International Marketing from Burgundy School of Business in France.
( Press Release Image: https://photos.webwire.com/prmedia/7/239033/239033-1.jpg )
Related Links
WebWireID239033

This news content was configured by WebWire editorial staff. Linking is permitted.
News Release Distribution and Press Release Distribution Services Provided by WebWire.