Alejandro González Iñárritu, pushing the boundaries of film
"For me, cinema is the ocean. It's an infinite, endless form of human expression. The ocean of expression. After 120 years of making films, we're still on the beach – we're splashing in the shallows, and I believe we have a lot deeper to go."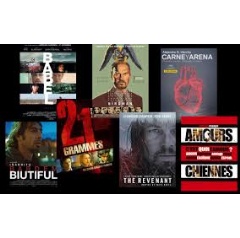 At 56 years old, it has taken just six feature films for Alejandro González Iñarritu to make his name as one of the world's leading directors. Since the first instalment of his trilogy (Amores Perros in 2000), Hollywood has had its eye on the filmmaker virtuoso who received international acclaim for 21 Grams in 2003 and Babel in 2006.
From the outset, his filmmaking has focused on topics that are close to his heart: loss, guilt and redemption, paternity, family and solitude, inevitability and possibility, all with a stylistic inventiveness that never fails to surprise, from Biutiful in 2010 to Birdman in 2014 and The Revenant in 2015.
The audacity and virtuosity of his direction has earned him many of the industry's most prestiguous awards, and now, at the peak of his art, this demanding director, a man of exploration and experimentation, is set to preside over the Jury of the 72nd Festival de Cannes. Here is a brief overview of his extraordinary filmography.
AMORES PERROS (2000)
How can a single event affect the lives of different individuals with no common ground? In Amores Perros, three fates collide with a car accident in Mexico City, a place of violence, poverty, lost love and broken dreams. Right from the outset, linear narrative goes out of the window, making way for slick, fast-paced editing that hits you like a punch to the face. And that's not the only feat of this remarkable debut film: it also introduced us to Gael Garcia Bernal!
FESTIVAL DE CANNES 2000: Semaine de la Critique Grand Prix
21 GRAMS (2003)
In a further contemplation of chance, even fate, this second opus is a no-holds-barred insight into the torments of the human soul. With its brilliant, feverish production, its perfect command of temporal structure and emotional dimensions, and its dazzling cast of Sean Penn, Naomi Watts, Benicio Del Toro and Charlotte Gainsbourg, the film was widely acknowledged as a rare viewing experience.
BABEL (2006)
In Babel, the trilogy's final instalment, fate brings together a set of characters who seemingly have nothing in common. Opting for the dramaturgy of the so-called butterfly effect, the director digs deeper into the spatial dimension and the notion of incommunicability by embarking on the challenging task of filming across three continents (Morocco, Mexico, Japan) and for the first time, directing non-professional actors alongside the film's famous stars: Brad Pitt, Cate Blanchett and Gael Garcia Bernal.
FESTIVAL DE CANNES 2006: Best Director Award / GOLDEN GLOBES 2007: Best Motion Picture - Drama
BIUTIFUL (2010)
Biutiful marks a change of direction, abandoning the fragmented stylistic approach in a return to the linear narrative, and losing the ensemble cast to focus on a single protagonist. With Uxbal, or Javier Bardem, the camera tracks each emotion, each sensation and each transformation, taking us on a brand new journey - this time internal - thanks to the elegant and visceral production.
FESTIVAL DE CANNES 2010: Best Actor Award for Javier Bardem
BIRDMAN (2014)
With Birdman, Iñarritu's primary goal was to create "an immersive film". To achieve this new objective, the Mexican director spent 30 days on Broadway with a Steadicam filming a succession of shots to give the viewer the illusion of spending 48 hours alongside Riggan Thomson, a former superhero on a quest to return to his former glory, brilliantly portrayed by Michael Keaton. To date, Birdman holds the record for the longest "fake" single take in the history of cinema.
OSCARS 2015: Best Director, Best Picture, Best Original Screenplay, Best Cinematography / GOLDEN GLOBES 2015: Best Screenplay, Best Actor in a musical film for Michael Keaton / CESAR 2016: Best foreign film
THE REVENANT (2015)
For this truly outstanding project, the filming of Iñarritu's fifth film The Revenant immersed the cast and crew in extreme conditions. They spent nearly nine months in the harsh and inhospitable landscapes of Canada and Argentina: blizzards, temperatures around -30°C, snow storms, and of course Leonardo DiCaprio who eats raw buffalo liver, takes refuge in the carcass of a dead horse, plunges into an icy river and walks in the snow with a 50-kilo bear skin on his back. The Mexican director, who made the bold decision for the film to be shot in natural light, went to extreme lengths to give the audience a "360-degree sensory experience".
I was really happy to get out into the wild and to get back to the tradition and the origins of cinema where things happen and we're shooting in real places. Suddenly the reality and the complexity of the real natural elements and the real light… It became an act of survival, honestly. As a filmmaker, I was in moments that were very difficult and challenging…"The Revenant was a way for me to express an extreme human experience through what I call 'pure cinema."
OSCARS 2016: Best Director, Best Actor for Leonardo DiCaprio, Best Cinematography / GOLDEN GLOBES 2016: Best Motion Picture - Drama, Best Director, Best Actor for Leonardo DiCaprio / BAFTAS 2016: Best Film, Best Director, Best Actor for Leonardo DiCaprio, Best Cinematography.
CARNE Y ARENA (2017)
On the occasion of the 70th Festival de Cannes, Iñarritu unveiled a preview of his latest project. Over 6 minutes 30 seconds, Carne y Arena (Virtually present, Physically invisible) offers audiences an unprecedented virtual reality experience. Alone, barefoot in the sand, surrounded by shrieking sirens, wild dogs and helicopters hovering overhead, the viewer is thrown into the hell of being a migrant on the US-Mexican border. Not only is the installation an artistic and technological feat; it is a humanist and militant endeavour that earned him a special Oscar in 2018 from the Academy of Motion Picture Arts and Sciences.
( Press Release Image: https://photos.webwire.com/prmedia/6/236690/236690-1.jpg )
Related Links
WebWireID236690

This news content was configured by WebWire editorial staff. Linking is permitted.
News Release Distribution and Press Release Distribution Services Provided by WebWire.