Philips partners with DispatchHealth to provide seniors in Arizona U.S. with on-demand care at home
WEBWIRE
–
Thursday, February 21, 2019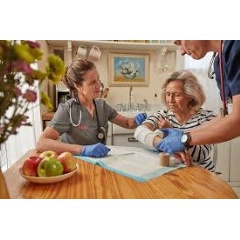 Together with Philips, we can discover opportunities to right-size care and treat medical conditions in the home without a trip to the hospital, delivering more appropriate utilization of resources and improved patient satisfaction. -Kevin Riddleberger,Chief Strategy Officer of DispatchHealth.
As seniors increasingly wish to age at home, it's critical that health systems manage patient risk and equip seniors with tools to help maintain their independence safely. In a healthcare environment where patients 65 years and older represent 40 percent of hospitalized adults [1], with approximately 20% of them readmitted within two weeks of discharge [2], connected technology is proving to be effective in redefining healthcare delivery in the home, reducing unnecessary hospitalizations and their associated costs. 
To help enhance care for select Arizona members of Mercy Care, Philips is joining forces on a pilot study with DispatchHealth, a provider of mobile urgent care that delivers convenient, affordable care within one's home. DispatchHealth supports seniors wishing to stay in their homes longer by providing preventative and proactive treatment where and when seniors need it to help avoid elevating health situations to costly emergency medical services (EMS) and to avoid unnecessary trips to emergency departments. By activating this service with Philips Cares via the Philips Lifeline medical alert system, the pilot program aims to provide a seamless care experience for the aging population while also helping to reduce the volume of unnecessary hospital transports and admissions, driving significant cost savings and clinical outcomes for Mercy Care.
Of the 1,362 emergency calls placed by Mercy Care members in 2018, 73% resulted in an EMS visit, and 22% resulted in hospital transport. "Emergency department visits are often a quality-of-life tipping point for many seniors, as their ability to live independently often diminishes after a hospitalization," said Kevin Riddleberger, Chief Strategy Officer of DispatchHealth. "Together with Philips, we can discover opportunities to right-size care and treat medical conditions in the home without a trip to the hospital, delivering more appropriate utilization of resources and improved patient satisfaction."
Philips seamlessly enables point-of-care connectivity to DispatchHealth, allowing Mercy Care members to get the needed help quickly and easily upon pressing the Philips Lifeline personal alert button. Once contact is initiated, trained care specialists will provide access to care needed with Philips protocol services, including connecting the member to the DispatchHealth support center, who can then send a fully-equipped medical team to provide quality medical care for a wide range of common to complex injuries and illnesses. The pilot program activates convenient, on-demand care in the home—with Dispatch Health providing emergency medicine, primary care and palliative care—at one-tenth of the medical cost of the average emergency room visit.
"We have been at the center of care circles for over 40 years, serving over 7 million seniors and their caregivers through a network of more than 2,500 hospitals, home health agencies, non-clinical home care, and senior living communities. Working with DispatchHealth, we're able to leverage this network to provide seniors in Arizona with a medical team who is at-the-ready to deliver the right interventions at the right time, within the comfort of their home," said Rip Martin, General Manager of Philips Aging & Caregiving. "By meeting patients where they are, we not only improve the patient experience, and support confident and safe independent living, but we also decrease burdensome costs for the overall healthcare system."
The results of the pilot program, including overall cost and utilization of DispatchHealth services as initiated through Philips Lifeline, are expected in spring 2019. Philips, Mercy Care and DispatchHealth recently presented the details of the pilot program at the HIMSS Global Conference & Exhibition in Orlando, FL, in a session titled, "Redefining Healthcare Delivery to Offer On-Demand Care at Reduced Costs." A recording of the session is available here. 
[1] Healthcare Cost and Utilization Project Facts and Figures 2008. Statistics on Hospital-Based Care in the United States. Agency for Healthcare Research and Quality (AHRQ). http://www.hcup-us.ahrq.gov/reports/factsandfigures/2008/section1_TOC.jsp.
[2] McIlvennan, Colleen K et al. "Hospital readmissions reduction program" Circulation vol. 131,20 (2015): 1796-803.
( Press Release Image: https://photos.webwire.com/prmedia/6/236268/236268-1.jpg )
Related Links
WebWireID236268

This news content was configured by WebWire editorial staff. Linking is permitted.
News Release Distribution and Press Release Distribution Services Provided by WebWire.