London is top European hub for global tech talent
London is the number one destination in Europe for international technology workers, according to latest figures from LinkedIn and Stack Overflow.
WEBWIRE
–
Thursday, February 7, 2019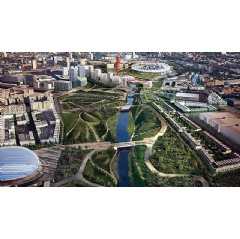 The UK capital's thriving technology and cultural scene continues to be a major draw for tech talent from overseas, with analysis of LinkedIn's members showing that London welcomed more European and non-EU tech professionals than any other major European city in 2018.
According to the findings, London retained the top spot as the most attractive destination for tech workers looking to move for work for the second year in a row, ahead of the likes of Berlin, Paris and Amsterdam1.
Separate research by Stack Overflow, the world's largest developer community, shows that London is home to more software developers than any other European city, with over 357,900 workers across the capital. Some of the world's largest technology companies have taken advantage of London's high concentration of software developers, with the likes of Amazon, Facebook, Yoox Net-A-Porter Group and Expedia all choosing to base developer teams in the UK capital.
Based on recent analysis of Stack Overflow's 50 million monthly users, London has more software developers than other major European cities such as Paris and Amsterdam and over three times the numbers seen in Berlin2.
The research has been compiled by London & Partners, the Mayor of London's official promotional agency, and is being released today to coincide with the launch of a new online resource hub (jobsandtalent.london) to help international businesses with talent and recruitment in London.
 
City      Total no. software developers
London            357,900
Paris                268,600
Amsterdam     216,800
Cologne           165,900
Moscow          160,900
Frankfurt         120,700
Madrid            111,800
Manchester     110,600
Berlin             99,400
Zurich             99,100
Source: Stack Overflow, Dec 2018
Laura Citron CEO of London & Partners said: "London is home to some of the best technical and creative minds who are helping us to lead the way in cutting edge research and innovations in high growth areas such as Fintech and Artificial Intelligence. Today's figures demonstrate that London is an open, welcoming city and that the strength of our tech sector is built on the international makeup of our tech workforce."
"It's important that we continue to make it as easy as possible for London's businesses to access the best talent from all over the world. We are launching the Jobs and Talent Toolkit to help international businesses make the very most of London's diverse talent offering."
Joshua Graff, Head of LinkedIn UK added: "LinkedIn members around the world continue to see opportunity in London, and whether it's hunting for jobs on our platform, or moving to a new city to build a career, London remains in front of its European competitors in the battle for high tech talent."
Nikolay Storonsky, CEO Revolut added: "I settled in the UK 12 years ago. I found a city that didn't care where you came from, only what kind of person you were and what you had to offer. Thanks to everything that London has to offer, I have been able to build one of the fastest growing technology companies in the world. There is no doubt in my mind that London will retain its crown as the best city to build and grow a startup."
A number of high-profile technology companies and organisations investing in innovation and the startup ecosystem have made long term commitments to London, with many citing London's world class talent pool as a reason for investing. This includes:
Apple is set to open a new London HQ in 2020 in Battersea for 1,400 staff
Google's new HQ in Kings Cross will house up to 4500 staff
Europe's longest-running tech workspace and startup support organisation Tech Hub has made a fresh commitment to London, revealing a £2.2m investment in a brand-new home in Shoreditch
Imperial College London will be opening a £10m new research centre for medical advancements in AI
UCL announced it will open a new integrated Centre for AI hosted by its Computer Science department– the largest of its kind in the UK. Over 200 UCL researchers will move into the purpose-designed Centre, to create a hub of advanced R&D and learning that is being supported by many UK and international companies, including global tech leader Cisco
LinkedIn moved into it's new UK HQ in Farringdon in January 2019
Notes to Editors

LinkedIn UK data 2018
Stack Overflow data, December 2018
Table showing the top European city destinations for tech migrants from those that migrated in the period from January 2018 – November 2018
Rank - Top European city destinations (intra-European Migrants)
London
Berlin
Amsterdam
Barcelona
Paris
Rank - Top European City destinations (non-European migrants to the EU)

London
Paris
Amsterdam
Berlin
Munich
     Source: LinkedIn UK, November 2018
For comparison purposes - Table showing the top European city destinations for tech migrants from those that migrated in the period from January 2017 – December 2017      
Rank - Top European city destinations (intra-European Migrants)London
London
Berlin
Amsterdam
Barcelona
Paris
Rank - Top European City destinations (non-European migrants to the EU

London
Paris
Amsterdam
Berlin
Madrid
Source: LinkedIn UK, January 2018
Methodology: LinkedIn Data
We took all LinkedIn members in Europe who stated they were working in tech industries on the 1st January 2018 and looked at where they were on the 1st November 2018, in terms of industry, company size and location.The data is based on the following assumptions:
 We assume that those members who indicate a change in their location on their profile from one European country to another are a migrant.
We assume that where a member indicates that they work for a company that classifies itself as tech that they are then a tech worker.
We assume that where a member lists a skill on their profile, that they have that particular skillStack Overflow data - Methodology 
More than 50 million professional and aspiring programmers visit Stack Overflow each month to help solve coding problems, develop new skills, and find job opportunities. Stack Overflow developer populations are estimates of the number of professional developers in each specified arear. They are identified by our proprietary machine learning platform, that analyses site traffic and behaviour over time to identify users who are likely to be capable of filling the role of professional developer.
( Press Release Image: https://photos.webwire.com/prmedia/7/235480/235480-1.jpg )
Related Links
WebWireID235480

This news content was configured by WebWire editorial staff. Linking is permitted.
News Release Distribution and Press Release Distribution Services Provided by WebWire.