When solidarity - like that shown by Stansted 15 - becomes a crime
Following the publication of this article, the judge made clear that the Stansted 15 would not serve jail time. It seems that 12 of the defendants will be given community orders and three will be given suspended sentences.
WEBWIRE
–
Wednesday, February 6, 2019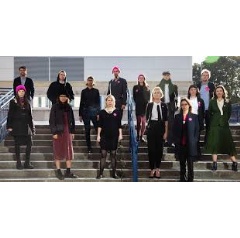 Today, I will be in Chelmsford Crown Court to hear a judge hand down sentences to a group of human rights defenders, known as the "Stansted 15". Outside, hundreds of people are expected to gather to protest.
The 15 were convicted last December in relation to their attempt to prevent what they believed was the unlawful deportation of a group of people. In March 2017, they had taken non-violent direct action at Stansted Airport to prevent the take-off of a charter flight bound for Ghana and Nigeria.
Initially, the Stansted 15 were charged with aggravated trespass, but four months later this was changed to "endangering safety at aerodromes" - a serious terrorism-related charge which has a maximum penalty of a life sentence.
Their case is not only of deep concern for the individuals involved. It is also emblematic of a trend we are witnessing across Europe where acts of solidarity are criminalised in order to discourage other activists from taking action in defence of human rights.
Across the continent, activities such as saving lives at sea, providing food and shelter, and shedding light on abuses are becoming increasingly risky activities.
Amnesty International has documented numerous examples of criminalisation of solidarity in Europe:
In France, an article of immigration law that allows up to five years' imprisonment for anyone who "attempts to facilitate the illegal entry, movement or residence of a foreigner" has been repeatedly used to target those with a sense of empathy. One such good Samaritan, Martine Landry, a 73-year-old pensioner, was repeatedly dragged through the courts for assisting two 15-year-old Guinean asylum- seekers. She helped them get to a police station so they could be registered and cared for as minors, soon after they crossed the border from Italy. Despite being acquitted in July, she will have to face trial again after the Public Prosecutor decided to appeal the decision.
Last year a ruling by France's Constitutional Council acknowledged that the "crime of solidarity" was not in line with the French Constitution and declared that the principle of "fraternité" protects the freedom to help others for humanitarian purposes, regardless of immigration status. Despite this, French authorities have continued targeting activists helping refugees and migrants left homeless in northern France after. In September 2018, activist Loan Torondel was convicted of defamation for tweeting a photograph of policemen standing over one of the many people systematically evicted from informal camps in Calais.
In Greece, three professional firefighters and two volunteers who had worked saving lives at the height of the refugee crisis were only recently cleared of charges of "attempted smuggling" of people into the country.
Elsewhere in the Mediterranean, non-governmental rescue ships and their crews have been repeatedly targeted through numerous legal cases and the imposition of bureaucratic restrictions to their operations.
Last month 49 women, men and children aboard the 

Sea-Watch 3

 and 

Professor Albrecht Penck

NGO vessels spent almost three weeks adrift at sea when Italy and Malta refused them permission to dock. They were finally disembarked in Malta. A similar situation occurred a few weeks later when 

Sea-Watch 3

 was left stranded with 47 people aboard for 10 days before being allowed to disembark them in Italy.
In January, Spanish authorities prevented the Proactiva Open Arms NGO ship from setting sail from Barcelona to the central Mediterranean. Back in April 2018 the same ship was impounded by the Public Prosecutor of Catania after the crew refused to hand over to the Libyan Coast Guard 218 people rescued at sea. Although the ship was released, crew members have been charged with abetting irregular migration and disobeying instructions from Italian authorities and forcing them to allow disembarkation.
The 

Iuventa

, a German NGO vessel, remains impounded by Italian authorities. Investigations against crew members continue on the grounds that they were "aiding irregular immigration" into Italy.
Last October, apparently under pressure from the Italian authorities, the 

Aquarius 

ship which has rescued more than 30,000 people over the last two years had its registration withdrawn by Panamanian authorities. In December Médecins Sans Frontières and SOS Méditerranée announced the Aquarius was forced to terminate operations due to the obstruction of their life-saving activities.
Removing essential rescue boats from the seas may well have contributed to the rise in the number of deaths in the Central Mediterranean of people attempting to reach Europe.
In Hungary, the mere provision of aid to refugees and migrants has become a criminal offence with penalties of up to one year in prison. A law passed this year criminalizes a wide range of activities such as the preparation, distribution or commissioning of 'information materials' related to migration and providing legal and other support to asylum-seekers. Last October, Amnesty International became the second NGO to challenge in court the constitutionality of this law.
In Switzerland several people including a pastor have been investigated and prosecuted for providing shelter to migrants who would otherwise have been left homeless.
The case of the Stansted 15 is not just about the prosecution of a group of individuals. It is also part of an attempt to make Europe a place where NGOs are targeted and people showing compassion are stigmatized.
It will not work. Rather than serving to discourage and intimidate, clamping down on basic human decency is having the opposite effect. Through their courage and persistence, French pensioners, Spanish firemen and countless others are standing in defiance and showing that human solidarity will not be so easily extinguished.
In a statement released after the verdict last December, the Stansted 15 stated: "We are guilty of nothing more than intervening to prevent harm" Today their families and supporters around the world await their sentences with bated breath. 
( Press Release Image: https://photos.webwire.com/prmedia/6/235424/235424-1.jpg )
Related Links
WebWireID235424

This news content was configured by WebWire editorial staff. Linking is permitted.
News Release Distribution and Press Release Distribution Services Provided by WebWire.