Dow Successfully Rallies Employees and Partners to Reduce Marine Litter with Its Global Campaign #PullingOurWeight Beach Clean-Up
WEBWIRE
–
Thursday, December 20, 2018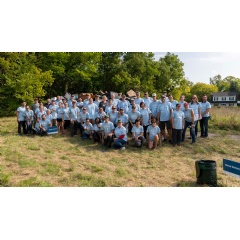 WORLDWIDE TOP PARTNER DOW, WHICH PLEDGED TO JOIN THE IOC'S CLEAN SEAS MOVEMENT IN MAY 2018, HAS HELPED DRIVE AWARENESS OF THE MARINE LITTER ISSUE WITH A GLOBAL CAMPAIGN INVOLVING EMPLOYEES, FAMILIES, FRIENDS AND CUSTOMERS OF THE COMPANY IN BEACH AND WATERWAY CLEAN-UPS AROUND THE WORLD.
During the campaign and in collaboration with local organisations across the world and Ocean Conservancy, Dow volunteers have removed no less than 53,931 pounds of waste (24.46 tonnes) from waterways at 57 locations across the globe to bring attention to the issue of ocean plastic pollution.
The clean-up effort – called #PullingOurWeight – challenged participants to remove at least four pounds (1.8kg) of waste per person from local waterways and communities. Four pounds is the average amount of waste that each person on earth produces each day. During the campaign, 5,718 Dow employees, families and friends participated in clean-up events along with industry peers and Dow customers – the largest participation of Dow volunteers for a single cause in company history.
"This year, Dow volunteers have participated in more clean-ups than ever before; and I am so impressed with the level of commitment from our employees around the world and extended Dow family," said Diego Donoso, President of Dow's Packaging & Specialty Plastics business. "From Asia to Africa, Europe to the Americas, our clean-ups to date have removed more than 40,000 pounds of trash from local waterways. Dow is #PullingOurWeight for a cleaner, healthier ocean and we encourage others to join us in this movement."
"Dow has long supported Ocean Conservancy's International Coastal Clean-up and the organisation's ocean plastic mitigation efforts," says Dow CEO Jim Fitterling. "No waste – plastic or otherwise – belongs in the ocean or anywhere in our environment. Through global and local collaborations with governments, NGOs, and other industry leaders, Dow is working to innovate technologies to recycle waste, clean up existing waste and support initiatives that prevent waste from entering the environment."
While the #Pullingourweight campaign cleared many beaches, its impact lies in the awareness it has created with the broader communities in which Dow operates and educated more people on the importance of managing plastic waste.
In 2019, Dow and the IOC will join efforts with the NOCs and IFs as well as Clean Seas ambassadors to make this campaign even more impactful and inspire people and companies to take action in their daily lives and in their organisations.
SUPPORTING THE UN CLEAN SEAS PROJECT
Dow is one of the IOC's partners that committed to support the Clean Seas Campaign launched in January 2017 by the United Nations to increase global awareness of the marine litter issue, and to implement measures that address gaps in waste management.
Marie Sallois-Dembreville, IOC Director of Corporate Development, Brand and Sustainability, commented: "Dow's clean-up initiative is a clear sign that the company is committed not only to raising awareness of the plastic waste management, but also to driving innovative solutions that the whole of society will benefit from. We are very pleased to have Dow as an active partner, helping us to achieve our sustainability goals".
DOW AND THE CIRCULAR ECONOMY FOR PLASTICS
Dow is partnering across the value chain to advance a circular economy for plastics. Poor waste management infrastructure combined with the careless disposal of plastics after they are used have resulted in too much plastic being lost to landfills and the environment. Appropriately managing the lifecycle of plastics from design to disposal will retain the many social and economic benefits of plastics for society without compromising the world's oceans, rivers or streams.
"Advancing a circular economy is a key component of Dow's 2025 Sustainability Goals," stated Fitterling, "It's clear to us that addressing end-of-life options for plastic waste will be one of the most important business opportunities of our time. Whether recycling plastic to its original state to capture the energy within, or reformulating waste plastics into new products such as footwear, construction materials, clothing or other valuable products – there are viable options that exist now to close-the-loop on plastics."
For the #PullingOurWeight campaign, Dow and Ocean Conservancy received support from four of Dow's valued customers through certified collection bags for clean-ups around the world. The bags were made of recycled plastic, and used Dow's RETAIN compatibiliser technology, demonstrating how science can support closing the loop on material utilisation.
DOW AND THE IOC
As a Worldwide Olympic Partner, the Official Chemistry Company of the Olympic Games, and the Official Carbon Partner of the International Olympic Committee, The Dow Chemical Company combines science and technology knowledge to develop premier materials science solutions that help the IOC deliver its Sustainable Strategy. In addition to providing multiple solutions that enhance the architecture and performance of the IOC's new headquarters building, Dow is delivering an innovative global carbon mitigation programme to compensate carbon emissions from the IOC's daily operations, as well as other projects within the Olympic Movement.
With a long heritage of innovation and leadership in both high-performance sports and sustainability solutions, Dow has been a supplier of technologies for the Olympic Games since 1980.
( Press Release Image: https://photos.webwire.com/prmedia/6/233287/233287-1.jpg )
Related Links
WebWireID233287

This news content was configured by WebWire editorial staff. Linking is permitted.
News Release Distribution and Press Release Distribution Services Provided by WebWire.