Palestine: Social justice activist tortured and punished for going on hunger strike
WEBWIRE
–
Wednesday, December 5, 2018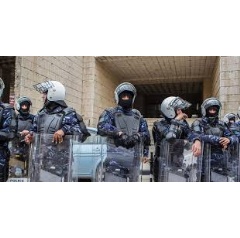 The Palestinian authorities must urgently investigate the torture and other ill-treatment of Suha Jbara, an activist who has told Amnesty International that she was beaten, slammed against a wall and threatened with sexual violence by her interrogators, the organization said ahead of her court hearing tomorrow. 
Amnesty International met with her in prison on 4 December and gained first-hand testimony detailing her brutal treatment at the hands of her interrogators in an ordeal that lasted three days. She also told the organization she had suffered relentless harassment from officials to end a hunger strike she began on 22 November in protest at her detention and torture.
"Suha Jbara has described her torture in harrowing detail. In her testimony she gives an account of ruthless interrogators who have shamelessly flouted Palestine's obligations to treat prisoners humanely and violated the absolute prohibition under international law of torture and other cruel, inhuman or degrading treatment," said Saleh Higazi, Deputy Director for the Middle East and North Africa at Amnesty International.
"The Palestinian authorities must urgently carry out an independent and impartial investigation into these allegations. Any officials identified as responsible must be immediately suspended, prosecuted and brought to justice."
Suha Jbara described to Amnesty International how, upon her arrest, she had a seizure and lost consciousness and was taken to hospital. However, armed security officials later dragged her out of her hospital bed, barefoot, and transferred her to Jericho Interrogation and Detention Centre.
"I was in bed with tubes in my arms when I clearly remember armed men came into the room… The armed men took off the tubes and dragged me out. I was feeling very weak and could barely move or talk… They put me in a minivan and I slept on the floor. I woke up in another place and they said to me, 'Welcome to the Jericho slaughter house'," she said.
At the detention centre, a male interrogator threw water in her face when she asked for a drink, slapped her, punched her on the chest and back, and threatened her with further violence. She was blindfolded and handcuffed throughout her interrogation and was not allowed to drink water or use the toilet.
"He insulted me all the time, used very dirty and violent sexual language, threatened to bring a doctor to look into my virginity and say that I was a whore, and threatened to hurt my family and to take my kids away from me," she said.
She was denied access to a lawyer during interrogation, and took her testimony in the presence of armed security officials at the interrogation centre. She was also not allowed to read her testimony before signing it. On 7 November she was presented to the Jericho Magistrate Court, which approved the prosecution's request to extend her detention for 15 days. She was transferred to the Jericho Correction and Rehabilitation Centre that day.
She told Amnesty International that she began a hunger strike on 22 November in protest at her torture during interrogation and unfair treatment by the prosecution and judiciary. She said that, soon after she began the hunger strike, she was taken to hospital for a short time before being transferred back to the Jericho Correction and Rehabilitation Centre, where she was placed in solitary confinement for her hunger strike.
"I am starting to get very tired. I feel pain in the lower back and lower back sides that sometimes travels to my legs. The most difficult thing of the hunger strike is the pressure that is put on me by everyone around me to stop what I am doing," she said. She added that several officials, including the governor of Jericho and a high-ranking police officer as well as doctors and nurses had tried to persuade her to stop her hunger strike. She was also told that she was being denied family visits or phone calls as punishment for her hunger strike.
"Instead of punishing her for embarking on a hunger strike, which is a legitimate form of protest, the Palestinian authorities must immediately take steps to ensure that Suha Jbara is guaranteed a fair trial and that she is protected from torture," said Saleh Higazi.
She must also be granted immediate access to her lawyers and protected from any further torture and other ill-treatment. Any legal proceedings against her must conform to international fair trial standards.
Suha Jbara is a Palestinian, US and Panamanian citizen and social justice activist involved with Islamic charities. She also works to support the families of Palestinian prisoners in Israel. On 3 November she was arrested during a violent raid on her home. During questioning by prosecutors, she was asked about collecting and distributing money in illegal ways, an accusation she denies.
Palestinian forces in the West Bank and Gaza have a track record of arbitrarily arresting peaceful activists, demonstrators and critics, many of whom have faced judicial proceedings that do not meet fair trial standards.
Amnesty International is calling on international donors to the Palestinian security sector to review their assistance to Palestinian forces to ensure that it is not facilitating human rights violations and is in line with international standards. 
( Press Release Image: https://photos.webwire.com/prmedia/6/232394/232394-1.jpg )
Related Links
WebWireID232394

This news content was configured by WebWire editorial staff. Linking is permitted.
News Release Distribution and Press Release Distribution Services Provided by WebWire.