NERC Impact Awards 2018: Winners make an impact on our world
The real-world impact of inspirational environmental science was celebrated at NERC's 2018 Impact Awards in the Natural History Museum's Hintze Hall.
WEBWIRE
–
Tuesday, December 4, 2018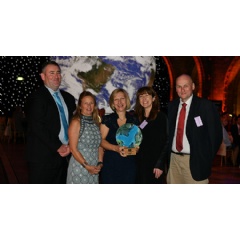 A team of pioneering UK scientists from the University of Exeter, the University of Plymouth and the Plymouth Marine Laboratory was crowned overall winner, for decades of research uncovering the devastating impacts of microplastics in our oceans, raising global awareness of the this pressing environmental issue and directly influencing policy around the world. This research was also the winner of the Societal Impact Award.

The Early Career Impact Award went to Dr Jennifer Lucey, University of Oxford, for research helping to reduce the damaging effect that growing commodities such as palm oil can have on biodiversity in the Tropics.

The Economic Impact Award went to Professor Shaun Quegan, University of Sheffield, for science which underpinned the successful bid for the European Space Agency's BIOMASS mission, paving the way for a £192 million contract for Airbus UK to build the satellite that will allow us to monitor climate change.

Shortlisted and judged by independent panels of esteemed academic, industry and government figures, the NERC Impact Awards celebrate NERC-funded scientists, as individuals or teams, whose work has had a significant, wide-reaching impact on the economy or society in the UK or internationally. To further the impacts of their research, the winner of each category receives £10,000 and the runner-up £5,000. The category winner judged to have had the biggest impact is the overall winner, receiving an additional £30,000 funding.

Professor Duncan Wingham, NERC Executive Chair, said:

"The 2018 NERC Impact Awards recognise the significant achievements of all six finalists, with the three winners chosen from an impressive range of environmental science impacts. I would like to offer my warm congratulations to all. We know that understanding our changing planet is fundamental to our future wellbeing and prosperity. From lab to real life, the inspiring impacts recognised tonight demonstrate the huge benefits that environmental science can bring to our society and economy."

Energy & Clean Growth Minister Claire Perry said:

"Be it revealing the harmful effects of microplastics, exploring the biodiversity of our oceans, or charting the devastating effects of palm oil on deforestation, UK research teams have been instrumental in exposing environmental damage. In doing so they influence policy and behavioural change across the globe.

It is all of our responsibility to leave the natural world in a better state than we found it. The winners of the Impact Awards set us on the right course to achieve this, and through our modern Industrial Strategy, we will ensure the UK can play a key role in delivering on this in the future, while seizing the opportunities of a cleaner greener economy."

UK Research & Innovation Chief Executive Professor Sir Mark Walport said:

"Deforestation, climate change and microplastic pollution of our oceans are issues that will be used by future generations to define our age. Tackling these issues requires global action. The Impact Awards recognise the determined, passionate teams who are delivering world-leading UK research and ensuring it can support the solutions we need to overcome these challenges."

This year's judges include former UK Environment Secretary Lord Deben, Chairman of the Committee on Climate Change, and BBC presenter and Professor of Public Engagement in Science Professor Alice Roberts.

Winners were announced at a ceremony on Monday 3 December, compered by Dr Hermione Cockburn, broadcaster and Scientific Director of Edinburgh science centre Our Dynamic Earth. Around 150 guests from the research community, industry and government gathered for the ceremony underneath the skeleton of the blue whale, 'Hope', in the glowing light of a spectacular 7-metre diameter 'Earth' installation by Bristol-based artist Luke Jerram.

Please see full details of the winners and runners-up below.

Early Career Impact Award

The Early Career Impact Award recognises societal or economic impacts achieved by a researcher in the early stages of their career, usually within eight years of the award of their PhD or equivalent professional training.

Runner upSaving Brazil's Atlantic Forest on a shoestring

Dr Cristina Banks-Leite, Imperial College London

Brazilian researcher Dr Banks-Leite has a lifelong passion for preserving the Atlantic Forest of her home province, one of the world's most diverse areas that has suffered great losses due to deforestation for agriculture in recent decades. Her research has directly informed Brazilian government policy to combat deforestation by providing the rigorous evidence required to protect and restore the forest.

This work revealed the minimum forest cover needed to maintain biodiversity and this threshold is now the official target for maintenance and restoration. Dr Banks-Leite has also helped to demonstrate this can be achieved at surprisingly little cost, including compensation to affected farmers, helping to reduce poverty. It is particularly impressive that this research has already been incorporated into Brazilian legislation at both the State and Federal level.

Read more about Dr Cristina Banks-Leite's research in our Planet Earth article Saving the forest on a shoestring.

WinnerPutting "no deforestation" into practice in the tropics

Dr Jennifer Lucey, University of Oxford

At a time when the environmental footprint of food production is of concern to many, Dr Lucey has dedicated her career to reducing the damaging effect that deforestation for commodities such as palm oil can have on biodiversity in the tropics.

This research has provided scientifically rigorous tools, being used by industry, farmers and regulators to determine the minimum forest patch sizes that need to set aside in agricultural land to preserve biodiversity. Working with the Roundtable on Sustainable Palm Oil (RSPO), her NERC-funded research underpins the 'sustainable palm oil' trademark, helping consumers make informed choices and setting industry standards adopted by many of the world's largest producers, already applied across millions of hectares of land.

Read more about Dr Jennifer Lucey's research in our Planet Earth article Protecting biodiversity in palm oil.

Dr Phil Heads, NERC's Director of Research & Innovation, who represented NERC on the Impact Awards 2018 judging panel, said:

"The early-career finalists this year have both dedicated their careers to stemming the tide of worldwide deforestation and biodiversity loss, and are helping to tackle this at the largest of scales. This was a very closely contested category, and Dr Lucey's research was chosen as the winner in recognition of the large number of beneficiaries of her work, from NGOs to businesses, large and small, to individual consumers around the world. This research is also relevant to industries beyond palm oil, including pulp and paper."

Economic Impact Award

The Economic Impact Award recognises research that has led to demonstrable economic benefits to the UK or internationally.

Runner up

Opening up a new type of petroleum reservoir for the UK

Professor Bob Holdsworth, Durham University; with Professor Ken McCaffrey, Dr Richard Jones and Dr Jonathan Imber, all at Durham University; Dr Robert Wilson, BP; Dr Richard Walker, University of Leicester; Dr Jen Pless, Conoco Phillips; Dr Ben Franklin, ENI (UK); Dr Anna Dichiarante, University of Oslo; Dr Janine Sleight and Dr Lee Watts, both from Shell; Dr David Moy, Chevron; and Dr Eddie Dempsey, University of Hull.

Like some of the UK's finest science, Professor Holdsworth's research was curiosity driven. As a passionate geologist, he noticed an unexplained sediment in geological cores taken many years ago off the coast of Shetland, and his persistence to investigate led to the discovery of petroleum deposits stored in fractures in bedrock under the sea. Subsequent NERC funding facilitated the team's work with industry to research technologies to extract these resources, as well as the creation of a spin-out company, opening-up the potential for a new reserves to be used as part of the UK energy mix.

Among the research's most impressive impacts are the scale of industry investment and the jobs this has helped to create, the strategic importance of unlocking UK reserves, and the potential for applying these scientific insights to other uses, such as geothermal energy and water extraction.

Read more about Professor Bob Holdsworth's research in our Planet Earth article Uncovering energy hidden in the cracks.

WinnerWeighing the world's forests from space: The ESA BIOMASS mission

Professor Shaun Quegan, University of Sheffield and the NERC National Centre for Earth Observation

Using radically new technology, the BIOMASS satellite, currently under construction in the UK, will create 3D maps of the world's forests, measuring the weight of the wood held within them and the height of the trees, and creating an accurate map of the terrain they are standing on. Research by the team led by Professor Quegan was instrumental in the selection of BIOMASS for the European Space Agency's seventh Earth Explorer satellite.

A crucial factor in the mission was identification of the perfect 'Goldilocks' wavelength to measure the biomass of trees while avoiding disruption of the data caused by an atmospheric layer called the ionosphere. Overcoming this stumbling block was instrumental in the selection of the mission. This paved the way for the UK's Airbus Defence & Space to successfully bid for the £192 million engineering contract, which will see the satellite launched and ready for action in 2022.

Read more about Professor Shaun Quegan's research in our Planet Earth article The Goldilocks effect: Weighing the world's forests.

NERC's Dr Phil Heads said:

"The finalists in this category were examples of exceptional academic leadership, in partnership with industry, helping to bring about skilled jobs and economic stimulus to important sectors of the UK economy. Professor Shaun Quegan was chosen as the winner in recognition of the significance of his leadership in securing the BIOMASS mission, paving the way for this major investment in UK space technology and enabling game-changing developments in monitoring the world's forests in light of global climate change."

Societal Impact Award

The Societal Impact Award recognises NERC-funded researchers who have delivered benefits to society; for example cultural, public policy, health or quality of life.

Runner upMaking flights smoother and safer

Professor Paul Williams, University of Reading; with Professor John Knox, University of Georgia, USA; and Don McCann, McCann Aviation Weather Research Inc, USA.

Professor Paul Williams has worked with US scientists to develop an algorithm to predict in-flight turbulence. Following breakthroughs in 2008 and 2012, their algorithm has been used by the US National Weather Service to create turbulence forecasts since 2015, improving the safety of air travel for up to 2·5 billion passenger journeys so far, and also helping to make flying greener by reducing carbon dioxide emissions.

Turbulence is increasing, as global temperatures rise due to climate change, and Professor Williams has been working with aircraft engineers to make sure that the next generation of planes is fit for a warmer, bumpier airspace. The impacts of this research are impressive and wide-reaching, with further impact to come in the future, through the team's work with Airbus on aircraft design, and the likelihood of the forecasting algorithm being adopted worldwide.

Read more about Professor Paul Williams's research in our Planet Earth article Smoother and safer flying.

Winner and overall winner of the NERC Impact AwardsUncovering the impacts of microplastics in the ocean

Professor Tamara Galloway, with Professor Brendan Godley and Dr Ceri Lewis, all from the University of Exeter; Professor Richard Thompson OBE, Plymouth University; and Dr Penelope Lindeque and Dr Matt Cole from Plymouth Marine Laboratory (PML).

Pioneering research from this team of researchers has contributed substantially to public awareness of the problem of marine plastic pollution. These researchers were the first to predict that microplastics could be widespread in the marine food chain, and went on to provide evidence that this is the case. The term 'microplastics' was coined by Professor Richard Thompson, University of Plymouth, in a seminal research paper in 2004, and subsequent NERC-funded research by the team has gone on to directly influence policy in the UK and around the world. For example, the UK's ban on microbeads in cosmetics.

Read more about this research in our announcement 4,000 tonnes of microbeads no longer released into ocean.

Dr Phil Heads said:

"Microplastics research from the University of Exeter, the University of Plymouth and the Plymouth Marine Laboratory was chosen as the winner of the Societal Impact category and the overall winner of the NERC Impact Awards in recognition of the global reach and tremendous significance of the impact. Their work has captured phenomenal public interest and led to action all over the world from governments, businesses and citizens. It demonstrates clearly the important role that environmental scientists have to play in providing evidence for action to protect the health of our people and the planet.

It is in no small part thanks to these scientists, supported by NERC and others, that our perceptions about the use of disposable plastics in our everyday lives have undergone a seismic shift."

Professor Sir Steve Smith, Vice-Chancellor of the University of Exeter, said:

"I am absolutely delighted that the pivotal research carried out by the collaborative team from Exeter, Plymouth University and PML has secured this prestigious award. It is testament to the crucial impact this world-class research, conducted by Tamara and the team of colleagues, has made in developing the global understanding of how detrimental microplastic pollution is to the environment. As well as being a crucial driver in the recent ban of the use of microplastics in cosmetics, it has also playing a significant role in challenging us all to think about how we use plastic in our everyday lives, and find ways to reduce its use. This award is richly deserved, and we congratulate Tamara and the whole team on their success."

Professor Judith Petts CBE, Vice-Chancellor of the University of Plymouth, said:

"Richard Thompson is a genuine pioneer of marine science, and this award is just recognition of the efforts he - with colleagues at the University of Exeter and Plymouth Marine Laboratory - has made to bring microplastics to the national consciousness. These types of local and global collaborations are inspiring people to think and behave differently and influencing policymakers worldwide. Richard began working in this field at a time when no-one else was doing so, and the high profile international campaigns we see today are in no small part due to his research. He is one of the university's outstanding global ambassadors and we continue to be proud of his work to achieve lasting societal and environmental change."

Professor Stephen de Mora, Chief Executive of PML, said:

"We are absolutely delighted to be part of the winning team for the Societal Impact Award. That the team has also won the overall Impact Award is incredible, and testament to the ground-breaking and societally-relevant research undertaken by our scientists, led by Dr Penelope Lindeque, and those at the universities of Exeter and Plymouth, who together bring wide-ranging expertise to address a global problem. These awards truly demonstrate the strength in depth in the region in microplastics research."

Notes

1. NERC is the UK's main funder of environmental science. Our work covers the full range of atmospheric, Earth, biological, terrestrial and aquatic science, from the deep oceans to the upper atmosphere and from the poles to the equator. We coordinate some of the world's most exciting research projects tackling major environmental issues. NERC is part of UK Research & Innovation, a non-departmental public body funded by a grant-in-aid from the UK government.

 
( Press Release Image: https://photos.webwire.com/prmedia/7/232267/232267-1.jpg )
Related Links
WebWireID232267

This news content was configured by WebWire editorial staff. Linking is permitted.
News Release Distribution and Press Release Distribution Services Provided by WebWire.